Psst! The Duchess of Cambridge relies on these underwear tricks to stay supported and avoid malfunctions
Here's how the Duchess of Cambridge avoids wardrobe mishaps when she steps out in public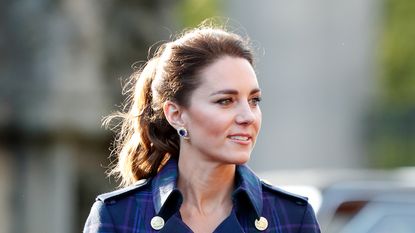 (Image credit: Max Mumby/Indigo / Contributor via Getty Images)
If you're an avid follower of the Duchess of Cambridge and her fashion choices, you'll know that there's never a wardrobe malfunction in sight. So just how does she do it? Well, it's partly down to some nifty styling tips.
The Duchess of Cambridge looks practically perfect wherever she goes—so how does keep her outfits looking immaculate?
The woman&home team has rounded up the expert tips and tricks the duchess relies on to stay presentable and to avoid any wardrobe mishaps.
In other royal news, is Kate Middleton a Princess? This is why she doesn't use the title.
---
We've been coveting Kate Middleton's dresses for years now, as well as trying to emulate her sartorial composure when she's out and about. Whether she's navigating windy runways on a royal tour, or making an appearance at a charity event, the Duchess of Cambridge uses particular underwear tricks to make sure she's dressed in a way that's appropriate for a senior member of the Royal Family.
And even during the pandemic, the Duchess of Cambridge's style didn't slip. She was seen on Zoom calls for various causes including mental health appeals, and kickstarted campaigns to capture life in lockdown, wearing outfits that quickly sold out after her appearances.
For our duchess, the royal style protocol includes donning skirts and dresses of a certain length, wearing clothes in particular colors and shades, and carrying any accessories in the correct manner. This also involves wearing the right underwear and employing clever tricks and shapewear to disguise any visible lines—as well as a hack to ensure that tights never fall down.
As royal etiquette expert Myka Meier told Fabulous, "Underwear and bras are also considered private intimate wear, and for royals to put intimate apparel on display would simply not be done."
With her photographs often making the front pages, it's no surprise avoiding a wardrobe mishap is high on the Duchess of Cambridge's list of sartorial priorities. So, how does the royal make sure that her outfit goes to plan every time?
The Royal-approved underwear tricks the Duchess of Cambridge uses
1. Strapless shapewear
Myka also revealed the tricks that Kate Middleton relies on to avoid underwear lines and visible bra straps.
"There are a few options to hide bra straps, with one option being a bra that is actually sewn into the piece," she explained. "A second option is strapless shapewear, which is one piece that either snaps at the bottom or has legs attached."
Available in a variety of different colors to work with a whole host of outfits, the best shapewear can be worn under pretty much any clothing. Fitting close to the body, they work to smooth unwanted lines and streamline your silhouette.
2. Barely-there tights
The Duchess of Cambridge almost always wears tights with heels to ensure her legs look subtly sunkissed without the need for fake tan (and any accompanying streaks). Some hawk-eyed fans have even spotted the exact brand of tights that she wears.
The product in question is reportedly the Barely There Tights from John Lewis. The main draw is the non-slip grip on the sole, helping to keep our duchess steady on her feet regardless of shoes. If that wasn't enough, the anti-ladder technology ensures there are no awkward mishaps.
Shoppers on the John Lewis website are big fans of the tights, too. "Sheer, Strong, Ladder resist, perfect finish to my daily wardrobe," writes one happy reviewer. "Your legs look like they are bare and smooth."
3. Static clothing
When stepping out in a dress, especially in the UK, there's always the risk of blustery weather causing an embarrassing moment. Naturally, the Royal Family wants to avoid this at all costs.
The answer to this particular problem again lies in underwear tricks and specific clothing. While static is something we usually consider irritating, it's actually very beneficial in the Royal books.
"Often [the Royal women] wear bodysuits and clothes that actually increase static so it's much harder for something to fly up," Myka told The Sun in 2018.
"When I went to finishing school, we were taught that when you are on the tarmac, if you do not use weights or heavy weighted material, you make sure it will not fly up by wearing undergarments that keep the fabrics connected to your body."
Cotton clothes create the most static, but a bodysuit made predominantly from nylon can also help to keep even the most flyaway dresses in place.
4. Seam-free underwear
According to Myka, if the Duchess of Cambridge isn't clad in smoothing shapewear, she turns to seamless underwear to avoid a dreaded visible panty line (VPL) instead.
Suitably subtle, they ensure that one's lingerie stays perfectly concealed, without having to wear a full body suit.
5. Weighted hemlines
Reportedly a big feature of the Queen's wardrobe for years, it's likely that Kate Middleton adds concealed weights to her outfits' hemlines, in order to reduce the chance of a mishap on an airport runway or windy day.
Royal couturier Stewart Parvin, who has been dressing the Queen since 2001 told MailOnline, "I just pop a couple of weights into the hemline of her dresses and coats and it makes them hang beautifully. If there is a flap in the coat, then I will sew in one on each side of the split to even it up."
He added, "Sometimes if she is wearing a lightweight chiffon skirt I will sew in a smaller lead weight the size of a pea, or even a length of chain."
There you have it: armed with these underwear tips and tricks that are suitable even for the Royal Family, you'll be able to avoid a Marilyn Monroe moment wherever you go.
Oh, to be a duchess!