The best video call equipment for video chatting with friends and family
Make your next family catch-up the best one yet...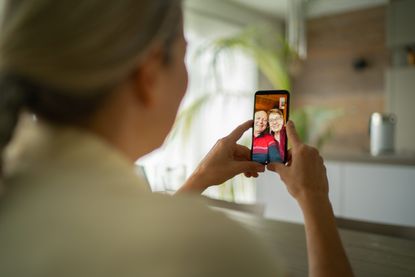 (Image credit: Getty Images)
In these strange times, scheduling a Zoom call with your nearest and dearest has become the new meeting up at the pub.
As a result of the coronavirus, we've all had to adapt to communicating in a solely digital way, trading in our Sunday lunches, family dinners, and social get-togethers for video chats, virtual parties (opens in new tab), WhatsApps and text messages,.
MORE:How to mark special occasions online when you can't be together in person (opens in new tab)
And while it looks as though we're set to maintain that form of socialising for at least the next few weeks (and maybe months), we thought it was about time we all make those important video calls as easy and as functional as possible. After all, the communication with our loved ones is essential to so many of us at the moment - not least those who are isolated alone, or those who are vulnerable at this time.
Lets not complicate matters - using your phone or laptop works just fine. But hands up - who else is tired of having to hold their phone to their face for an hour-long video call? Or trying to squeeze the whole family in to one tiny smart phone screen?
Enter: the essential tech kit you need to make your next video catch-up with friends and family the best one yet.
And never fear - we've selected bits that aren't too tricky to figure out, so you won't spend hours fumbling about with the instructions...
Read on for our round-up of the best video call equipment...
The best video call equipment for video chatting with friends and family
£32.99, amazon.co.uk An Amazon best-seller, this device is perfect for those who want crystal-clear sound on their video calls. Using these noise-cancelling headphones can help to block out background noise during your chat, and you can even mute the microphone any time you want - perhaps during a sneeze you don't want everyone hearing! The operate on Bluetooth so are wireless too, while the microphone amplifier ensures top-notch sound quality.
Joby GripTight Action Kit Tripod for phone
£49.99, amazon.co.uk This handy little device fits most smartphones within it, with or without a case - so you need never suffer aching arms again whilst chatting. It's got secure lever clamps to ensure your device doesn't fall during a call (or ever), and the flexible stand means you can even carry the tripod around if you want to nip and make a quick cup of tea in the other room.
Portal Mini White 8" from Facebook
£119.95, amazon.co.uk See your family and friends (and let them see you), on a far wider screen than your smart phone with this mini portal, which moves with you as you talk, ensuring you always stay in the frame. It works easily with Facebook Messenger and WhatsApp, and can even act as an Alexa, playing music and letting you control your smart home. If you're worried about too much noise during video calls, the portal uses smart sound to enhance voices, while minimising background noise.
PAPALOOK Webcam 1080P Full HD PC Skype Camera
£64.99, amazon.co.uk If your current device doesn't already have a built-in webcam, this is essential buying for video calls! Simply plug this in to your laptop/computer and video chat instantly with Skype, Windows Messenger, AOL Instant Messenger. You can also take pictures and make recordings - so if the grandkids are being extra adorable, capture the moment forever.
AMAZON Echo Show 8 (2019) - Sandstone
£69.99, currys.co.uk The Amazon Echo, which is a similar device to the Facebook Portal, allows you to make hands-free video calls to family and friends who have an Echo Show, Echo Spot, or the Alexa app on their smartphone. They've also addressed important security concerns - there's a button to turn off the microphone and a cover for the camera, for when you're done. And when you've finished with your video call for the done, you can also use it for hands-free recipe following in the kitchen! So long recipe books...
Sony Noise Cancelling Wireless Bluetooth NFC Over-Ear Headphones with Mic/Remote
£99.99, johnlewis.com Everyone needs a good pair of headphones - during a pandemic and beyond. This noise-cancelling option is one of the most affordable options on the market, and they look sleek and stylish too. They're wireless, so won't get frustratingly tangled, and have a battery life of up to 35 hours - more than enough for a family catch-up (hopefully!) They are compatible with Google Assistant, and iOS / Android phones.
Proper Deluxe Aluminium Laptop Stand
£49.99, staall.com If you're video chatting on a laptop, you might not have find the perfect angle for your video yet...enter the laptop stand. The gentle slope of the stand allows you to position your laptop perfectly for your next chat - and when the call is over, you'll have a more comfortable angle to type at, too.