Where to find the best Molton Brown Black Friday deals and discounts to shop today
The Molton Brown Black Friday deals have begun for 2022, with as much as 70% off some of the brand's most popular products...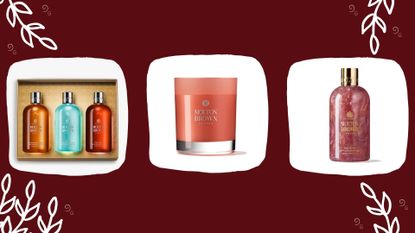 (Image credit: Molton Brown)
Molton Brown Black Friday deals are the perfect opportunity to treat yourself or a loved one, with exciting savings on some of the brand's bestselling products. While the official shopping day is over, there are still plenty of amazing deals live right now - with many offering an impressive 25% or more off everything, including shower gels, candles, and gift sets.
Known for their sophisticated scents and premium packaging, Molton Brown's products are a go-to every year for many when shopping for Christmas gifts for friends or searching for Christmas gifts for mom.
Molton Brown are now offering 25% off products (opens in new tab) on their site and store-wide until 28th November this year, meaning you will be able to shop your favorites from the brand until Cyber Monday. We've rounded up the best Molton Brown Black Friday sales available today below - and there's no better time to shop as these are the best savings we've seen on beauty gifts so far this week.
Best Molton Brown Black Friday deals 2022 in the US
Best Molton Brown Black Friday deals available in the US today
Best Molton Brown Black Friday deals 2022 in the UK
Best Molton Brown deals currently available in the UK
How long will the Molton Brown Black Friday sale last?
Molton Brown have confirmed its Black Friday sales will end on Monday 28 November. Until one minute to midnight on Monday - also known as Cyber Monday in the shopping world - you can find excellent deals on your favorite bath and shower products from the retailer themselves.
However, Molton Brown is also stocked at brands such as Amazon, Feel Unique, and SkinStore in the US, with the likes of John Lewis, Cult Beauty, and Look Fantastic in the UK. All of these retailers may end their savings week at different times, so it's always worth checking direct. For example, the John Lewis Black Friday sale also comes to an end on Monday.
Will Molton Brown have a Cyber Monday sale?
While Molton Brown hasn't officially announced a Cyber Monday sale, the brand has confirmed the savings will be live on the website until the end of Monday November 28, which is Cyber Monday.
Will there be more deals on this day? It's hard to say. Here at woman&home, we've seen more deals go live in the last 24 hours than at any other time during the shopping weekend. However, traditionally the best savings are found on Black Friday and over the weekend itself, with Cyber Monday focusing more on tech deals.
Some of the biggest savings on Molton Brown products last year actually weren't found on the brand's website itself though, so it's always worth considering other retailers if you're looking to snap up a final deal on Cyber Monday. We've highlighted some of the best ones above, including Amazon and Cult Beauty.
Is Molton Brown cruelty free?
Yes – you'll be pleased to hear that Molton Brown is entirely cruelty free. In fact, unlike many other heritage brands, they've never tested their products on animals.
As such, you'll find that all of their products bear the 'Leaping Bunny' logo, which is the gold standard for cruelty free cosmetics and household products.
Previously, Molton Brown also announced their aim to go 100% vegan by 2022, meaning none of their ranges now contain any animal products or by-products. Before this, they considered themselves to be 100% vegetarian.
The brand are also doing what they can to reduce their carbon footprint and boost their sustainability principles. On their website, they explain, "All of our Bath and Body, and Hand collection, are now produced in our signature Boston Round bottles with 50% recycled PET.
"Our 'Return. Recycle. Reward.' scheme has launched across our UK stores to create a circular economy, and maximize our own plastic recycling. Additionally, we are working with our hotel partners to reduce single-use plastic, replacing them with dispensers."
Kenedee Fowler is a shopping writer based in the United States. She joined woman&home in September 2022, and ever since has been sharing her expertise with the brand to help readers source gifts for any occasion and on any budget, reviews products so you don't have to, and scout out the best deals and products to give you the best value for your money. Before joining woman&home, Kenedee was a home editorial fellow for Insider Reviews, where she wrote in-depth reviews and articles across the home vertical.

Kenedee is a recent graduate from the number one journalism school in the US, the University of Missouri - Columbia, where she gained hands-on experience as a multimedia journalist at mid-Missouri's local news station.