Anne Hathaway's 'waterfall bangs' hairstyle is about to be the most requested haircut of 2023
Anne Hathaway's 'waterfall bangs' are channeling Andi Sachs in a huuuuge way...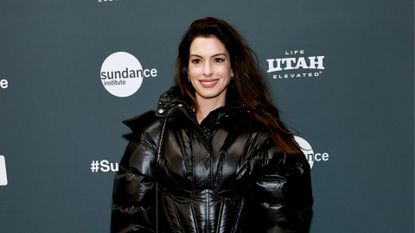 (Image credit: Getty Images)
Anne Hathaway just debuted a new hairstyle - and it prompted us to book a hair appointment immediately.
Bangs hairstyles can cause quite the controversy, some people love them, some jump in head first (trauma bangs we're looking at you), and some just cannot pull them off.
But one thing that's imperative is that people usually want to make sure they have the right face shape to pull off the style, whether that's curtain bangs, a bob with bangs, or Anne's new style, 'waterfall bangs'.
In a recent Instagram post, Anne poses for a campaign with major fashion house Versace, in which she wears a cool black tank and blue jeans combo. What is undeniably the star of the show in this picture (sorry, Donatella) is her new, chic hair - which features 'waterfall bangs' in her signature coffee hair color one of the biggest hair trends of 2023.
Although, of course, Anne Hathaway can rock truly any hairstyle, we think this is our favorite yet - only second to her French girl bangs she debuted two years ago.
What we love most about her bangs in this image is that they look windswept, almost as if she just drove down a road with slightly wet hair and they just so happened to dry perfectly into place. Although we're sure it took some styling expertise to achieve this edgy look, it seems fairly doable for the average person - with the right person giving you the cut, of course.
This cut is defined by longer pieces of hair that reduce in length the further inward they get – but still keep a shaggy, textured finish. Think curtain bangs, but just a smidge edgier.
Unsurprisingly, 'waterfall bangs' are causing some hubbub on TikTok, with hairstylists making videos on how to cut the stylish and trendy 'do.
In fact, the 'waterfall' effect doesn't solely apply to bangs - you can take it all the way down your hair. This style is the antithesis of ultra-groomed trends such as the bubble bob, and has roots in the trendy 'butterfly' haircut that swept TikTok earlier this year (essentially, is a long version of a Rachel Green style) This means lots and lots of layers, so you can achieve that effortless bounce.
While Anne has always had undoubtedly enviable hair, we're finding this edgy, 'it girl' haircut to be particularly inspiring - and so are her fans.
"Looking so hot, Anne🔥," one fan commented on her Instagram post.
Another cheekily commented, "Miranda Priestley is very proud of you 😍," calling back to her Devil Wears Prada role - where her character Andi began to sport similarly chic bangs as the movie progressed. We do think, however, this look is giving Andi quite the run for her money.
Madeline Merinuk is woman&home's US lifestyle news writer. She covers celebrity, entertainment, fashion, and beauty news but is also obsessed with internet trends - you can find her reciting trending TikTok sounds out loud at any given time.
After winning multiple student journalism awards for her investigative work, she graduated from Hofstra University in 2021 with a B.A. in Journalism. After graduating, she worked at today.com, the digital site for the Today Show, where she wrote pop culture news and interviewed big-name personalities like Emily Ratajkowski, Haley Lu Richardson, Emma Corrin, and more.
Her personal interests, in no particular order, are: cheese, Joni Mitchell, reading, hot yoga, traveling, having multiple chapsticks in every handbag at all times, and dancing to ABBA songs as if she were in the Mamma Mia movies.