Cindy Crawford gives bangs a go with new hairstyle
Post-breakup bangs? Cindy Crawford wouldn't know anything about that...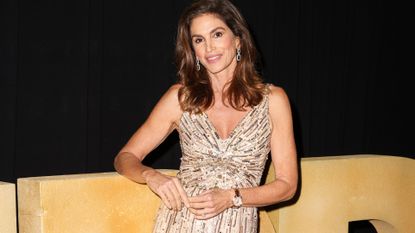 (Image credit: Getty Images)
Cindy Crawford debuted a potential brand new hairstyle on Instagram - and wants to ensure everyone knows why she's considering it.
There comes a point where everyone inevitably gets bored of their hairstyle and wants to switch things up - but sometimes, the decision can be borne out of trauma. Perhaps you went through a breakup, or maybe you're having a small life crisis, and you decide that the only thing to dig you out of your existential woe is a new hairdo. For a lot of people, that choice could end up being a bangs hairstyle.
Cindy Crawford, however, made an explicit point in her latest Instagram post to let people know that her test for a new hairstyle is not a product of trauma.
Cindy posted a picture of her wearing what appears to be clip-on bangs (or, it could be the bottom of her ponytail flipped over her head?), while the rest of her natural hair is in a half-up, half-down style, and signature chocolate balayage shade. "Not exactly trauma bangs. Just testing!" she captioned the post.
While Cindy was just joking about getting her "trauma bangs," other people in the comments gave their opinions about whether she should sport the new hairstyle or not.
"No bangs! You will like them for a day and then hate!" one person commented.
"NOT your look," another shamelessly commented.
Other onlookers hilariously compared the model to lead singer of rock band Aerosmith, Stephen Tyler - and we must say, we kind of see it.
"For half a second I thought this was Steven Tyler," someone said.
"Oh my - I thought this was Steven Tyler," said another.
If you're thinking to yourself, what the heck are "trauma bangs?" - allow us to explain. As mentioned previously, sometimes people make a foray into a new and often courageous hairstyle after a traumatic event happens in their life. The new haircut or style sort of acts as a light at the end of the tunnel - and usually happens post-breakup or after something else mildly traumatic. One of these trauma-borne hairstyles often ends up being a new haircut with bangs - a decision that should not be taken lightly, as they are impossible to reverse and take months to grow out should you not like them.
Thus, Cindy Crawford coined the term, "trauma bangs" - and we have to say it has a nice sort of ring to it.
Bangs come in many forms, including flattering curtain bangs, side bang hairstyles, and in Cindy Crawford's case, choppy bangs. Choppy bangs give a rockstar-esque look to any haircut, perfect for someone like Cindy, and her daughter Kaia, for that matter, who could truly pull off anything. Proceed with caution, though, as bangs aren't for everyone. They can be a lot of maintenance, and let's face it - we don't always have the energy for that.
Madeline Merinuk is woman&home's US lifestyle news writer. She covers celebrity, entertainment, fashion, and beauty news but is also obsessed with internet trends - you can find her reciting trending TikTok sounds out loud at any given time.
After winning multiple student journalism awards for her investigative work, she graduated from Hofstra University in 2021 with a B.A. in Journalism. After graduating, she worked at today.com, the digital site for the Today Show, where she wrote pop culture news and interviewed big-name personalities like Emily Ratajkowski, Haley Lu Richardson, Emma Corrin, and more.
Her personal interests, in no particular order, are: cheese, Joni Mitchell, reading, hot yoga, traveling, having multiple chapsticks in every handbag at all times, and dancing to ABBA songs as if she were in the Mamma Mia movies.