Anne Hathaway's 'French Girl' bangs will be most requested hair cut of 2021
Anne Hathaway's new bangs have got us planning our next haircut. Here's all the inspo you need...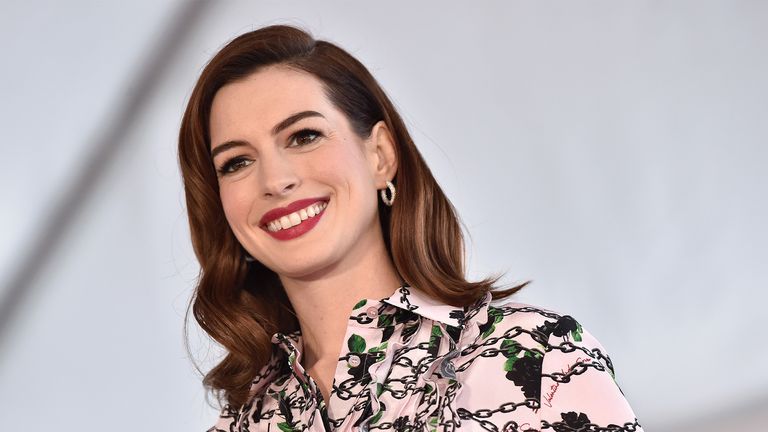 (Image credit: Axelle/Bauer-Griffin/Getty Images)
Anne Hathaway's new bangs are causing ripples in the world of beauty. Not that the Oscar-winning actress is a stranger to radical hair transformations - after all who can forget that choppy pixie cut?
But right now it's Hathaway's 'French Girl' bangs - graduated, long, side swept (courtesy of the best hair dryer) and down-right flirty - that has caught out attention.
Bangs, or fringe hairstyles have become the most requested during the pandemic. According to Christophe Potin, Artistic Director at London's Aveda Lifestyle Salon and Spa, "wearing masks is going to continue to be non-negotiable and bangs help to frame your face when doing so."
Longer side-swept styles have the added benefit of being low maintenance (handy when a pandemic means hair appointments aren't always easy to come by), which is why this style is hotly tipped to be one of the most popular hairstyles of 2021.
Anne Hathaway revealed her new hair on Instagram
Anne Hathaway's new bangs made their debut on Instagram where the actress shared a shoot to promote her new HBO Max movie, Locked Down. Immediately Brigitte Bardot and Jane Birkin sprung to mind and Pinterest boards were flooded with the look.
Created by celebrity hairstylist and owner of Mare Salon in West Hollywood, California, Mara Roszak commented on the post: "Wowwwie! #AnneHathaway blowing us away! That lip WOW @mollyrstern those dresses WOW @erinwalshstyleGorgeousness! Little video & hairs by me! @annehathaway 📸 @christianhogstedt"
How to recreate the look
To keep the look soft and feathery, avoid mousse (often too crispy) and anything that lacquers the hair down. Instead apply a non-sticky volumizing spray like Aveda Speed of Light Blow Dry Accelerator Spray then blow-dry using a bristle brush to smooth down the roots.
Aveda Speed Of Light Blowdry Hairspray, $19.87, Walmart
Et voila, French Girl bangs are yours.