15 Travel Beauty Essentials That Won't Get Pinched By Airport Security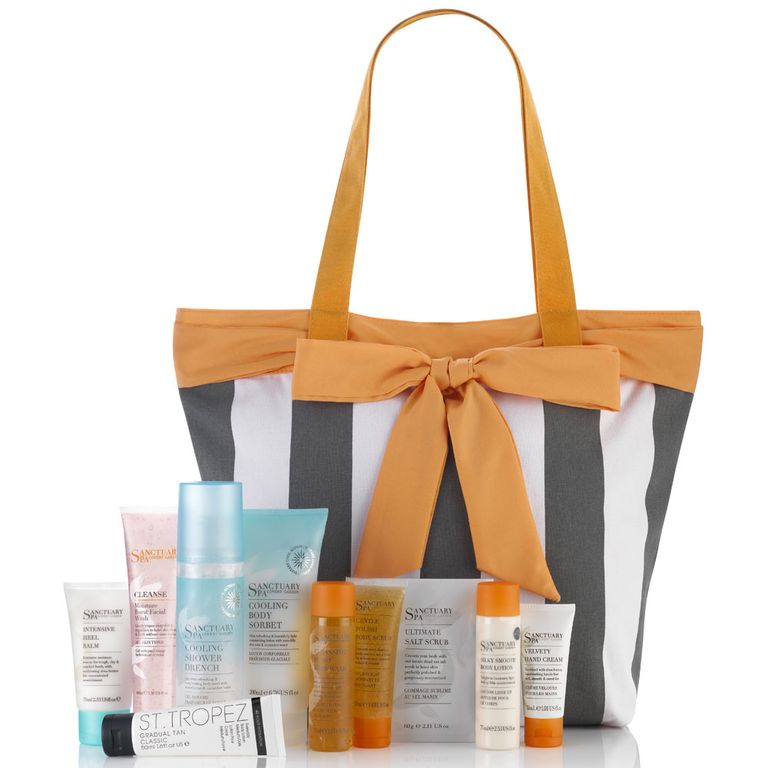 We've all been there: caught short at the conveyor belt, watching helplessly as your favourite fragrance or can't-live-without-it cleanser are mercilessly confiscated by airport security. Yes the measures are in place with good reason and we all know the clear poly bag drill by now, but in the frantic run up to a trip abroad it's easy to let a product or two slip through the net, then pay the price. If this has never happened to you, well done - you're a savvier traveler than I. If it has, never again! Read on for our rundown of the best travel beauty products so you'll never be security shamed again.
1.Sanctuary Spa Ultimate Summer Set, £22 this week, was £45
Everything you need for your well earned holiday with a stylish beach bag thrown in.
This luxe kit contains a shower gel, body scrub, moisturiser, cleanser, hand cream, St Tropez gradual tan and two full sized products so the pampering doesn't have to end when you get home.
2.Elemis Pro Collagen Cleansing Balm 20ml
, £9
Rich and lovely, a little goes a very long way - don't forget a flannel.
£7
So cute! The dinky spherical holder means it'll never spill or go gooey.
4.Klorane Oatmilk Dry Shampoo Spray
50ml, £4
Still the best dry shampoo going, absorbs oil without turning your hair white or irritating your scalp.
, £2.25
A bargain! Just enough for a week away, the classic, super-rich moisturiser is best used at night.
6.La Roche Posay Anthelios XL SPF50+ Ultra Light Fluid
50ml, £16.50
Consistently recommended by dermatologists, light silky and easily absorbed.
7.Diptyque The Art Of Body Care Travel Collection,
£40
Little pricy, but this beautiful body wash, scrub, lotion and hand balm will make wherever you're staying feel like The Ritz.
, £13.45
Smells amazing and so versatile. Use it on wet or dry hair to smooth, soften, hydrate and add shine.
9.Dr Bronner's Organic Citrus Castille Liquid Soap
59ml, £1.99
Organic cheap as chips - maybe cheaper? - body wash with organic citrus oils.
10. Clinique Chubby In The Nude Foundation Stick, £23
New and fun to apply, won't spill in your bag or go gloopy and has decent all-day coverage.
11.Dove Soft Feel Antiperspirant DeodorantCompressed, £3.79
If there's one thing we ALL need on holiday... this one's scent was created at posh French perfume house Givaudan so it smells lovelier than your average deodorant.
12.Halo Eye Makeup Remover Pads, £1.50
for 30
Doused in eye makeup remover with one bumpy side and one smooth to get everything off without scrubbing.
13.Charlotte Tilbury Mini Miracle Eye Wand,
£29
Eye cream and a peachy brightener in one handy clickable stick. Good shades for light and dark skin.
14.Body Shop Wild Rose Hand Cream SPF15 30ml
, £5
Smells divine with a sneaky SPF for exposed hands, also has rosehip oil to nourish and fade age spots.
15.Jo Malone Nashi Blossom Cologne 30ml,
£44
Crisp fruit with a bit of rose and musk in a limited edition pop-art design. Sunshine in a bottle.
16.Bumble & Bumble Surf Travel Set, £18
For all your holiday hair needs, a clarifying shampoo, weightless conditioner, and the iconic sexy salty styling spray.