October holidays: where's hot & the best places to visit
Wondering where is hot in October? Need a holiday to get away from the UK chills? Whether you want a warm long-haul escape or a quick British weekend break, these great destinations offer something for everyone.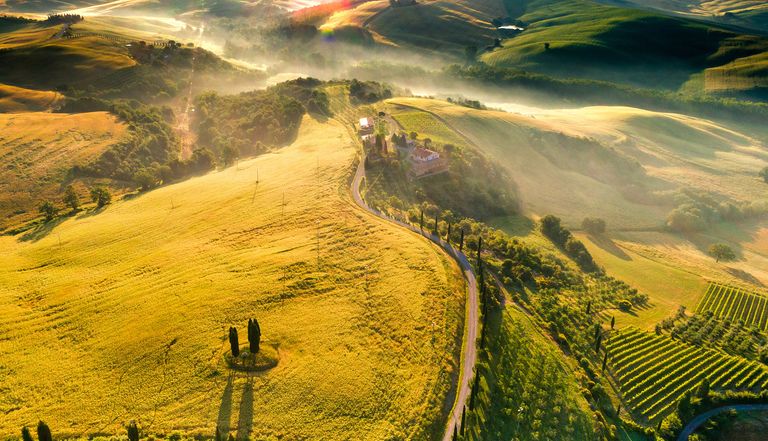 An autumn break is something to look forward to all year and just the thing to curb the winter blues. Here are the best places to visit for some hot weather this October.
Whether you're after scorching sunshine or an autumnal break, there are destinations all over the world at their most spectacular in October.
Where is hot in October?
1. Vietnam
Best for... A long-haul holiday on a budget
Hot all year round and a delightfully warm destination for October, this long, skinny country in South-East Asia has plenty to entertain. Think delicious pho noodles, exceptional coffee - they're the second biggest producer of the stuff in the world - gorgeous windswept beaches and fascinating historic sights. And it can all be explored without breaking the bank. Even five-star accommodation here is fraction of the cost you'd expect to pay in Europe.
Book it: Riviera Travel's Vietnam & Cambodia tour takes in some stunning destinations
As a former French territory, you'll find beautiful colonial villas alongside majestic Buddhist temples. The cities are frenetic, famous for their hordes of mopeds and whizzing tuk-tuks, but the countryside and coastal regions offer perfect places to escape the noise. Head to Hoi An for sleepy town vibes with a brilliant beach nearby - don't miss getting something made in one of the city's many tailors - and take a trip to Da Lat to explore waterfalls and lakes.
2. The Isles of Scilly, UK
Best for... A spectacular staycation
While the UK isn't most people's idea of a brilliant October break and it's not necessarily a hot destination, the Isles of Scilly, strung off the tip of Cornwall's peninsula, are an idyllic place in autumn.
Thanks to the microclimate across this little archipelago, temperatures are warmer than much of the mainland, and the summer holiday crowds have gone home. You'll find spectacular walking trails across all the islands, and a trip to Tresco's spectacular botanical gardens shouldn't be missed. Stay at Karma St. Martin's for a little luxury right on the beach, and don't miss an al fresco lunch (weather permitting) at Juliet's Garden overlooking the harbour on St Mary's before you leave.
Top tip:Don't take the four-hour boat trip from Penzance. The new helicopter service from Land's End by Isles of Scilly Travel is a thrilling and speedy way to get there.
More like this:Isles of Scilly hotels and accommodation: the best places to stay
3. Tuscany, Italy
Best for... Food, food - and more food!
Still pretty toasty in October, now is a great time to visit Italy. With the summer crowds long-gone, this picturesque part of the country breathes a sigh of relief. In October, the clifftop villages and gorgeous coves on the coast are ripe for exploring, with warm sunshine and little chance of rain spoiling your trip.
Book it: tour Tuscany & Florence with Riviera Travel from £949pp
This time of year is also great for food festivals - there are hundreds of small, post-harvest celebrations throughout the region for all sorts of ingredients, from mushrooms and truffles to sausages and, of course, wine.
More like this: 12 of the world's tastiest food tours and cooking holidays
4. New England, USA
Best for... A colourful road trip
Fall foliage is a big deal in North America, and nowhere does it better than New England. The states ofMaine, Vermont, New Hampshire, Massachusetts, Connecticut and Rhode Island come alive in autumn with oranges, reds and yellows.
This is leaf-peeping season and it's spectacular. Hire a car and road trip through these wonderfully rural states (the Kancamagus Highway in New Hampshire is an excellent route), stopping off at food markets, harvest festivals and trailheads leading into the glorious forests. If you're feeling flush, take an unforgettable hot air balloon trip to see it all from above.
On the coast, the weather is still warm and the summer tourists are long gone. This means it's the perfect time for long beach walks, lobster rolls (the local catch is legendary), and exploring the untouched bays on boat trips.
Top tip: New England's vineyards and orchards produce a fine crop of wine and ciders, so set aside time for a tour and tasting session.
5. Thailand
Best for... Getting fit in the sun
Another destination that's still hot in October, expect plenty of sunshine in Thailand at this time of year. The boutique Aava Resort & Spa, a peaceful wellness hotel in the fishing town of Khanom, southeast Thailand, is ideal for a week of 'me time'. It's basically paradise, with coconut palms swaying in the breeze and turquoise warm waters gently lapping the shoreline.
There's nowhere in the world quite like Bangkok, with its frenetic highways and weaving tuk-tuks. Don't miss the Grand Palace - a stunning temple complex with shining golden stupas and beautiful royal residences.
More like this: 9 of the best fitness holidays (that do actually work)
6. Mauritius
Best for... Lazing on the beach in luxury
The top place to holiday in October if you just want to get some sunshine and flop on the beach? Mauritius. This Indian Ocean island is emerging from winter come October time and its glorious beaches and inland forests have never looked so good. Think swaying palms, dazzlingly white sands and turquoise waters as calm as a swimming pool.
But there's more to Mauritius than paradise beaches: go wildlife spotting in Black River Gorges National Park, famed for its waterfalls, do some tea tasting at the Bois Cheri plantation, or visit Isle aux Aigrettes - the final resting place of the extinct dodo.
Top tip: For half term October holidays, kids will love Domaine de L'Étoile, a forested playground with segway tours, horse riding, quad biking and more. Go adults-only at Ambre Resort & Spa to escape the half term crowds.
7. Dubai, the UAE
Best for... Glitzy adventures and deserted sand dunes
While it swelters in the summer, Dubai's weather is perfect for a hot October holiday. Temperatures in the upper 20s and early 30s make it a . Soak up incredible views of the city from the Burj Khalifa (the world's tallest tower, for now), shop til you drop in Dubai Mall, and immerse yourself in the souks and spice markets of Bur Dubai before heading out into the desert for a completely different experience.
Take a desert safari to explore the undulating dunes of the Dubai Desert Conservation Reserve. Spot majestic Arabian oryx, see a live falconry show and then put your head down in a bedouin tent before you wake up early for a sunrise hot air balloon ride over the endless sands. It's a world away from the glamour of the UAE's biggest city.
Top tip: Tuesday night is Ladies' Night in bars all over the city, which means you'll get free entry and at least one free cocktail in bars across the city! Head to The Observatory on the top floor of the Marina Marriott for drinks with a jaw-dropping view.
More like this:7 incredible cruise holidays with Woman & Home
8. Perth, Australia
Best for... Vineyard hopping
Spring has just sprung in Western Australia during October and Perth is in full bloom - plush, it's warm. This vast Aussie state may be overshadowed by its glitzier neighbours, but its incredible beaches and awesome landscapes are utterly crowd-free. Hire a car or campervan to discover pristine coastline, Aboriginal rock art, and wild national parks on your October holidays.
With its balmy climate and rich soils, Western Australia is - of course - one of the world's premier wine-growing regions. Make a beeline for Margaret River, just south of Perth, to sip your way around some of the best.
Top tip: Don't opt to take the direct Qantas flight from London to Perth. At 17 hours, it's one of the world's longest flights - avoid the cabin fever and stop off in somewhere like Singapore or Kuala Lumpur in Malaysia for a bowl of noodles and a bonus city break en route.
9. Hakone, Japan
Best for... A natural spa break
Summer in Japan brings fog and sweltering heat, so holiday here in October and you'll have clear skies and balmy temperatures in the early 20s.Just a couple of hours from Tokyo by train, Hakone is a pretty mountain region with stunning views of famous Mount Fuji.
Book it: Take an epic tour of Japan with Riviera Travel's 13-day trip
Explore the smattering of quaint towns and villages using the Hakone transport network, encompassing trains, funiculars, cable cars and even a pirate ship, then end your day with a bowl of hot soba noodles and a soak in one of the many hot springs (called onsen) in the region.
Top tip: Take the Romancecar from Tokyo's Shinjuku station to Hakone and pick the panoramic car for spectacular coastal views on the journey there.
Read more:Why 2019 is the best year to visit Japan
10. Lanzarote
Best for... Family beach breaks
Want to take a warm half-term holiday in October? Take the family to Lanzarote. This Canary Island is still basking in sunshine, thanks to its southerly location just off the coast of West Africa, and has excellent resorts and a few secluded coves for all kinds of beach bum.
Keep the kids happy with activity clubs, on-tap entertainment and children's menus at the resorts while you explore thepretty beaches, excellent restaurants and award-winning wines - they're grown in the islands' fertile volcanic soil.
Top tip: Though a Spanish island, Lanzarote is much further south - approximately a four-hour flight from London. If travelling with small children, make sure you're geared up for the journey, with plenty of entertainment and snacks.