The 25 best books of all time for your must-read list—from popular fiction to classic novels
The best books of all time are essential reading for every generation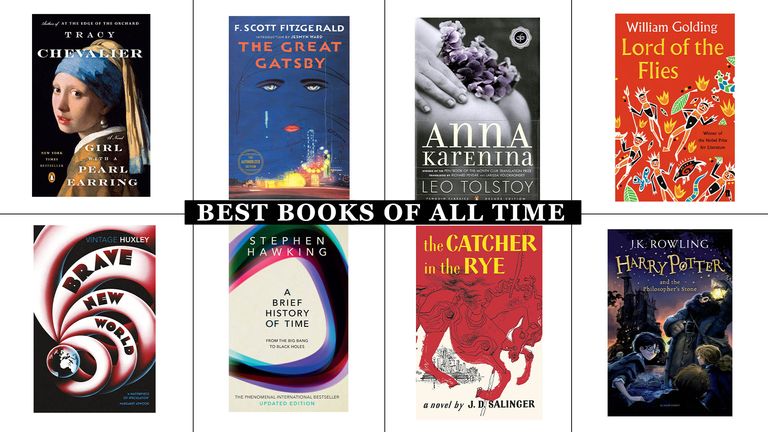 (Image credit: Future)
The best books of all time aren't just captivating reads, they also offer unique perspectives of their time through unforgettable stories—these are the books that changed the game. Our definitive list of must-read novels varies in genre from the romantic to the historic, but almost all of these enriching books offer us a deeper understanding of the world.
While the best books of 2021 keep us plugged into the here and now, picking up one of those novels that everyone always talks about–be it Dickens or Huxley–can be deeply fulfilling. So, load up your eReader and delve into another world–whether it's the Regency era with Jane Austen, or falling in love in '90s Edinburgh with David Nicholls, or an epic journey into the wild with Cheryl Strayed.
The best books of all time for your TBR list
Introducing your best books of all time 'bucket list'–the books everyone should read in their lifetime, which have provided escapism, education, and enlightenment to so many. Whether it's a beautiful love story, magical adventure, or a deep dive into the inner workings of the universe, prepare for a novel that stays with you long after its closing lines. These are the 25 best books of all time...
1. Anna Karenina by Leo Tolstoy
Beautiful, vivacious, irresistible Anna is married to cold, dull Karenina. Her life is given meaning by an overwhelming love for her son and she shines in society. But when she meets Count Vronsky, a soldier and aristocrat, a passion overtakes them and ultimately proves irresistible. Anna's new position as a mistress cuts her off from her son, her old life, and friends, and a heartbreaking decline begins. Alongside this story of broken promises and broken rules, runs the story of Levin and his tremulous love for Kitty - and their story follows a very different course.
A line we love: "Respect was invented to cover the empty place where love should be."
---
2. Lord of the Flies by William Golding
When a plane crashes on a desert island, the only survivors are a group of schoolboys. At first, the boys are jubilant – there are no adults to tell them what to do. But before long, their attempt to govern themselves falls apart, and terror sets in. A thought-provoking classic that looks at the end of innocence, and well deserves its place on a list of the best books of all time.
A line we love: "I think women are foolish to pretend they are equal to men, they are far superior and always have been."
---
3. Atonement by Ian McEwan
This beautifully written novel reveals how a 'misunderstanding' on the part of 13-year-old Briony Tallis in 1935 catastrophically affects the lives of two lovers, her glamorous older sister Cecilia and handsome Robbie, the housekeeper's son. The interplay of personal and political plays out in a world that is about to change irrevocably in WW2. In this, McEwan questions guilt, atonement, and how we all construct our narratives. One of the best historical fiction books of all time.
A line we love: "A person is, among all else, a material thing, easily torn, not easily mended."
---
4. The Great Gatsby by F. Scott Fitzgerald
Another iconic read, and a popular book club book, The Great Gatsby is one novel everyone should read in their lifetime. Written in 1925 by American writer F. Scott Fitzgerald, the book is set in the Jazz Age on Long Island and depicts narrator Nick Carraway's interactions with Jay Gatsby, a mysterious millionaire, and Gatsby's desire to reunite with Daisy Buchanan, the love he lost five years earlier.
A line we love: "I was within and without, simultaneously enchanted and repelled by the inexhaustible variety of life."
---
5. The Catcher in the Rye by J D Salinger
The best books of all time list wouldn't be complete without this American classic. Set in 1950s America, this coming-of-age story centers on Holden Caulfield, who, like Huck Finn, speaks to us straight from the page giving the reader a raw insight into the mind of a teenage boy. Expelled from school and written from a mental hospital, he's caught between the lost innocence of childhood and the decidedly unappealing world of adults.
A line we love: "Life is a game, boy. Life is a game that one plays according to the rules."
---
6. The Color Purple by Alice Walker
The Pulitzer Prize-winning novel later turned into a film directed by Steven Spielberg, is powerful and deeply compassionate - a story set in the deep American South. In it, we meet Celine, a young girl born into poverty and segregation - one who suffers at the hand of her abusive 'father' and is later trapped in an ugly marriage. When she meets the glamorous Shuga and her neighbor, Sofia, everything changes as she discovers the true meaning of female empowerment. Magnificent storytelling, vividly drawn characters and touching moments make this modern American classic unforgettable.
A line we love: No person is your friend who demands your silence, or denies your right to grow.
---
7. Frankenstein by Mary Shelley
Written as a ghost story when Mary Shelley was only 19, her creation has become one of the most recognizable names in fiction. Dr Victor Frankenstein becomes obsessed with the idea of forming a new, living person from body parts, but the monster he ends up with is not only hideous but vengeful. Everything Victor loves is lost – and yet we must still have pity on the creature who is desperately lonely, longs for a wife, and craves acceptance that will never come.
A line we love: "It is true, we shall be monsters, cut off from all the world; but on that account, we shall be more attached to one another."
---
8. Pride and Prejudice by Jane Austen
OK, OK. Maybe it was something you were forced to read in school, but I promise you, coming back to Jane Austen's iconic love story Pride and Prejudice in later life provides newfound joy. An 1813 romantic novel of manners, this book is one of the most popular novels in English literature and inspired a whole wave of literary traditions, popular films, and TV adaptations. That's why it's one of our best romance books out there.
A line we love: "I declare after all there is no enjoyment like reading! How much sooner one tires of anything than of a book! — When I have a house of my own, I shall be miserable if I have not an excellent library."
---
9. One Day by David Nicholls
The best books of all time don't all need to be written decades ago. This 21st century novel from best selling author David Nicholls crafts a beautiful love story that will stay with you long after you've closed the page. Each chapter covers the lives of two protagonists Emma and Dexter on the 15th of July, St Swithin's Day, for 20 years, for a romance story that spans decades. Spoiler alert: there will be tears.
A line we love: "Whatever happens tomorrow, we've had today."
---
10. The Time Traveller's Wife by Audrey Niffenegger
The Time Traveller's Wife is the debut novel by the American author Audrey Niffenegger, published in 2003. It follows the story of Clare, a beautiful art student, and Henry, a librarian, who have known each other since Clare was six and Henry was thirty-six. Moving and imaginative, this novel addresses questions of life, love, and the effect of time on relationships in a refreshingly original way.
A line we love: "Don't you think it's better to be extremely happy for a short while, even if you lose it than to be just okay for your whole life?"
---
11. Harry Potter and the Philosopher Stone by J.K Rowling
A Harry Potter book needs to be at the top of everyone's best books of all time list - and this one is a must-read. The novel that has sold in excess of 120 million copies, Harry Potter and the Philosopher Stone is the first in the Harry Potter series, which chronicles protagonist Potter's journey from an unwanted child at the Dursleys to a student at Hogwarts, an English boarding school for wizards. This also makes for one of the best audiobooks to listen to as well, with Stephen Fry's dulcet tones guiding on the journey to Hogwarts.
A line we love: "It does not do to dwell on dreams and forget to live."
---
12. The Goldfinch by Donna Tartt
The Goldfinch is a coming-of-age novel by American author Donna Tartt. First published in 2013, it's a first-person narrative of Theodore Decker, who survives a terrorist bombing at an art museum where his mother is killed. This is quite a love-it-or-hate-it kind of book, but many believe it has Dickensian echoes in its scope and ambition.
A line we love: "A great sorrow, and one that I am only beginning to understand: we don't get to choose our own hearts. We can't make ourselves want what's good for us or what's good for other people. We don't get to choose the people we are."
---
13. How to Win Friends and Influence People by Dale Carneige
Arguably the most famous confidence-boosting book ever written; How to Win Friends has sold over 16 million copies worldwide and improved millions of reader's lives. This book will explain how to make friends quickly and easily, boost your popularity, become a better public speaker and get people to follow your way of thinking. Basically, it's a how-to manual for leading an easier, more impactful life – a must-read.
A line we love: "You can make more friends in two months by becoming interested in other people than you can in two years by trying to get other people interested in you."
---
14. Wild by Cheryl Strayed
Wild recounts the tale of Cheryl Strayed who, at twenty-two, thought she had lost everything. In the wake of her mother's passing and divorce, Strayed choose to embark on a life-changing journey – hiking more than a thousand miles of the Pacific Crest Trail from the Mojave Desert through California and Oregon to Washington State – alone. What follows is a tale of epic journeying, healing, self-discovery, and, ultimately, strength.
A line we love: "Alone had always felt like an actual place to me as if it weren't a state of being, but rather a room where I could retreat to be who I really was."
---
15. Eat Pray Love by Elizabeth Gilbert
Another tale of self-discovery, Eat Pray Love by Elizabeth Gilbert is a memoir by American author Elizabeth Gilbert. A memoir that recounts one woman's journey into the unknown, through travels across Italy, India, and Indonesia, it was an international bestseller, so it's no surprise it's one of the best books of all time. A book that proves that sometimes the best way to find yourself, is by getting lost.
A line we love: "This is a good sign, having a broken heart. It means we have tried for something."
---
16. A Brief History of Time by Steven Hawking
An internationally-acclaimed masterpiece by world-renowned physicist Steven Hawking, this book explores some of the biggest questions about the universe and time – with surprisingly easy-to-follow answers. A truly enlightening read, the book covers topics such as dark energy, theories around space and time, the information paradox, and the cosmos.
A line we love: "We are just an advanced breed of monkeys on a minor planet of a very average star. But we can understand the Universe. That makes us something very special."
---
17. The Bell Jar by Sylvia Plath
This semi-autobiographical novel is a beautifully rendered exploration of how a brilliant and successful woman, Esther Greenwood, struggles to find her place and identity in 1950s America and sinks into mental illness. Making our list as one of the best books of all time, it speaks of a woman struggling against society's pressure to assert her true self.
A line we love: "I took a deep breath and listened to the old brag of my heart. I am, I am, I am."
---
18. Beloved by Toni Morrison
Winner of the 1988 Pulitzer Prize for Fiction, Beloved is set after the American Civil War and is a haunting tale – literally – of the legacy of slavery. Sethe is haunted by the ghost of the child she murdered to save from enslavement and the background to this terrible act is told in heartbreaking flashbacks. Motherhood, repressed memory, and identity all come to the fore in this moving tale inspired by a true story.
A line we love: "Definitions belong to the definers, not the defined."
---
19. Birdsong by Sebastian Faulks
An epic and emotional tale set during World War 1, this is unputdownable. Arriving in France, Englishman Stephen Wraysford falls in love with unhappily married Isabelle. Despite running away together, the relationship founders and, heartbroken, Stephen volunteers to fight on the Western Front, where the tragic drama of personal stories are swept up in the horror of war. In a parallel story, a young woman in 1970s London discovers the moving truth of her family history.
A line we love: "Which human being out of all those you have met would you choose to hold your hand, to hold close to you in the beginning of eternity?"
---
20. Brave New World by Aldous Huxley
Arguably one of the best science fiction books of all time, Brave New World takes place nearly 600 years in the future, where the World Controllers have created the 'ideal' society. Humans are grown inside bottles, then brainwashed to believe certain moral 'truths'. Recreational sex and drugs mean that everyone is a happy consumer. But one man – Bernard Marx – longs to break free. A novel that presents a nightmarish vision of how things might be.
A line we love: "What fun it would be if one didn't have to think about happiness."
---
21. Girl With A Pearl Earring by Tracy Chevalier
In this beautifully-written novel that later became a film starring Scarlett Johanssen and Colin Firth, Chevalier conjures up a magical story inspired by one of Johannes Vermeer's most famous paintings. Set in the atmospheric city of Delft in 17th century Holland, we see servant girl Griet catch the eye of Vermeer and become both student and muse. It is when he presents her with a pearl earring to wear for the painting that scandal erupts. A work of art, the novel is as captivating as the image on which it is based.
A line we love: "He saw things in a way that others did not, so that a city I had lived in all my life seemed a different place, so that a woman became beautiful with the light on her face."
---
22. Great Expectations by Charles Dickens
Exquisite detail characterizes all Dickens's work – it's what gives us such memorable characters and scenes. This mid-nineteenth-century coming of age story is a delight, as we follow Pip from Joe's forge in Kent to London. Haunted by an encounter with an escaped convict, he meets the eccentric Miss Havisham, falls for haughty Estella, and becomes a 'gentleman'. Wealth, poverty, love, kindness, and rejection all play out. There's no doubt that this is one of the best books of all time.
A line we love: "I looked at the stars, and considered how awful it would be for a man to turn his face up to them as he froze to death, and see no help or pity in all the glittering multitude."
---
23. The Handmaid's Tale by Margaret Atwood
This dystopian tale tells of a world where female fertility is too highly prized to be left in the control of women. Offred is one of the 'handmaids' assigned to produce offspring for high-ranking men in the totalitarian state of Gilead. Defiance means death, but nothing can quell the human spirit - or its desires - completely. One of the best books of all time, it's an examination of how society views women even in our real world.
A line we love: "All you have to do, I tell myself, is keep your mouth shut and look stupid. It shouldn't be that hard."
---
24. I Know Why the Caged Bird Sings by Maya Angelou
American author Maya Angelou wrote seven volumes of autobiography, and this is the first. It's a superb evocation of her childhood in the 1930s of America's south, where the wealthy white folks live at the other end of town. The book has been banned and censored many times, not least because of its unflinching portrayal of racial injustice, rape, and abuse. Yet Angelou still manages to convey her own indomitable spirit, and at the heart of her work is an exploration of what it is to be a human being.
A line we love: "The fact that the adult American Negro female emerges a formidable character is often met with amazement, distaste and even belligerence."
---
25. Little Women by Louisa May Alcott
Taking the final spot on our best books of all time list is this wonderful classic, which chronicles the lives of four sisters in New England during the Civil War. Meg, Jo, Beth, and Amy March are being raised in genteel poverty by their mother Marmee, while their father serves as an army chaplain. An enchanting family drama, and a fantastic book for women, Little Women is brimming with life and enduring characters that young (and older) readers have loved for generations.
A line we love: I am not afraid of storms, for I am learning how to sail my ship.
---