How to clean a fridge—a step-by-step guide for a deep clean
If you're wondering how to clean a fridge properly, follow this guide to deep-cleaning yours to keep it running efficiently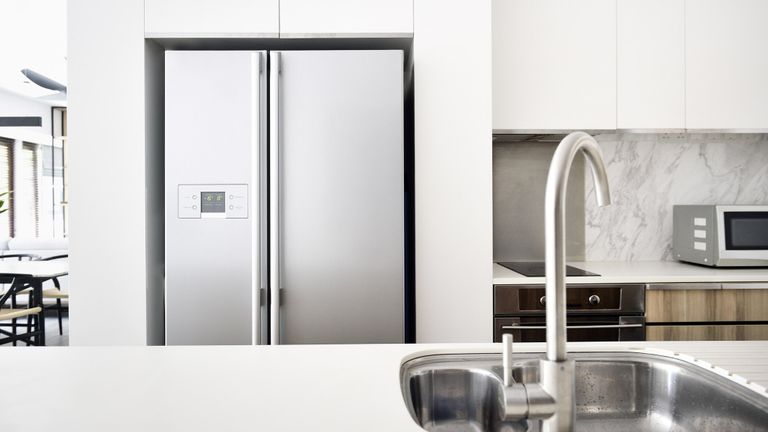 (Image credit: Getty Images)
Working out how to clean a fridge isn't difficult, but it can be helpful to go about it methodically, in order to make sure your is deep-cleaned, sparkling, and running as well as it should.
After all, cleaning your refrigerator properly—and keeping it that way—has many benefits. A clean, tidy fridge is more hygienic, smells fresher, and makes it easier to keep on top of what's in there, and when it's time to throw away expired products.
Yet when it comes to our kitchen cleaning routine, cleaning the fridge is a household task that's easily neglected. By design, we shut the door on its contents as soon as we've grabbed whatever we need or put something away—meaning any food spills or lingering bad smells can be a matter of out of sight, out of mind.
How often should we be cleaning our fridges?
Ideally, you should be deep cleaning your fridge every 3-4 months, as well as spot cleaning spills in between. If you don't, harmful bacteria can multiply and smelly odors can take hold, which isn't what anyone wants in the place where we keep many of our kitchen essentials, such as food and condiments.
While a quick wipe with hot soapy water can do wonders for a quick weekly clean, there are other, lesser-known, tricks for how to clean a fridge and give it a proper deep clean—and some of these actions may even improve the performance and lifespan of your appliance.
When planning how to clean a fridge, it's also vital to remember to scrub the exterior, as well as the interior. "When talking about deep cleaning, most people refer to the inside of the fridge," says Lewis Dartnell at ADK Kooling. "What is neglected is the fact that the fridge is a machine that is operating all day, every day. By keeping the machinery itself clean, you will not only prolong the lifespan of your fridge, but will also be helping to keep it working properly. By extension, this will keep your food cooler and minimize bacterial growth."
How to clean a fridge—a step-by-step guide:
Armed with this expert advice and more, we've created an easy to follow process for how to clean a fridge, in order to keep your hygienic, organized, and running efficiently.
1. Empty and declutter
Before embarking on a fridge deep clean, a declutter and the emptying out of your fridge is vital—after all, it's impossible to clean around food items already inside. The best way to do this is to turn off your appliance and take everything out, moving any items you are keeping into insulated freezer bags so that they stay cool while you get to work.
When planning how to clean a fridge, one of the most important parts is getting rid of old food. So, for the next step, throw out any products that have passed their use-by date, as well as rotting fruits and vegetables, and any forgotten leftovers. Don't forget to bin any condiments that have been open for too long and become a little crusty, too. Most condiments last for a few weeks after they have been opened in the fridge, but you shouldn't leave them too much longer than that. And if you have some fruit and veg that's close to turning that you want to use up, why not throw them in your blender for a tasty smoothie—or whizz them up in a food processor as prep for a tasty meal?
2. Remove the shelves and scrub the interior
This is the first step when it comes to how to clean a fridge. The best way to ensure a thorough clean is to remove the inner shelves completely, as well as any removable door shelves.
Then, you'll need to scrub the interior of your fridge and any parts that don't come out. "Straightforward hot soapy water will give your fridge a good clean," suggests Smeg's Home Economist, Clare Edwards. "It's also essential to make sure the shelves are properly dried afterward before returning them." Do this with a dry, clean, microfiber cloth or a kitchen towel if you have one to hand.
However, if you reckon your fridge is in need of a more thorough clean, or plagued by any lingering bad odors, try adding a squirt of lemon or vinegar to your soapy water, or wiping all the surfaces down with baking soda, instead of commercial cleaning sprays.
Jenny Clink, Head of Marketing at Oven Pride, recommends the baking soda method. "Antibacterial cleaners have a strong smell that can linger in the fridge and cause foods to take on unwanted odors," says Jenny. "Instead, just mix one tablespoon of baking soda with 500ml of water for an effective, odorless cleaner."
Scrub down all the walls, the back of the fridge and any shelves on the door using this method, removing any leftover bits of food to the bin as you go. You can also use baking soda when working out how to clean an oven, how to clean a stainless steel sink, or how to clean a stovetop.
3. Then clean the inner shelves
The shelves that house your food need to be given perhaps the biggest clean of the entire machine when planning how to clean a fridge. To do so, the easiest option is to clean them under the running water in your sink as you would your dishes, if you have the space.
Run the water over the shelves to get rid of any old bits of food. Then, you can either scrub down the shelves with washing up liquid and a sponge, or spray on some antibacterial spray and wash away with a sponge. Dry with a microfiber cloth before placing back in your fridge, and you're good to go.
4. Clean out the drainage channel
This might not be a part that you think about cleaning when considering how to clean a fridge, but it's one that needs to be done. The condensation/drainage channel is the tiny drain hole that can be found right at the back of your fridge, at the bottom of the back wall—and it needs to be cleaned regularly. If not, it can become blocked which will allow excess water to build up both in the drain and on the walls of your fridge.
"To give your fridge a good refresh, ensure this channel is properly cleaned," says Smeg's Clare Edwards. "Drinking straws, cocktail sticks, and cotton buds are all great for doing this job." Simply thread them through the channel, move them around to dislodge any dirt, and pull them back out.
5. Remember to sanitise the exterior
It's not just the inside to consider when you're working out how to clean a fridge. In fact, it's just as important to clean the outside of the fridge as the inside. Germs can gather on handles and other frequently touched parts of the door, while door seals can be a magnet for dust and crumbs. Use a vacuum crevice tool where necessary, then wipe all those grimy hot spots down with a cloth soaked in hot soapy water, or an antibacterial cleaner.
Don't just clean the door though—it's important not to forget about the sides and the roof of your fridge, as these can become equally dusty and dirty in a kitchen that's in constant use. A simple wipe-over of these, as you do the door, will work wonders for keeping your fridge in tip-top shape.
6. For a thorough clean, clean your condenser coils
When learning how to clean a fridge, cleaning the condenser coils are often forgotten about. But your vacuum cleaner can come in handy for cleaning the fridge's condenser coils, which are found at the back of your fridge. Lewis at ADK Kooling recommends doing this twice a year.
"It takes a lot of energy to keep a fridge cool, and those metal wiry-pipes on the back of the fridge (or sometimes on top) help your fridge to stay cool by removing heat that is generated during the cooling process," says Lewis. "But over time, dust will settle on the coils – effectively acting as an insulator and keeping them warm—making it much harder for your fridge to keep things cool inside."
So if you find your fridge is a bit warmer inside than you'd like, this might be the reason. To keep your refrigerator running efficiently, simply use a vacuum crevice tool to remove any visible dust. This task should only be attempted while the appliance is turned off and the parts are cool.
7. Do a thoughtful restock
When you put everything back in the fridge, remember that the order in which you organize your fridge and the food inside it can affect its shelf life. The same rule applies when organizing your pantry too—so it's important to keep in mind.
For this reason, you should think carefully about where you place each category of food:
Fruits and vegetables should go in the bottom drawers
Wrapped raw fish and meats should be placed on the lowest shelf where the temperature is coolest and chances of cross-contamination are slim.
Dairy products should be stored on the middle shelves
And foods that don't need to be cooked—like deli meats and leftovers—should go on the top shelf.
The door shelves are subject to the warmest temperatures, so use these to store condiments and jams—anything which contains natural preservatives.
Finally, consider using storage containers to gather together small items like cheeses, as this will optimize shelf space and make things easier to take out and clean around in the future.
And there you have it—a totally clean fridge in a few simple steps.
With thanks to Smeg's Home Economist, Clare Edwards, Jenny Clink, Head of Marketing at Oven Pride, and Lewis Dartnell at ADK Kooling for their time and invaluable expert opinion.
Helen Booth is a freelance writer and maker who loves interiors, crafts, and keeping tabs on homes trends. When she's not sourcing inspirational homes for magazine features, you'll find her curating irresistible interiors shopping edits, posting on Instagram—or selling her handmade homewares on Etsy. She also co-founded the popular weekly newsletter Lunch Hour Links, a curated selection of the best books, articles, podcasts and TV shows to browse while you eat your lunch.