The best app-controlled vibrators for hands-free fun and long-distance couples
Our round-up of the best app-controlled vibrators feature exciting options for remote play with your partner or alone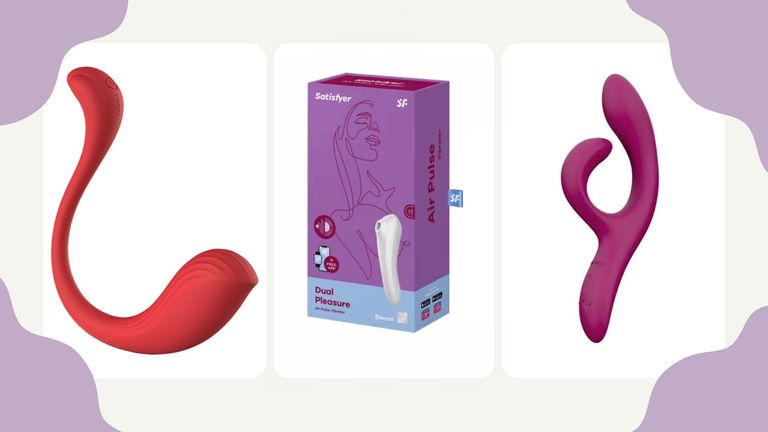 (Image credit: SVAKOM/WE-VIBE/SATISFYER)
The best app-controlled vibrators are a great way to connect with your partner⁠—or with yourself⁠—in a new way. Our guide to the best app-controlled vibrators will show you how to navigate the technology, discuss which different vibrator types to consider, and help you shake off any inhibitions around the topic with some candid insights from our expert testers.
Nowadays there's an app for everything, from tracking your stress levels to turning off the lights in your bedroom, so it's no surprise you can also use one to control your orgasms. The rise of Bluetooth connectivity and remote-operated sex toys—or teledildonics as they're officially called—means long-distance lovers and singles can access mind-blowing pleasure at the tap of a phone screen.
But even if you're clued up on all the sex apps, choosing the right app-controlled vibrator can be a tricky decision. With some of the best vibrators and best sex toys coming with in-app functions, there are so many to choose from. To make the process a little less daunting, we've done the hard work for you.
How we tested the best app-controlled vibrators
We tested a range of app-controlled sex toys, from the best rabbit vibrators and clitoral stimulators to body wand vibrators and love eggs, rating both the toy and the tech. A crucial step in our testing process was trying out hands-free play with a lover. To make our list, this experience needed to be sexy, smooth, and exciting—regardless of whether couples were in the same room or at opposite ends of the country. We also tested the vibrators alone, to see how well they fared for solo play.
When testing the vibrators, we also considered:
How easy they were to set up and use—no one wants to be fumbling with buttons or struggle to find the right spot mid-play.
The material—we're always interested in how to clean sex toys in the best way so we opted for sex toys made of silicone, glass, or metal, as these are easy to clean.
How they performed on the pleasure scale—in short, did they and where you would most like to stimulate, advises Lesley Cragg, a sex toy expert at
Stimulation—it's important to consider your erogenous zones and where you would most like to stimulate advises Lesley Cragg, a sex toy expert at Your Pleasure Toys (opens in new tab). So we tested a variety of toys that offer different types of stimulation, including G-spot orgasms, clitoral orgasms, and all-over stimulation.
The tech and features available—Bluetooth-controlled toys are perfect for solo play or with a partner at home, but long-distance couples should opt for toys with apps that use Wi-Fi. So we rated our toys based on the features they had available and how easy they'd be to use across the internet. If you're planning to take your toy abroad, you'll want a travel-sized option, so we included some of these as well.
Waterproof? If shower sex is on the agenda, or hot tub foreplay is your idea of a good time, consider one of the waterproof toys in our selection.
Best app-controlled vibrators as chosen by our experts
1. We-Vibe Nova 2
Best app-controlled vibrator overall
Specifications
Material: Silicone
Length/Dimensions: 217mm x 85mm x 39mm
Weight: 650g
Waterproof: Yes
Power: Rechargeable via USB
Running time: 120 mins
Long-distance interaction: Yes
RRP: $149 / £149
Reasons to buy
+
Powerful, varied vibrations
+
Bendy arm and adjustable shaft
+
App features video and audio modes
+
Beat mode links with your favorite sones
Reasons to avoid
-
App's video mode can drop out
-
Size not particularly travel-friendly
It's a rabbit, but not as you know it. The We-Vibe Nova 2 is an innovative vibrator with a sleek, ergonomic profile that uses superior technology to allow for long-distance play. This cleverly brings the design of the original rabbit vibrator bang up to date and delivers on toe-curling orgasms, too.
Fans of the We-Vibe brand (such as the highly regarded We-Vibe Sync), will already be familiar with its specialized app that you can pair with its range of sex toys. The We-Connect app (opens in new tab) is free to download and enables users to adjust and customize the speed and "vibe" settings from virtually any location. Our testers for this toy were over 200 miles apart from each other and gave the app a thumbs up for fuss-free connectivity and ease of use.
Depending on who wants to take the reins, you can switch between solo control, partner control, and two-way control—if your lover has a We-Vibe toy, too. Touch screen navigation such as left and right swipes and "pinch to adjust", make it effortless to navigate as you're getting it on. Want to climax together? Simply turn on the app's video or audio mode to see and hear your playmate in real-time. There are over ten vibration and intensity settings to experiment with, from a gentle pulse to an intense tide. Or there's the nifty feature that lets you customize—and save, your own crest of pleasure. Beat mode buzzes along to your choice of songs, another great feature for linking up to your favorite playlist.
Tech aside, our testers found that the sensations provided by this dual-motored vibrator are what hits the spot. The arched, clit-kissing arm flexes while you thrust so you never lose crucial contact with your clitoris. Plus, the smooth, internal shaft and bulbed end will stimulate your G-spot, resulting in what we can only describe as the ultimate blended orgasm. What's not to love?
2. Satisfyer Dual Pleasure
Best app-controlled clitoral stimulator
Specifications
Material: Silicone
Length/Dimensions: 179mm x 46mm
Weight: 155g
Waterproof: Yes
Power: Rechargeable via USB
Running time: 60 mins
Long-distance interaction: Yes
RRP: $39.16 / £29.99
Reasons to buy
+
Dual power for stimulator and shaft
+
App features video and audio modes
Reasons to avoid
-
Program options can be overwhelming
-
Tricky to grip when using lube
The Satisfyer Dual Pleasure is one of the best app-controlled vibrators to tease and please the star of the show—your clitoris. This device is designed to use when masturbating. It's also a great addition during foreplay, or when trying out one of the best sex positions for clitoral stimulation to enhance the experience. And it's surprisingly effective for a guaranteed orgasm. In fact, after experiencing this kind of easy climax, you might wonder how you ever managed without it.
For first-timers, our testers found that it's a straightforward toy to operate. Place the circular opening over the clitoris and air-pulse pressure provides waves of sensations to your clit. If you enjoy oral sex, we'd say it comes a very close second to the real thing. Plus, unlike many other clitoral stimulators, it's also dual-action. Flip it around and it can be used to massage your G-spot thanks to a vibrating silicone shaft that slides smoothly inside of you (just make sure to use plenty of the best lube if you're going to do this.
You can control the stimulator remotely by downloading the free Satisfyer Connect app (opens in new tab) and linking via Bluetooth. This sets you off on a head-spinning journey discovering the limitless, programmable vibrations and range of 11 intensity settings. Our testers, sitting at home many miles away from each other, found that it was great for some long-distance action as it's easy to add your partner to the app. Once you've given them the option to drive your device, all you need to do is lie back and enjoy.
We particularly loved that this toy is waterproof, so play can continue in the bath or hot tub, or during steamy sex in the shower sessions. It's also small enough to pop into a toiletries bag, making it a must-have for sexy weekends away.
3. Vibease App Controlled Rechargeable Responsive Knicker Vibrator
Best app-controlled panty vibrator
Specifications
Material : Silicone
Length/Dimensions: 89mm x 100mm
Weight: 71g
Waterproof: No, but it is splashproof
Power: Rechargeable via USB
Running time: 180 minutes
Long-distance interaction: Yes
RRP: $119 / £99.99
Reasons to buy
+
Immersive experience
+
Intense vibrations
+
Wearable and hands-free
Reasons to avoid
-
Doesn't provide internal stimulation
-
Can shift when you walk
Got seriously turned on by reading Fifty Shades of Grey? Then we've found one of the best app-controlled vibrators for you. This petite sex toy is one for book lovers. It combines a hands-free massager, which slips into your underwear, with incredible sex stories via the Vibease app (opens in new tab). Not only does this small but mighty secret clitoral vibrator have five intense vibes, which really hit the spot, but it also syncs via the app with the audiobook of your choice to stimulate your body and mind at the same time. Yes, it actually vibrates in sync with your selected audiobook for a truly immersive and interactive experience. It's revolutionary for those who love a bit of erotic fiction!
If you're unsure how to use a vibrator, this may be the perfect choice to start with. When our female tester tried it out solo, she found it super easy to use. You just pop it in your knickers and its perfectly contoured tip fits snugly in place, while resting against your sweet spot. Plus, with no controls needed, you can close your eyes and enjoy your erotica without any interruptions. When pairing up with her partner via the app, it was also simple to navigate. You just install the free app onto your smartphone and they can control the vibrator from miles away, which our couple found added an entirely new dimension to sexy Zoom calls. Just relax and get ready to be swept away into an exciting world of erotic fantasy!
It's worth noting this vibrator doesn't provide internal stimulation and is best used when sitting or lying down as it can move around while you walk.
4. Svakom Phoenix Neo Interactive
Best app-controlled bullet vibrator
Specifications
Material: Silicone
Length/Dimensions: 118mm x 32mm x116.3mm
Weight: 70g
Waterproof: Yes
Power: Rechargeable via magnetic port within 1 hour
Running time: 60 minutes
Long-distance interaction: Yes
RRP: $129 / £79.99
Reasons to buy
+
Easy to manipulate
+
Hands-free
+
11 different vibrations
Reasons to avoid
-
Reduced run time
-
Some elements of the app are a bit 'buggy'
The wearable bullet vibrator makes a great first impression—it looks slick and stylish and comes with a drawstring bag for storage. But that's not the only reason why our testers dubbed it one of the best app-controlled vibrators out there. It's built with sophisticated technology that packs in 11 different vibrations, scaling from juicy foreplay to mind-blowing stimulation.
The smooth, curved design boasts a ridged bulb that fits comfortably into your vagina, and the flexible neck means it's easy to manipulate the smaller end into position for perfect clitoral placement. This snug fit means it's hands-free so you can use it anytime, anywhere.
Our tester, when going solo, found the control button on the toy easy to turn on or off and cycle through the different settings. She also found it simple to switch to the app for remote-control use—a great feature for solo play or living out your sexual fantasies by handing power to your partner. The Svakom app enables the user to control settings like the intensity and pattern. But the most unique feature, our tester discovered, was that you can set the vibration to react and mimic sounds and music tempo on your phone, as well as videos like the best porn for women.
However, our couple did have some issues with the app crashing when trying to sync up music from the iTunes library on their phones. But there is a work-around but perhaps it makes the toy a better choice for the more tech-savvy user, as they found it was best to stream songs directly to the app from a PC or laptop via Wi-Fi.
5. Lovense Osci 2
Best app-controlled G-spot vibrator
Specifications
Material: Silicone
Length/Dimensions: 220mm x 39mm
Weight: 182g
Waterproof: Yes
Power: Rechargeable via USB
Running time: 150 mins
Long-distance interaction: Yes
RRP:: $119 / £159
Reasons to buy
+
Long running time
+
Comfortable shaft
+
Throbs rather than buzzes
+
Brilliant free app
Reasons to avoid
-
No clitoral stimulation
-
Expensive
If you like deep penetration to tip you over the edge, we think the Lovense Osci 2 is one of the best app-controlled vibrators for the job. Made from silky, smooth silicone, this slender toy can unlock a powerful G-gasm with targeted stimulation of your hard-to-reach pleasure spot.
There are only three intensity settings to cycle through—less than other vibrators—but we found the rumbles on this toy to be the perfect amount of pinpointed pressure. We loved the curved fit of the shaft and the unique osculating head that throbs rhythmically in and out on the G-spot, rather than buzzing or spinning against it.
Our tester found the toy incredibly easy to grip when trying it out solo. And it's waterproof too, so more than suitable for wet play, she discovered. The real standout feature though is the associated, free Lovense app (opens in new tab), purely because it works so smoothly. Operate the Osci 2 from your phone or tablet and there are 10 vibe patterns to make you quiver. Plus, the option to connect as a couple and relinquish control to your partner. This is one of the other standout features of the toy, our tester found, as if your lover also has a toy then they can be synced together to respond simultaneously. She found that it turned a standard sexy, remote session into a truly interactive experience. There's even a group chat option if you're feeling even more adventurous.
How to get the most out of your app-controlled vibrator
1. Do your homework—take the time to get to know your device. "It's important to read the manual and explore your vibrator's settings before you try sexy time with your partner," says Lesley. "Familiarising yourself with the app's different functions too will prevent any frustrations at the most crucial times."
2. Discover what turns you on—"By playing around with your toy alone, you'll soon figure out what you like or don't like. Be sure to share this with your partner before you connect on the app," says Lesley Cragg.
3. Relax and enjoy—"Giving your lover control of how hard or fast you would like your vibrator to go can be a huge turn-on," says Cragg. But as with all sexual experiences, communication is key. If you feel uncomfortable at any time during remote play, stop, disconnect from the app, and talk to your partner.
Why are app-controlled vibrators good for couples?
For couples separated by distance, hooking up with one of these app-controlled vibrators can be a fun and innovative way to stop your sex life from dwindling.
"Advances in technology have made it much easier to stay close to your partner while living apart," says Johanna Rief, head of sexual empowerment at We-Vibe (opens in new tab). "There's now a wide range of sex toys available that can be operated remotely, so you and your partner can remain intimate and still pleasure one another, despite not being together."
What are the different types of app-controlled vibrators?
Not sure what type of vibrator to go for? Here we break down each type of app-controlled vibrator and what type of pleasure they are best for.
G-Spot vibrators—these are phallic in shape with a shaft to penetrate the vagina and they can vary in length, girth, and flexibility. They're simple to use and a safe bet if G-spot stimulation is a priority for you.
Rabbits—with a similar girth to a G-Spot vibrator, rabbit vibrators come with vibrating "rabbit" ears to hone in on your clitoris at the same time. It's possible to really ramp up the intensity so is the best vibrator for powerful orgasms.
Clitoral stimulators—teasing you into a clitoris-focused orgasm, these vibrators work by stimulating the area with pressure wave technology and gentle suction sensations. It's the best choice for those who are sensitive down below or like a lot of foreplay.
Bullets—small, mighty, and often great value for money—the best bullet vibrators are a must-have in every woman's bedside drawer. They are excellent for clitoral stimulation and external erogenous zones.
Love eggs—these egg-shaped panty vibrators were one of the first types of sex toys that could be operated remotely. Placed inside your vagina (with lots of lube), they are a fun choice for flirting, foreplay, and discreet pleasure when you're on the go.
Senior Health Writer Ali Horsfall has almost 15 years experience as a journalist and has written for national print titles and women's lifestyle brands including woman&home, Woman, Woman's Own, BBC magazines, Mothercare, Grazia and The Independent. She currently specialises in health and fitness content and loves sharing the best expert advice on staying well.