Best dark chocolate Easter eggs 2021: The woman&home taste test
Like a bit of dark chocolate? These are the best Easter eggs to buy this year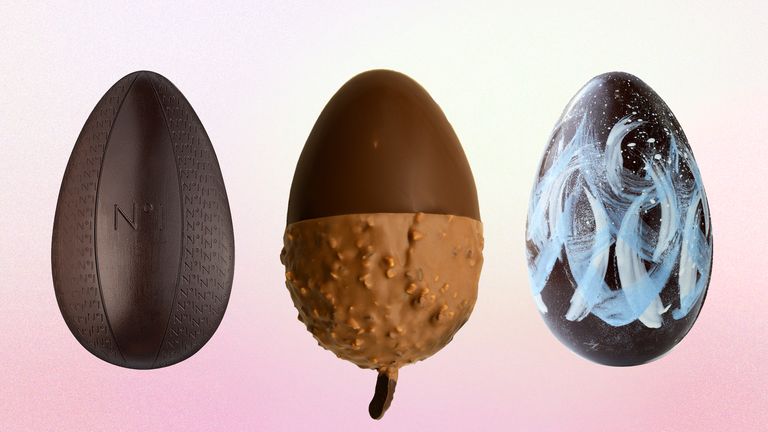 (Image credit: Melt/Waitrose/Chococo)
These sensational dark chocolate eggs are the ideal gift for the chocolate connoisseur and they have all been given the seal of approval by our taste testers in the Test Kitchen.
This year our expert tasters tested as many supermarket and artisan eggs as they could get their hands on to find the best Easter eggs 2021. This is the roundup of the highest-scoring dark chocolate eggs.
The best dark chocolate Easter eggs 2021
Betty's Venezuelan Dark Chocolate Egg
Best for treating somone special
Specifications
Stocklist: Betty's
Weight: 210g
Price: £21
Dietary: Suitable for vegans
The tasters were enchanted by this elegantly packaged egg. The charmingly designed box could almost have arrived from another era or have been snatched from the set of The Grand Budapest Hotel!
The egg itself is made of the most exquisite Venezuelan chocolate and is thick to the extent that it was gloriously hard to break. The multifaceted design enhances the golden shimmer, making this egg look extra special.
It's certainly up there at the pricey end of the scale. But this is a really egg-tra special egg, so why not spoil someone, or even yourself, with this egg-traordinary treat.
Melt Dark and Milk Chocolate Acorn Egg
The best for a bit of both
Specifications
Stocklist: Melt Chocolates
Weight: 80g or 300g
Price: £19.99/£34.99
Everything about this egg is sensational, from the adorable whimsical acorn design to the candied orange chocolate covered acorn steam. It's indulgently thick chocolate half is a rich 70% chocolate and the other is a creamy, smooth, velvety milk chocolate studded with almond nibs. And the stork is a perfect chocolate-coated candied orange.
Chococo Dark Chocolate Ocean Studded Egg
Best egg for doing good
Specifications
Stocklist: Chococo
Weight: 175g
Price: £12.50
This egg is made of really indulgently rich Madagascan chocolate. On the outside is an expressive glittering sea-inspired decoration. And on the inside, *Spoiler alert* this egg is filled with an underwater surprise. Crack it open and there are chocolate turtles and starfish on the inside. This is a genuine 'good egg' as for each egg sold 50p will be donated to the SEA LIFE Trust, a marine conservation charity based in Dorset, dedicated to protecting the world's oceans and marine life. And in keeping with the sea positive theme, the packaging that this stunning egg comes in is all 100% plastic-free and recyclable.
Prestat Sea Salt Caramel Truffle Easter Egg
The best for a regal gift
Specifications
Stocklist: Ocado
Weight: 170g
Price: £17.50
We adore this dark chocolate egg. It's so exquisitely put together. The subtlety salted chocolate egg comes cushioned inside a vibrant pink and green gilded box. Around the egg is a turquoise bow. It all feels so special like a precious jewel. And nestled inside the egg are the most sensational caramel truffles with an oozing salty centre. If it's good enough for the Queen it's good enough for us!
Collection Single Origin Dark Chocolate Egg with Truffles
The best Easter egg with truffles
Specifications
Stocklist: M&S
Weight: 300g
Price: £15
The M&S Collection Single Origin Dark Chocolate Easter egg is made of a gorgeous rich Colombian dark chocolate. The chocolate has a complex flavour with a subtle bitterness that makes it taste high-quality.
Tucked in the box there are also some dreamily-good egg-shaped truffles. So moreish we can't stop reminiscing about them! The box is a minimal affair with a chic modern botanical illustration, making this the ideal egg for the classy customer.
Melt Dark Sea Salt Egg
The best for vegans
Specifications
Stocklist: Melt Chocolates
Weight: 300g
Price: £24.99
Dietry: Vegan
We adore chocolate with sea salt. If you haven't tried it before, do it now! Although warning - it's highly addictive stuff! This chunky egg is made by artisan chocolatiers Melt Chocolates and is suitable for vegans. The chocolate is delightfully smooth with a hint of coconut, with the inspired addition of Maldon Sea Salt.
Hard Boiled Ginger Egg
The best for the ginger chocolate addict
Specifications
Stocklist: Hotel Chocolat
Weight: 220g
Price: £15
The shiny orange box and funky shaped geometric egg make this the classy adult option. The aroma of ginger hits you as you open the box. Hard to break - just how we like it. It gets a thick tick. It's dark chocolate with a punchy earthy ginger flavour with a subtle spicy zing. Gorgeous savoured with a cup of java. We were big fans!
No. 1 Hidden Truffles Dark Chocolate Easter Egg
The best £10 egg
Specifications
Stocklist: Waitrose & Partners
Weight: 220g
Price: £10
With a moreish slinky texture, we struggled to resist eating the entire egg in one sitting. The chocolate has a rich complex flavour with lovely acidity. And those hidden truffles didn't stay that way for long. They were soon polished off by the zealous tasters!
Moser Roth Lovers Duo Dark Chocolate Egg
The best budget Easter egg
Specifications
Stocklist: Aldi
Weight: 330g
Price: £7.99
There are two halves to this egg, one is rich plain Ecuadorian chocolate and the other has a dash of blue shimmer and the tasty addition of nuts and salt. We were really enamoured with the unique shape and enjoyed the variety. It's so fun- like two eggs in one, ideal for sharing!
Cadbury Bournville Dark Orange Chocolate Easter Egg
The best orange chocolate Easter egg
Specifications
Stocklist: Ocado
Weight: 302g
Price: £8
Really delicious. The perfect blend of dark chocolate and aromatic orange, that reminded us of candied orange. Bonus points for not using any plastic packaging but still looking fly.
Lindt Excellence Assorted Easter Egg
The best dark chocolate Lindt egg
Specifications
Stocklist: Lindt
Weight: 240g
Price: £10
This egg is thick and gloriously shiny. It comes with a selection of eight chocolate squares. Delicious chocolate with a satisfying snap that we know and love Lindt for.
Rose Fooks, Deputy Food Editor at Future plc, creates recipes, reviews products and writes food features for a range of lifestyle and homes titles including Goodto, Style at Home and woman&home. Since joining Future, Rose has had the pleasure of interviewing cookery royalty, Mary Berry, enjoyed the challenge of creating a home-based, lockdown baking shoot for woman&home, and had her work published in a range of online and print publications, including Feel Good Food.
Rose completed a degree in Art at Goldsmiths University and settled into a career in technology before deciding to take a plunge into the restaurant industry back in 2015. The realisation that cookery combined her two passions - creativity and love of food - inspired the move. Beginning as a commis chef at The Delaunay, Rose then worked at Zedel and went on to become a key member of the team that opened Islington's popular Bellanger restaurant.
In order to hone her patissier skills, Rose joined the Diplome de Patisserie and Culinary Management course at Le Cordon Bleu. Rose ran a food market in Islington championing local producers and cooked for a catering company that used only surplus food to supply events, before finding her way into publishing and food styling.
Other than cooking, writing and eating, Rose spends her time developing her photography skills, strolling around her neighbourhood with her small, feisty dog Mimi, and planning the renovation of a dilapidated 17th-century property in the South West of France.