Best leggings for style, comfort and exercise – whether you're lounging at home, running errands or hitting the gym
Find the best leggings for you – from sporty styles to sofa-friendly comfies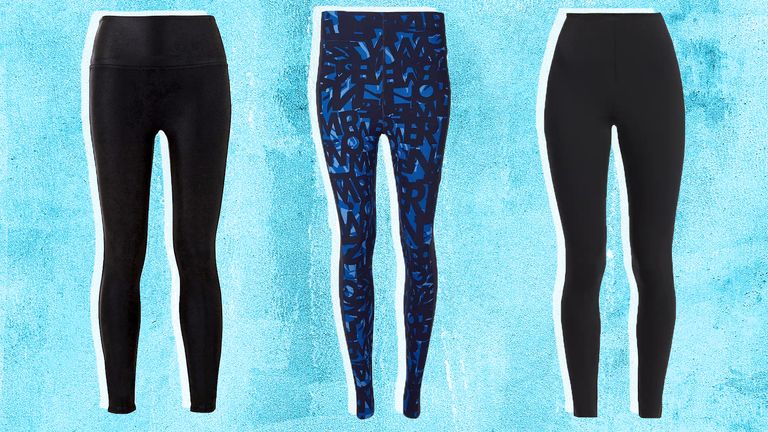 (Image credit: Future / Getty)
By Jess Beech , Aleesha Badkar
Whether it's for fitness, errands or just milling around at home, we all have those best leggings that have seen more wear than our everyday fluffy slippers.
But in a world full of increasingly busy schedules, just one pair of go-to leggings isn't quite enough to see us through our laundry rotas so investing in extra styles is always useful in helping us put off our next load for as long as possible.
Because with the lure of elasticated waists and stretchy fabrics enough to send even our best jeans into early retirement, leggings have fast become the cornerstone of our everyday wardrobes.
The real beauty of leggings is in their versatility. You might be dusting off your best best running shoes for women for a sprint towards a new PB, whizzing through the supermarket aisles trolley in hand or binging a boxset on the sofa - but either way you'll need a pair of the best leggings for the occasion.
How to choose the best leggings for you
As with any item of clothing, the first thing to consider is when you plan on wearing your new pair of leggings.
There are so many types of leggings to choose from that you have to think about whether you're after a high-tech pair to exercise in, a fashion-forward pair sleek and stylish enough for everyday wear or a flat-seamed pair to keep you comfy.
When shopping for workout leggings, the fabric is really important. You want something that's lightweight enough to keep you cool (mesh panels and perforated holes will help with this) but still suitably sturdy so as not to become see-through as you dip into a squat. Moisture-wicking fabrics are a godsend for sweaty sessions, not only minimising pesky marks but also stopping your leggings from becoming damp and heavy.
If you're wearing your leggings around the house, the technicality of the fabric might be less important, but softness is key. Look out for cotton blends and plenty of elastane for a style that moves with you, rather than against you. Thoughtful details like a gently ribbed waistband and cuffs will prevent your leggings from inching down as you wear them, while specially shaped gussets stop them riding up.
For everyday, leggings are a comfortable starting point to build trend-led outfits on, as you can pretty much put together comfortable and stylish leggings outfits for any occasion. Opt for a pair that has borrowed design details from shapewear, like a high waist and contouring seams, to create a smoother, more streamlined silhouette. If you're teaming yours with a shorter top or jumper, make sure your leggings pass the VPL test, too. You might feel a bit silly doing it, but squatting in front of a mirror in good lighting is the easiest way to see if they become see-through as you bend.
The best leggings according to our experts
1. Proskins SLIM High Waisted Compression Leggings
The best leggings for most people
Specifications
RRP: $137.99/£59.99
Sizes: 4-24
Fabrication: 82% nylon, 18% elastane Lycra
Machine washable: Yes
Reasons to buy
+Flattering high waist +Inclusive size range
Reasons to avoid
-Long leg length not suitable for petites -Sell out quickly
Looking to replace your tired workout leggings with something a bit special? Proskins' SLIM High Waisted Compression Leggings offer a supportive fit and flattering high waist, not to mention they're crafted from the softest Lycra we've ever got our hands on.
Boasting a subtle sheen, they look far smarter than their matte competitors and, as they're free from distracting logos and detailing, they work just as well for everyday as they do for sweaty gym sessions.
But back to that high waist. These are some of the best high-waisted leggings we've come across, with a double lining and a comfortable tightness that compresses your stomach in the same way the best shapewear does, for a smoother tum and smaller middle. Wear yours with short or longline tops safe in the knowledge these budge-proof leggings won't inch down as you wear them.
Designed with exercise in mind they're naturally one of the best workout leggings around, but the soft fabric, minimal detailing and flattering high waist makes Proskins SLIM High Waisted Compression Leggings a great all-rounder for daytime wear, too.
See our full Proskins SLIM High Waisted Compression Leggings review
2. Spanx Faux Leather Leggings
The best leather-look leggings
Specifications
RRP: $77/£89
Sizes: XS-3X
Fabrication: Outer: 87% nylon, 13% elastane with polyurethane coating
Machine washable : Yes
Reasons to buy
+Smart enough for eveningwear+Shapewear and clothing in one
Reasons to avoid
-Little tricky to pull on -We need them in more shades!
Faux-leather leggings always seem like a good idea, but the end result is normally baggy knees, sweaty thighs and a fit so tight you can barely sit down. That was until we tried the Spanx Faux Leather Leggings as they're definitely the best leather leggings we've tried.
A sartorial Trojan horse, they're not crafted completely from faux leather. Rather, they're super-stretchy activewear-style leggings topped with a shiny polyurethane coating. Not only does the soft elastane-blend fabric feel comfortably cool against your skin, but it stretches as you do for full flexibility of movement.
Taking everything they know about shapewear and applying it to clothing, these leggings have been made without a front centre seam to completely negate the risk of camel toe. They do however have a seam at the back, to lift and sculpt your bum. The 'power waistband' works like control pants to hone your stomach, so you can step out with confidence.
See our full Spanx Faux Leather Leggings review
3. Lululemon Align High-Rise Pant
The best leggings for yoga
Specifications
RRP: $98/£88
Sizes: 6-18
Fabrication: 81% nylon, 19% Lycra
Machine washable: Yes
Reasons to buy
+Super soft+Lightweight
Reasons to avoid
-Sell out quickly
Designed to work like a second skin, somehow these clever leggings manage to enhance, instead of hinder, your performance. The super-soft fabric not only feels gorgeous against your skin, but is super lightweight, too – especially important during a sweaty Hot Yoga session.
The double-layered high waist creates a flattering smooth line across your stomach, as well as staying perfectly in place from warrior pose through to downward dog.
Great for travelling light, the hidden pocket on the inside of the waistband is big enough to store a key or even a small snack if yoga makes you peckish.
They are pricey, but we think they're well worth the investment. Follow the washing instructions to the letter and these are leggings you'll be enjoying for a very long time.
4. Falke Impulse Running Tights
The best leggings for running
Specifications
RRP : $200/£130
Sizes: 01-04, equivalent to UK sizes 8-16
Fabrication: 94% polyamide, 6% elastane
Machine washable: Yes
Reasons to buy
+High-tech fabric+Compression fit
Reasons to avoid
-Sizing is a bit complicated-Only available in one colour
Built to help you achieve your PB, the Falke Impulse Running Tights are fueled by a wealth of technology and innovation.
Instead of feeling smooth like your average pair of running leggings, they're covered in knitted paneling and the lining is peppered with tiny silicone nodules. The reason for this? These two design features work in tandem to gently massage both your muscles and tissues as you run, for a quicker, less painful recovery period.
As running is high-impact exercise, the majority of this detailing is focused around the hips and knees, helping to support these important joints as you pound the pavements.
See our full Falke Impulse Running Tights review
5. Commando Fast Track Leggings
The best leggings for shaping
Specifications
RRP: $108/£89
Sizes: XS-XL
Fabrication: 57% polyamide, 43% elastane
Machine washable: Yes
Reasons to buy
+Really flattering+Tech-focused fabric
Reasons to avoid
-Limited colour range -Tricky to get on and off
A name most recognisable for their shapewear, Commando's departure into the world of activewear doesn't disappoint.
The shapewear influence is still present in the smooth, matte fabric and neat, raw-cut edges, creating a tailored fit and streamlined silhouette. Instead of a visible waistband, Commando has hidden this double-layered band on the inside for extra smoothing and shaping around the tum.
Expertly designed for a compression fit, these leggings work in a similar way to flight socks to help aid circulation. Experts believe this can speed up recovery time after exercise, too, which is a welcome bonus.
6. Pretty Polly Eco-Wear Legging
The best budget leggings
Specifications
RRP: £20
Sizes : SM, ML and XL
Fabrication: 93% polyamide, 7% elastane
Machine washable: Yes
Reasons to buy
+Eco-friendly product and packaging +Inclusive sizing
Reasons to avoid
-Slightly sheer -Only available in black
'Buy better, buy less' is the fashion mantra of the moment and what better to spend your money on than a pair of biodegradable leggings?
Putting a planet-friendly spin on the classic black legging, Pretty Polly managed to make a pair that are not only a soft, seam-free dream to wear, but won't clog up landfill sites once you've worn them out.
Don't worry, the biodegradable fabric won't shorten the lifespan of your leggings. They only start to break down once they come into contact with the kind of micro-organisms typically found in landfill – and even then it still takes them three to five years to fully disintegrate. That might sound like a long time, but the average pair of tights can take up to 40 years to break down.
See our full Pretty Polly Eco-Wear Leggings review
7. Sweaty Betty Power Leggings
The best leggings for all activities
Specifications
RRP : £75
Sizes: XXS-XXL
Fabrication: 62% polyamide, 38% elastane
Machine washable: Yes
Reasons to buy
+Comfortable to wear+Stretchy fabric moves with you
Reasons to avoid
-Sell out quickly -Fabric feels thinner than expected
As soon as you slip into a pair of Sweaty Betty leggings, it's immediately clear why the athleisure trend has boomed. Soft, high-waisted and light enough to keep your legs cool and comfy, it's hard to see why you'd ever wear anything else.
Staying perfectly in place whether you're working up a sweat with a set of burpees or flowing into a downward dog, they'll give you the confidence you need to take your training to the next level.
Reimagined in new prints and colorways each season, these leggings cater for the flamboyant gym goer, thanks to bold patterns and look-at-me shades, and also come in muted, understated tones for the fashion-shy.
See our full Sweaty Betty Power Leggings review
8. New Balance Premium Printed Impact Run Tight
The best leggings to make a style statement
Specifications
RRP: £75
Sizes : XS-XL
Fabrication: Outer: 77% recycled polyester, 23% spandex
Machine washable: Yes
Reasons to buy
+Eye-catching print+Practical pockets
Reasons to avoid
-White backing can distort print-Only available in one leg length
Let's be honest, sometimes it takes more than a little persuasion to get ourselves off the sofa and into our running trainers. But when your kit looks as good as these New Balance leggings with pockets, suddenly it doesn't feel like quite so much of a chore.
The sheer panels across the sides not only look stylish, but make space for two narrow pockets, letting you keep your phone close to your body without hiding the screen. The zipped pocket at the back is just big enough to house your keys and a glucose gel – everything you need for long runs.
And, because the bulk of the pattern is on the lower part of your legs, these leggings cleverly create the illusion of a slimmer bum, hips and thighs. A more streamlined silhouette before we've even stepped outside? Consider us sold.