The 7 types of leggings every woman needs in her wardrobe
Thought there was just a couple of types of leggings? Think again!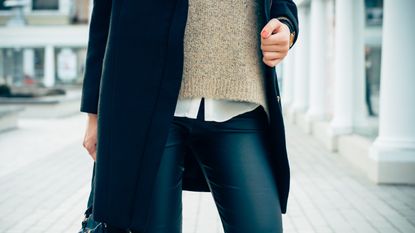 (Image credit: Getty)
Stretchy, versatile and oh-so comfy, it's easy to see why our best leggings have replaced jeans as our go-to trouser. There are so many different types of leggings too - from sporty to sparkly.
A modern essential they might be, but the appeal of leggings dates back centuries. Iterations made from chainmail and leather were originally worn by men during the 14th century, before being adopted by women in the 19th century. The 1950s saw them firmly on the fashion agenda - thanks to Audrey Hepburn, who favoured high-waist Capri silhouettes. Meanwhile the invention of lycra in the late Fifties saw stretch styles teamed with Mary Quant's mini skirts and modish shift dresses.
The following decades saw leggings take on myriad iterations. Think rock chic high-shine leather leggings in the Seventies, aerobics wear in the Eighties (just add a leotard and perm) and Sloaney stirrups in the Nineties. But it was during the Noughties that leggings had their biggest moment. Integral to the boho 'It-girl' uniform, they were worn by Sienna Miller et al, with floral dresses, slouchy boots and plenty of bangles.
Fuelled by the subsequent boom in athleisure, the popularity of leggings has never been greater. Recent seasons have seen stylish celebrities such as Rosie Huntington-Whiteley, Kaia Gerber and Gigi Hadid, sport different types of leggings for the gym, casual and evening wear.
With the leggings trend set to stay, the question is: which type of leggings to invest in? Here are the seven styles to know about...
7 types of leggings you need in your wardrobe
1. The performance pair
Runners, cyclers and those who enjoy a weekly HIIT class will need a pair of active leggings. Not only can they enhance performance, they provide muscle support when doing high-intensity exercise. It's important to look for a pair with a snug (but not too tight) fit that won't sag when moving. Breathable, sweat-wicking fabric is another must, and discreet pockets to store keys and phone are a good idea. You can browse our edit of the best leggings with pockets here.
Recommended brands for leather leggings:
2. The yoga pair
Along with good vibes and a hefty dose of zen, Yoga bunnies require the right pair of leggings in which to downward dog. These need to have plenty of stretch to allow ease of movement and be made from soft fabric for maximum comfort. It's also worth looking for blackout fabrics that won't go see-through when bending over.
Recommended brands for yoga leggings:
3. The classic black pair
Made iconic by Audrey Hepburn in 1954's Sabrina, the classic black legging has become synonymous with understanded chic. The way to wear them? With a long-line white shirt or slouchy cashmere jumper and ballet flats. Styles cropped just above the ankle bone will prove universally flattering. Although these don't need to withstand rigorous exercise, it's still important to choose a good-quality style that won't go baggy or pill.
Recommended brands for classic black leggings:
4. The brunch-ready pair
Thanks to the enduring appeal of the athleisure trend, leggings have become a legitimate replacement for casual trousers. We're wearing ours weekend brunching with friends, or enjoying a coffee pit stop after a busy morning of errands. Although it's a laid-back look, style-factor is still key and printed iterations will provide interest to everyday basics. .
Recommended brands for brunch-ready leggings:
5. The leather pair
Ask any fashion editor what their go-to trouser staple is and, after jeans, the answer will be leather leggings. The luxe, sleek style delivers on fashion-forward impact, while being both comfortable and surprisingly versatile. Not sure what to wear with leggings? Team yours with a shirt and blazer for the office, a soft knit and trainers at the weekend or a silky blouse and heels for the evening. As with any leather piece, these are an investment but, if cared for properly (wipe clean with a damp cloth, avoid the tumble dryer and store in a cotton dust bag), they will last a lifetime.
Recommended brands for leather leggings:
6. The thermal pair
As temperatures start to drop, nothing will keep you cosier than a pair of toasty thermal leggings. Layer underneath work trousers for chilly commutes, slip on in place of tights or wear them while curled up on the sofa on wintry evenings. The warmest leggings are made from plush fabrics and complete with fleece linings.
Recommended brands for thermal leggings:
7. The evening-ready pair
Leggings as evening wear? You'd better believe it. Not only a daytime staple, some types of leggings also work after dark in elevated fabrics and silhouettes. As comfy as they are chic, they're the perfect piece to ease you from lockdown loungewear back into dinner party dress code. The key to success is to treat them as you would a pair of smart evening trousers and look for flattering cuts with luxe factor.
Recommended brands for evening-ready leggings: