The best tinted moisturizers for easy, sheer coverage
The best tinted moisturizers for that 'your skin but better' look—tried, tested and picked by our beauty editor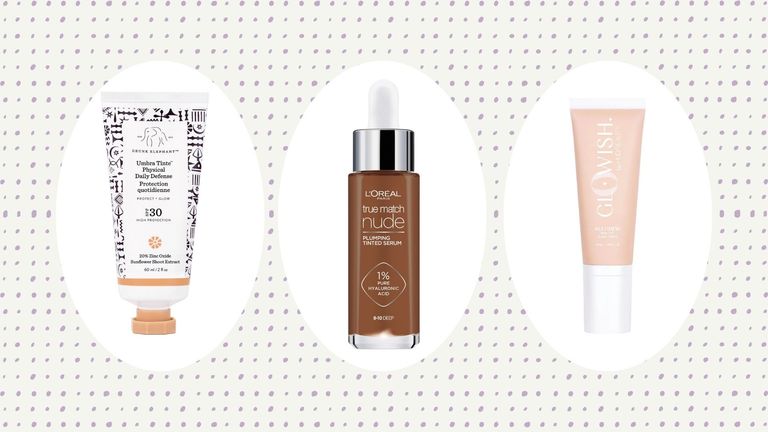 (Image credit: Future/Canva)
The best tinted moisturizer will give you that skinlike finish that we're all after. Breathable and sheer, they help even out skin tones and lightly cover up any imperfections. They give the complexion a nice level of 'done-ness' without having to go for a full-on foundation.
Basically, tinted moisturizer is the best foundation for mooching around on a Sunday with a natural makeup look. They're ideal for those days where you're meeting a friend for a coffee or heading out on some errands and just want an easy makeup look with skincare benefits, while also adding some coverage. It's the perfect little booster for your skincare routine.
Lighter coverage foundations and tints also tap into a key makeup trend that we can't get enough of—glass skin. Glass skin is all about a glowing, almost shiny finish that's very flattering, especially on sunny days. You can apply tinted moisturizer with a brush for higher coverage, with a sponge, or with your hands for speed and ease. It's something you can really personalize to your preferences, to make your base work it's best for you.
How to switch to using the best tinted moisturizer
If you're used to a full-coverage base, it can be a bit intimidating to swap over to something sheerer, even when you're working with the best tinted moisturizers in the business. Heather Jackson, Smashbox's National Trainer and make up artist offers her top tips:
Pick the right formula: This all depends on your personal preferences, but there are key elements to look out for, says Jackson. "The three things to think about are coverage, finish, and benefits. Do you want it to be invisible, or lightly opaque? Do you prefer a matte or radiant finish? Look out for some skin-boosting benefits too, like SPF, hydration, or any extra brightening ingredients, to benefit the skin as you wear it." This is down to personal preference—think about what you really need from a base, and pick accordingly.
Finding your shade match: There are usually fewer shade choices for tinted moisturizers, but that's because they're more adaptable and can work with more than one tone of complexion. Jackson recommends checking the brand's website when buying tinted moisturizers online. "Most stores now have digital shade matching tools and online chat teams to help you navigate to the right shade, or even better virtual try on," she advises.
Prep your skin: As with most things, it's all about prep. "Even the best tinted moisturizer will need a primer. Be sure to use one before applying, to help create the perfect canvas for your makeup." Jackson suggests. "Pick a brightening or slightly shimmery radiant buy, which will boost glow through the sheerer base."
Get clever with concealer: You don't have to rely on your base to cover up blemishes, discoloration, or dark circles. "Just add your best concealer to areas like under the eyes and around the nose where you want a little bit more coverage," Jackson advises.
The best tinted moisturizers, picked by our Senior Beauty Editor
1. L'Oreal Paris True Match Nude Plumping Tinted Serum
Best drugstore tinted moisturizer
Specifications
RRP: $14.99/£14.99
Shades available: 9
Finish: Satin
Benefits: Hydrating
Reasons to buy
+
High concentration of hyaluronic acid
+
Kind to skin
+
Buildable coverage
+
Lightweight
Reasons to avoid
-
Glass packaging, so not ideal for travel
Without sounding like too much of a fangirl, L'Oreal Paris has been behind some of my favorite recent launches. The Pure Retinol Night Serum hasn't left my bedside table since I tried it, and don't get me started on their Wonder Water conditioner. I had high hopes for this base, and I wasn't disappointed.
It's as if they've taken the best bits of their bestselling hyaluronic acid serum (another favorite of mine) but infused it with a tint of color for sheer, gorgeous coverage. It's lightweight, thanks to the serum consistency, and contains 1% pure hyaluronic acid to leave skin feeling plump, hydrated, and happy. Not only is it the most affordable buy on this list, but it's also the overall best tinted moisturizer of the lot, in my opinion. In a word—brilliant.
2. Drunk Elephant Umbra Tinte Physical Daily Defense SPF30
Best tinted moisturizer with SPF
Specifications
RRP: $36/£31
Shades available: 1 universal tone
Finish : Radiant
Benefits: Wrinkle-busting active ingredients
Reasons to buy
+
Flattering radiant finish
+
One suits-all shade makes it an easy buy
+
SPF 30 protects against UVA and UVB
+
Contains antioxidants
Reasons to avoid
-
Can look slightly orange on very pale skins
This cult buy reminded me why tinted moisturizers are the best option when you're on vacation in a hot country. The last thing you want to do in the heat is try to master how to apply foundation while it simultaneously slides off your face. A tinted SPF like this one means you can get light coverage while also protecting your face from those harmful UV rays.
It's sheerer than other options I've tried, but if you don't mind that, the slightly shimmery (although crucially—not glittery) finish gives that mega-watt glow that goes nicely with a red lip and a pina colada. I'd advise layering on top of your best facial sunscreen just to make sure you're properly protected, and be sure to re-apply every few hours when you're out in the sun.
3. Milk Makeup Sunshine Skin Tint Broad Spectrum SPF30
Best tinted moisturizer for on the go
Specifications
RRP: $42/£39
Shades available: 14
Finish: Dewy
Benefits: Hydration plus SPF30
Reasons to buy
+
Handy for your handbag
+
Bonus of SPF30
+
Vegan and cruelty-free
+
Quick to apply
Reasons to avoid
-
Some non-recyclable packaging
I'm all about convenience when it comes to make-up. If a product is multipurpose, or quick to apply, or handily handbag-sized, you have my attention. This quirky little option was pretty much always going to be a yes from me. A handy rollerball applicator that glides the makeup straight on? A glowing dewy finish? A bonus of SPF30? Tick, tick, tick.
Although the rollerball is the selling point, you still need to blend it in with a brush or your hands—it just means you skip the step of having to dab it onto your hands before applying. Eco-warriors might not appreciate the plastic packaging, but I have to admit I did love the little button that helps you get every last drop out. Plus, the slim tube was great for chucking into my best tote bag and topping up throughout the day.
4. Huda Beauty GloWish MultiDew Skin Tint
Best tinted moisturizer for glowing skin
Specifications
RRP: $37/£32
Shades available: 13
Finish: Glowing
Benefits: Hydrating with antioxidants
Reasons to buy
+
All-inclusive shade range
+
Skin feels hydrated in seconds
+
Instantly radiant skin
+
Waterproof
+
Vegan-friendly formula
If glowing skin is your goal, look no further than this radiance-boosting buy. My skin looked illuminated immediately after applying, and it was an instant pick-me-up for my dull, post-work-week skin. That's down to the 92% natural ingredients—namely, the Damascus rose oil which locks in moisture like a dream.
It also includes antioxidant-packed red pepper extract, which helps protect skin from damage from pollution, particularly the blue light which emits from our phones and laptops. The science behind blue light damage on skin is still hotly debated so take that promise with a pinch of salt, but regardless of that, it's a solid choice pick as a best tinted moisturizer for noticeable radiance. I especially appreciated the wide range of shades, which blend in beautifully with or without the best makeup brushes to hand and don't leave any streaks or tell-tale tidemarks.
5. Nars Pure Radiant Tinted Moisturizer SPF30
Best tinted moisturizer for buildable coverage
Specifications
RRP: $46/£33
Shades available: 16
Finish: Satin
Benefits: Brightening
Reasons to buy
+
Oil-free
+
Broad-spectrum SPF30
+
Buildable coverage
+
Mattifying
A slightly higher level of coverage means this is one of the best tinted moisturizer options if you're used to a full-on foundation. It's also buildable, so you can start with one light layer and add more to areas where you want a bit more opacity. Sun protection is always a bonus and the broad spectrum SPF30 included didn't give me that dreaded ghost face in flash photography.
It's oil-free which makes it a great option if you're prone to blemishes or shine. It's not as glowing as the other options but that's not always a bad thing—the result is a soft satin, which makes it more wearable for days in the office or for when you don't want to risk looking too sheeny. The radiance in the title refers to the inclusion of Vitamin C in the formula, which will help brighten your skin as you wear it. This is a tried and trusted favorite loved by many a beauty ed.
6. Smashbox Halo Healthy Glow Tinted Moisturizer
Best vegan tinted moisturizer
Specifications
RRP: $39/£28
Shades available: 12
Finish: Dewy
Benefits: Hydrating and conditioning
Reasons to buy
+
Easy to blend
+
Buildable coverage
+
SPF25 as a bonus
+
81% skin-caring ingredients
Reasons to avoid
-
A little heavier than some other options
Smashbox is probably best known for creating some of the best primers out there, but the rest of their makeup range is also brilliant, and quite underrated. I've really enjoyed using the Always On range for long-lasting lip colours and eyeshadows, and I was also pleasantly surprised by this buy.
The coverage is buildable so it suits all wants and needs, and it's made using 81% skin-caring ingredients, including hyaluronic acid, peptides, and niacinamide so this really is a perfect middle ground between skincare and cosmetics. They also have handy shade-matching tools on their website, which makes it easy to find your best tinted moisturizer match when you're buying online. From May 2022 the expanded range includes 20 options, up from 12, as well as a mini version that's ideal for travel.
7. Laura Mercier Tinted Moisturizer Natural Skin Perfector SPF30
Best classic tinted moisturizer
Specifications
RRP: $48/£37
Shades available: 20
Finish: Dewy
Benefits: Moisturising with antioxidants
Reasons to buy
+
It just works
+
Very wide shade range
+
Available in three formulations
+
Flattering on all skin types
I can't talk about the best tinted moisturizer options without mentioning this global bestseller. Laura Mercier was one of the first brands to really popularize this lighter base option, and it's all down to the brilliant, hardworking formula. It's simple, easy to use and it just works. Simple as.
Before testing I had forgotten how much I loved this—I had the feeling of, "sure, I know this is pretty good", but when I started actually buffing it into my skin, I was genuinely wowed. The difference it made to my skin was instant. It looked like I just had radiant, healthy skin—which is quite a feat the morning after I'd enjoyed two (ok, five) margaritas. It blended in so easily and really did have that 'your skin but on a good day' effect. It's firmly back in my makeup bag for good. Even better, there is also a lighter, more radiant version plus an oil-free option for congested skin types, so there's something for everyone.
8. Charlotte Tilbury Unisex Healthy Glow Hydrating Tint Moisturiser
Best tinted moisturiser to look bronzed
Specifications
RRP: $40/£35
Shades available: One
Finish: Dewy
Benefits: Hydration
Reasons to buy
+
Versatile
+
Hydrating
+
Easy to apply and blend
+
Adds a healthy bronze effect
Reasons to avoid
-
May not work on all skin tones
-
Won't suit oily skin
The elephant in the room here is that all the best tinted moisturizers are pretty much unisex, so the USP for this one is a bit of a moot point. But, if it matters to you that this has been formulated to specifically suit men as well as women, then fair enough. Either way, it's a great product.
Charlotte Tilbury refers to this as summer in a bottle and I can see why—it gave me that bronzed, glowing complexion normally usually reserved for the end of August (or days when I've nailed how to apply bronzer.) This, paired with the fact that it's only available in one tone means it may not be suitable for extremely fair skin, but if you're looking for glowing, fresh back from vacation complexion, then this will do the job nicely. You may also find any men in your life borrowing this from your makeup kit, so keep a close eye on it (or, buy two).
9. Dolce & Gabbana Millennialskin On-The-Glow Tinted Moisturizer
Best luxury tinted moisturizer
Specifications
RRP: $46/£39
Shades available: 15
Finish: Radiant
Benefits: Softening and hydrating
Reasons to buy
+
Luxe look
+
Light and easy to blend
+
Buildable coverage
+
SPF30
Reasons to avoid
-
Not many shades for deeper skin tones
-
Expensive
I really wasn't sure what to expect when I picked this up. When you're trying to find the best tinted moisturizer you cast your net far and wide, and I hadn't heard much about this swish-looking tube. I can sometimes find that luxe brands just slap their well-known name on products without much care (cynical, me?), but this really did impress me. It felt silky on the skin, spread on easily, and blended nicely with a brush but also with fingers when I was in more of a rush.
A recent reformulation has made the product even more skin-friendly, incorporating some hydrating ingredients like Italian olive oil and fig extracts to moisturize and plump the skin. Although they sound a little bit salad-y, I really did feel like it sunk in nicely and my dry skin did feel hydrated and happy after a whole day of wear. I also experienced zero tell-tale dry, orange patches. Yes, it's pricy, but it would be a great one for the birthday or Christmas list.
---
woman&home thanks Heather Jackson of Smashbox for her time and expertise
Rhiannon Derbyshire is the Senior Beauty Editor for Woman & Home and other publications.
She started interning for magazines while working alongside her Fashion Journalism degree. There, she was lured to the beauty desk, seduced by matte lipsticks, posh shampoos and every skincare product imaginable. A first-language Welsh speaker, she can tell you why the best mascaras are always high street, why SPF is a non-negotiable all year round and how to find the exact right red lipstick in two languages.