We tried the new L'Oreal Pure Retinol serum for a month and these are our honest thoughts
The L'Oreal Pure Retinol serum has been 22 years in the making, so it packs a serious anti-aging punch. But is Revitalift worth the hype? You bet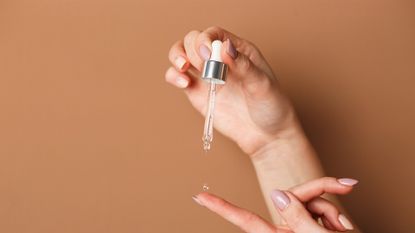 (Image credit: zsv3207/Getty Images)
Meet the L'Oreal Pure Retinol serum: a new skincare launch that's been making waves and disappearing from the shelves as soon as it hits them. Inspired by its viral stampede, we put the Revitalift through its paces, and here's how it fared.
In recent years, retinol, also known as vitamin A, has been lauded as a game-changer that has to be included in anything that wants to declare itself the best skincare routine. The benefits of retinol eye cream are, after all, vast; the modern equivalent of a fountain of youth is included in many of the best retinol creams on the market, and experts say that using retinol is one of the important skincare tips that is (almost) universally worth following. Essentially, this is no fleeting trend. Nor is it a marketing gimmick.
Even so, given vitamin A's reputation for causing dryness and irritation, the concept of pure retinol sounds a little scary. With the new L'Oreal Paris Revitalift Laser Pure Retinol Night Serum, however, you have nothing to fear. We should know as we're among the select few who were able to try it for a month ahead of its launch.
With years of experience testing all manner of products to determine the best mascara, best eye cream, and best foundation on the market at any given time, we're a pretty good barometer for anything retinol-related. In fact, we've tried both over-the-counter creams as well as a super potent, prescription-only regimes—with varying degrees of success.
So how does L'Oreal's Pure Retinol Night Serum fare in comparison to the products already out there? Well, the fact that it has been 22 years in the making should give you some indication of just how much scientific research has gone into this product. The fact that L'Oreal enlisted an independent, international board of dermatologists to test and validate the formula also shows how seriously they have taken it.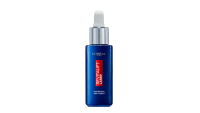 Speaking of dermatologists, they tend to agree on one thing: retinol sparks change in the skin by increasing cell turnover and revving up collagen production. Yet despite its glowing reviews, retinol also lives under a degree of controversy as it can leave skin dry, flaky, and irritated. You may, therefore, want to follow a skincare routine for sensitive skin if your complexion tends to react to potent ingredients and formulas.
L'Oreal's Pure Retinol Night Serum contains 0.2% retinol—this is normally a starting dose for many prescription brands, so it's quite a feat to have this released as over-the-counter skincare.
Actually, the amount of retinol isn't what's key here though; it's the proprietary technology that makes this serum one-of-a-kind. That and the fact that this high-level formulation is available for just $29 [£24.99], which is remarkably affordable for a product that can awaken your skin, making it look brighter, smoother, and more evenly toned.
How does it do this? Well, L'Oreal has created something it calls Retinol Stabilization Technology, which not only helps protect the retinol from sunlight and air—both of which can render it ineffective—but also keeps pure forms of retinol stable. So this product doesn't need to revert to using a derivative, such as retinyl palmitate, as an active ingredient.
This, says L'Oreal, means the retinol can also penetrate the skin more effectively as more of the active ingredient is absorbed. In short, you're getting the gold standard, result-driven version of retinol in this product, which additionally contains hyaluronic acid, glycerin, and three different types of oils, which offset any potential side effects.
Since receiving the Pure Retinol Night serum we used it in the evenings for a month. Our advice is to start slow: we began by using the serum one night out of three during the first week, then every other night in week two before building up to nightly use by week three. We also applied the best moisturizer for dry skin over the top if it felt like we needed it.
The first week we did experience a bit of tingling, but nothing so bad that it put us off using it. It's also important to note that as retinol makes skin more sensitive to UV, you must use a separate sunscreen with SPF30+ on top of your moisturiser during the day.
As my tolerance grew so did my glow, and my skin began greedily drinking up the serum whenever I applied it. Mercifully, it's non sticky and absorbs fast so you know the serum is hitting your skin cells rather than disappearing into your pillow case. The effects are cumulative, too, so we're looking forward to seeing how our skin looks after three months.
The only thing we take issue with is the use of the word 'laser' in the Revitalift range. We believe in realistic expectations when it comes to beauty, and no skincare product is ever going to replicate an in-office treatment. So be under no illusions, the Pure Retinol Night Serum is not going to make you look like you've had laser treatment.
What it will do, however, is make your skin look fresher, more rested and your elevens (vertical frown lines between your eyebrows) less pronounced. And you can't ask for more than that from a drugstore serum.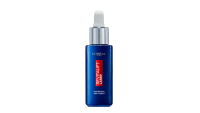 Sign up to our free daily email for the latest royal and entertainment news, interesting opinion, expert advice on styling and beauty trends, and no-nonsense guides to the health and wellness questions you want answered.
A lifelong creative writer and beautyphile, Eunice Lucero-Lee graduated from De La Salle University in 2002 and was hired a year later to front all beauty coverage for Pink Magazine. A beauty, astrology, and pop culture obsessive and insider for over 18 years, Eunice is an internationally published editor (and now certified astrologer) whose work has been featured in publications such as Cosmopolitan, Esquire, and The Numinous, among many others.