The best at-home red light therapy devices for your skincare concerns
From anti-aging to acne-fighting, the best red light therapy devices help provide medispa-grade results, all in the comfort of your own home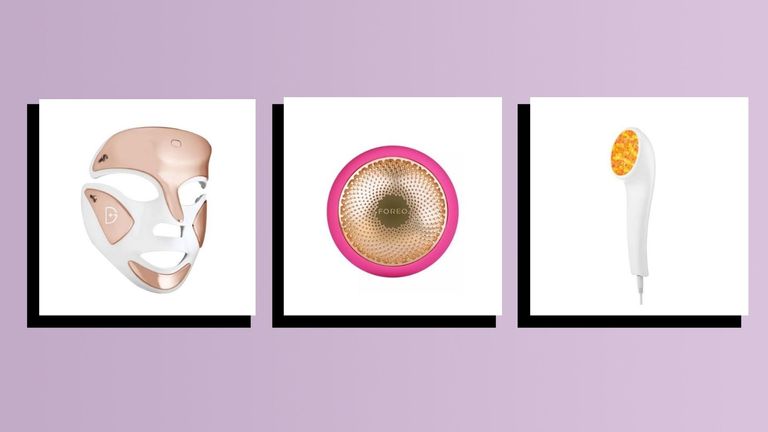 (Image credit: Future)
It seems like the quest for the best red light therapy device has gone mainstream, with more and more people looking into at-home red light therapy as a means of tackling their skincare issues. 
The therapy is a skincare procedure method that uses low-level wavelengths of red light to treat a range of skin issues. This unique form of treatment, when integrated into a proper skincare routine, targets skin-specific challenges like wrinkles, scars, dark spots, acne, stretch marks, and even open wounds. 
Red light therapy found its not-so-humble beginnings in outer space in the early '90s when scientists used it to grow plants in outer orbit. This was just a preliminary test for the benefits red light therapy might have on increasing human cell energy growth, specifically on muscle atrophy that astronauts experienced during space travel. Lucky for us, red light therapy later translated to assisting with a host of beauty benefits as well. 
Red light therapy is known to stimulate collagen growth and get rid of wrinkles, mend sun damage, fade scarring, and can promote wound healing—like when those at-home acne treatment attempts suddenly go wrong, and you're left to deal with many an unwanted scar. Many salons and spas offer red light therapy treatments but there are also several handheld red light therapy devices on the market. As one of the best skincare devices available, making a one-time red light therapy device investment will be the gift that keeps on giving when it comes to your skin.
After checking with your dermatologist about using red light therapy for your specific skin concerns, consider one of these highly-rated handheld red light therapy devices. 
How to choose the best red light therapy device 
"For at-home LED devices, you should look for a device that incorporates red and blue LED and sits flush to the face—this allows the LED to best penetrate the skin," says board-certified dermatologist and dermatologic surgeon Dr. Dennis Gross, who is also the creator of the award-winning eponymous line Dr. Dennis Gross Skincare.
 "The key to designing the device is to maximize energy, allowing the surface of the skin to be touched by the lights. 415nm is the most effective wave length for blue light—it most effectively targets and kills acne-causing bacteria. For red LED, look for a device that is in the spectral range of 600-1300nm (red and infrared)—these wavelengths stimulate collagen production, reduce inflammation, and diminish hyperpigmentation," he adds.
"To ensure you are using a high quality device, look for medical-grade, FDA cleared device that has clinical studies that clearly show the device's effectiveness, " Dr. Gross recommends. "There are strict regulations for the strength of red LED at-home devices, however some devices are more effective than others. Ultimately, you want the device to lay flat on the skin surface itself without heat or risk of burning." 
These are some key terms and features to look out for:
Wrinkle reducing: If one of your main skincare concerns ties back to wrinkle reduction, be sure to keep an eye out for a device that targets wrinkles in particular. 
Anti-aging: Seeking a more youthful, glowing appearance overall? Seek out a device that targets aging skin concerns. 
FDA-approved: While red light therapy has been proven to address a wide range of skincare concerns, this form of therapy is still relatively young. Be sure to keep an eye out for FDA-approved devices. 
Acne solutions: Acne-fighting red light therapy devices will combat acne-causing bacteria and soothe existing redness and inflammation.
The best at-home red light therapy devices, as chosen by our beauty experts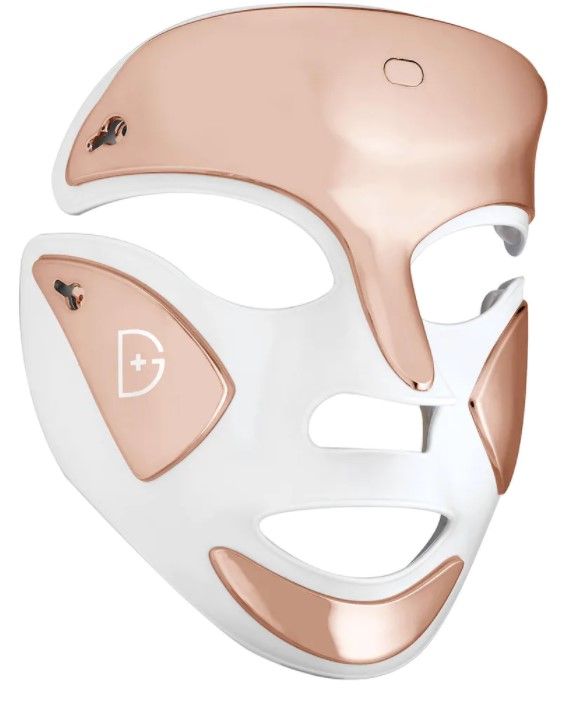 1. Dr. Dennis Gross Skincare SpectraLite FaceWare Pro
Best all-around red light therapy device
Specifications
RRP: $435/£315
Type: Full mask
FDA-cleared: Yes
Target issues: Lines; redness; blemishes
Reasons to buy
+Ideal for all skin types+Effective at addressing acne concerns+Effective at addressing full-face wrinkles
Reasons to avoid
-Slippery attachment strap-Higher price point 
Widely considered the top performer for red light therapy devices, the price tag on this mask is justified. This 3-minute-long LED procedure targets a large range of skincare concerns: wrinkles, fine lines, blemishes, and dark circles are just a few challenges this mask tackles. Dr. Dennis Gross boasts a patented design that contours to the face and specifically targets areas in need. With red light to support natural collagen production and blue light to address acne and redness, this mask truly packs a punch. 
Our beauty experts recommend starting with a dry and freshly cleansed face. Use the signature Dr. Dennis Gross silicone adjustable strap to place the mask on your face. Then let the red light-blue light combination therapy do its thing for 3 minutes until the timer goes off. After we followed up with our favorite serum and moisturizer, we definitely noticed an improvement in circulation and brightness.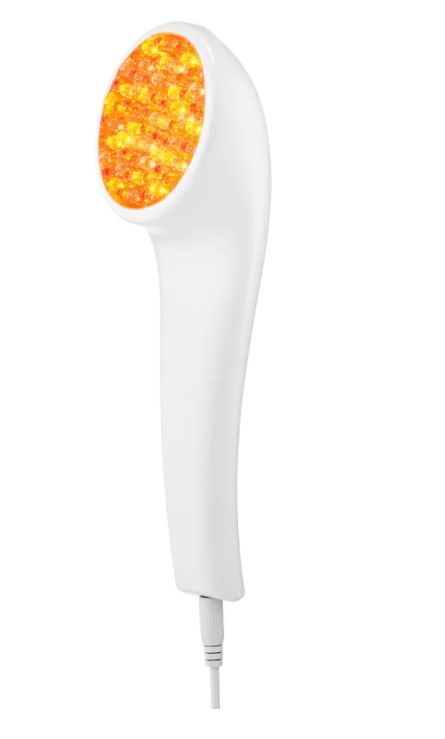 2. LightStim for Wrinkles
Best red light therapy device for fine lines
Specifications
RRP: $249/£180
Type: Handheld wand
FDA-cleared: Yes
Target issues: Lines; loss of firmness; enlarged pores
Reasons to buy
+Best for all skin types+Targets all areas, from forehead to lips+Built-in timer+Reasonably priced
Reasons to avoid
-Requires super consistent use
Take advantage of the four different wavelengths of therapeutic light energy included in the LightStim for Wrinkles handheld device. Though this versatility comes with a bit of a higher price tag, you get great bang for your buck. As the name implies, this device targets aging skin and mainly addresses concerns like fine lines, loss of firmness, and tackles visible pores. The patented technology used here employs multiple wavelengths of light to give your skin a major boost of nourishment and a more youthful appearance overall. 
Not only that, but this easy-to-hold device couldn't be any easier to use and allows you to target every area of your face—we found ourselves accessing each area, from the jawline to any forehead wrinkle, with ease. The 3-minute treatment timer also came in super handy and helped restore our skin's radiance without going overboard and risking any damage. 
Three minutes is all it takes to get the most out of this device, so making this a part of your daily routine is easy enough. Use this device as part of your nighttime skincare routine to wake up with a brighter, plumper, and more youthful complexion.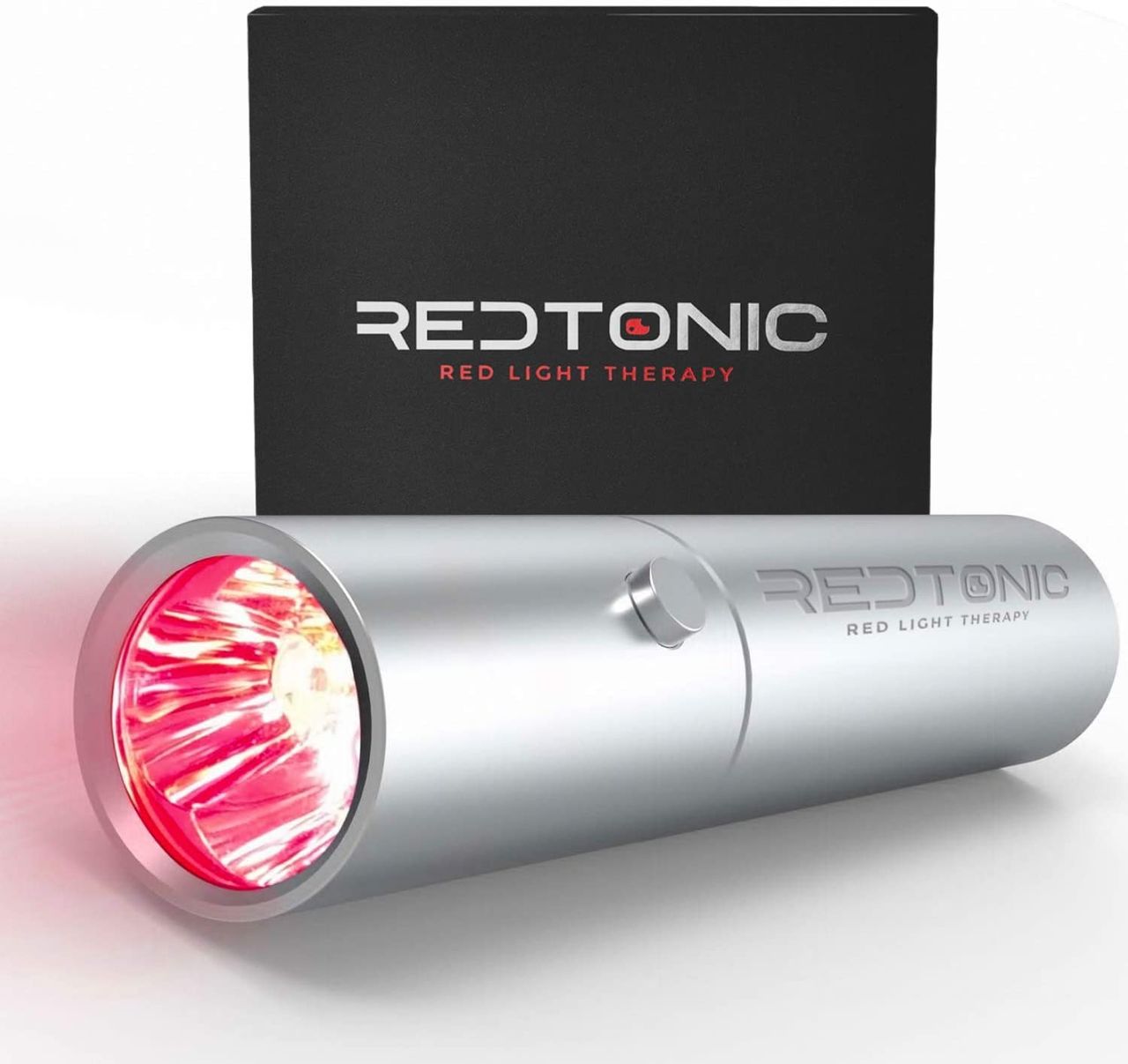 3. Exerscribe RedTonic LED Red Light Therapy Device
Best red light therapy device for inflammation
Specifications
RRP: $99/£162
Type: Handheld penlight
FDA-cleared: FDA-registered
Target issues: Inflammation; joint pain/arthritis; muscle pain;
Reasons to buy
+Ultra-powerful LED light helps relieve inflammation; great for muscle and joint pain relief+Very portable, easy to pack; great for back pain relief after long plane/car rides+Pet safe+Accessible price point
Reasons to avoid
-Can overheat in time
The Exerscribe RedTonic LED Red Light Therapy Device is small (literally like a travel flashlight/oversized lipstick), but it packs a punch and, like the 300+ Amazon ratings suggest, truly delivers on its promises. This red light therapy device is perhaps the easiest to use in this collection: The flashlight-inspired structure makes it compact, familiar, and ideal for targeting specific areas. Small and discreet, the build is also ideal for travel as it's easy to stash in your suitcase and has small chargers, ensuring that you'll maintain a consistent red light therapy routine. 
Weighing in at a featherlight 7.4 ounces, you will be amazed by just how lightweight this device is and how little effort it requires from you as you use it. While other red light therapy devices can often feel like a chore in and of themselves, this choice stands apart for the ease of use and lightweight dimensions.
Many of us first fall in love with red light therapy at the dermatologist's office and want to find a way to get the benefits of the process more frequently. If that sounds like you and you're looking for an easy way to adapt the practice at home, consider adding this handheld device to your beauty regimen. And although using it on random tight areas did give some warmth and pleasant relief, we also love using this after our long-haul trips to relieve travel-weary lower back pain. We give it a seal of approval for daily aches and pains and more intensive weariness.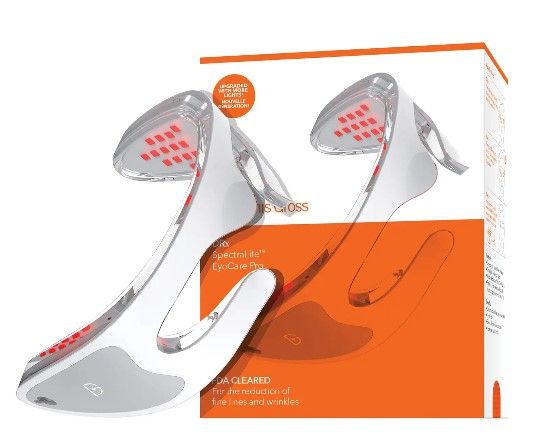 4. Dr. Dennis Gross Skincare DRx SpectraLite EyeCare Pro
Best anti-aging red light therapy device
Specifications
RRP: $169/£123
Type: Hands-free glasses
FDA-cleared: Yes
Target issues: Dark circles; lines; crows feet
Reasons to buy
+Full spectrum of age-defying wavelengths+Targets crows feet and "eleven" lines on forehead+ Short application time (3 min 30 sec)
Reasons to avoid
-Only targets eye area
This hands-free light therapy device is specifically built to target your eye area—specifically crow's feet, the dreaded eleven lines, and general loss of elasticity in the skin around the eye area that comes with age. Ideal for those with anti-aging concerns and anyone dealing with dark circles, dullness, or fine lines overall, this specialized red light therapy device targets the eye area to visibly improve your skin. These futuristic red light glasses work their magic while keeping your hands free: ideal for working on more luminous skin while simultaneously painting your nails! 
To those looking to supplement the best eye cream in their arsenal with a bit of tech, commit to daily use of this device and see a noticeable difference in only a few days. In a 10-week daily use clinical study, 97% of subjects showed visible improvement. We can get on board with those odds. 
The adjustable strap that stretches around the back of the head ensures this device is comfortable for heads of all sizes. And as with all beauty regimens and products, the more consistent you are, the better your results will be.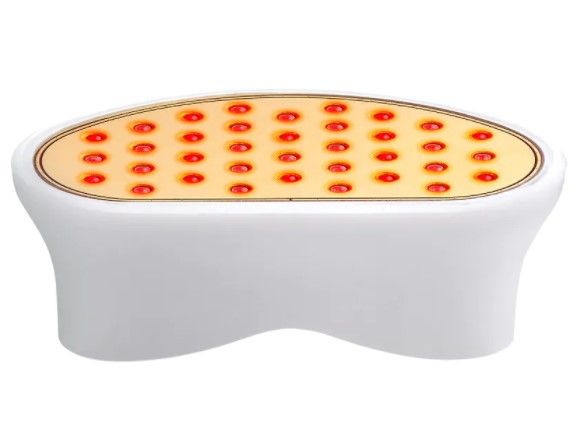 5. NuFACE Wrinkle Reducer Trinity Attachment
Best red light therapy device for full-face wrinkles
Specifications
RRP: $159/£115
Type: Handheld device
FDA-cleared: Yes
Target issues: Wrinkles; redness; loss of elasticity
Reasons to buy
+Ideal for all skin types+Effective at addressing full-face wrinkles 
Reasons to avoid
-Requires purchase of the NuFACE Trinity
Upgrade that popular NuFACE Trinity with a red light therapy wrinkle reducer attachment that specifically targets wrinkled skin by smoothing, toning, and reviving your complexion with just a few minutes of use each day. Adding another attachment to your NuFACE Trinity will diversify your skincare routine and smooth out your skin while simultaneously targeting wrinkles, redness, and sagging—all pesky signs of aging.
Using amber, infrared, and red-light therapy, this NuFACE attachment gives off a relaxing warm glow as it works its magic on fine lines and wrinkles. Bask in the warmth of this unique form of red light therapy and rest easy knowing your wrinkles are being smoothed into oblivion. 
Our beauty experts recommend using this device 4-5 times a week for optimum effectiveness.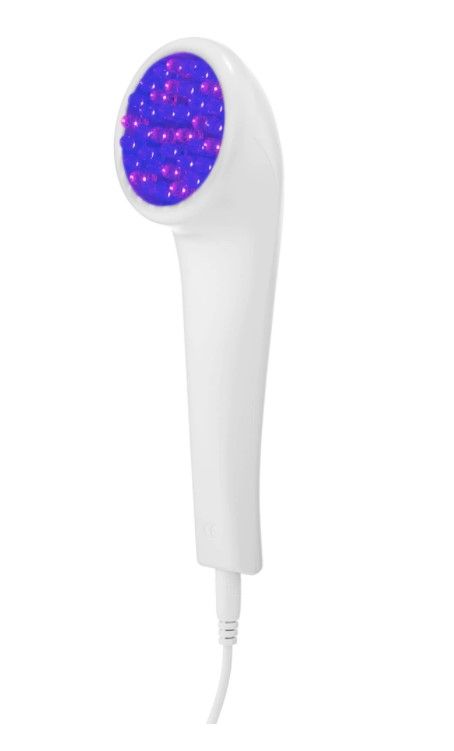 6. LightStim for Acne
Best red light therapy device for acne
Specifications
RRP: $169/£123
Type: Handheld wand
FDA-cleared: Yes
Target issues: Acne; redness
Reasons to buy
+Good for all skin types+Alternative and effective way to target acne+Addresses existing acne and prevents new blemishes from forming
Reasons to avoid
-Requires daily use for real results
Due to hormonal changes and stress increases, acne can be a problem at any stage of life. And it doesn't ever seem to get any less frustrating, despite our best efforts at following a skincare routine for acne to a T. Instead of investing in another topical acne treatment or pulling a 360 on your diet with another sugar detox, consider a red light therapy device specifically designed to target both existing acne and new underlying blemishes threatening to pop up. 
The LightStim for Acne is our top red light therapy device pick for acne-prone skin for the way it uses therapeutic light waves to target acne. Utilizing multiple wavelengths, this device actually uses a mix of blue and red light, calming already existing acne and combats new breakouts from forming. This form of red light therapy pulls double duty by using the blue light to combat all acne-causing bacteria while the red light simultaneously soothes redness and inflammation. 
The 3-minute built-in timer will help you time your therapy to the second and ensure you reap all the benefits without going overboard. There's something super satisfying about targeting your acne with red light therapy and seeing improvement within days.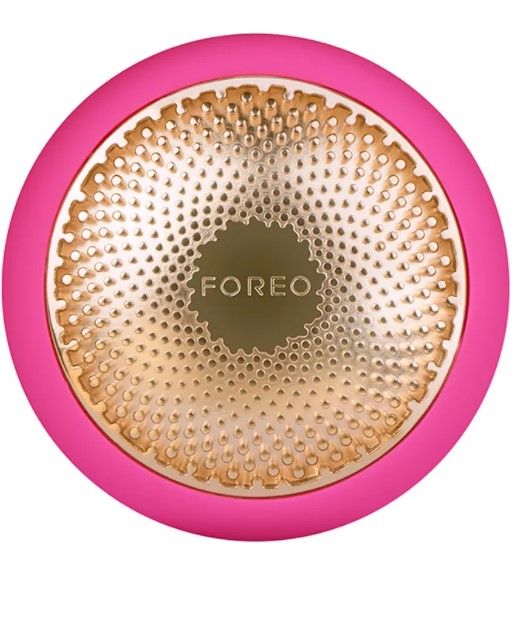 7. Foreo UFO 2
Best red light therapy device for dryness
Specifications
RRP: $279/£202
Type: Handheld orb
FDA-cleared: Yes
Target issues: Dryness; fine lines
Reasons to buy
+Elevated sheet mask innovation+Heats, cools, and pulsates for optimal essence absorption into skin+Compact, easy to use+Does away with sticky hands post-mask application
Reasons to avoid
-Doesn't hold a long charge
Using ultra-fast heating, cooling, pulsations, and full-spectrum LED lights, the famous Foreo UFO 2 Smart Mask starts by first warming and prepping the skin, and then cooling and lifting to add firmness and simultaneously shrink the appearance of skin and reduce puffiness. Using the FOREO For You app, users sync the mask to their phones using a unique barcode to activate the red light therapy. Talk about futuristic skincare. 
The biggest boon is how this does away with any sticky residue on our hands after applying traditional face masks, and resting assured that each and every drop of essence is well spent on our faces. Women of all ages have taken the leap and purchased this more expensive red light therapy mask because it actually delivers on its promises. Great for those of us with dryer skin types, our beauty experts reported that their skin felt more hydrated and plump after just one week of use.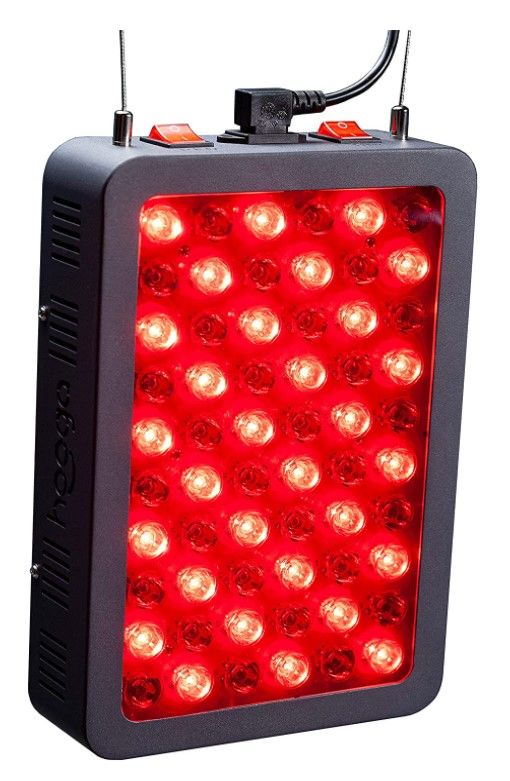 8. Hooga Red Light Therapy Device
Best for red light therapy beginners
Specifications
RRP: $179.99/£130
Type: Standalone lamp
FDA-cleared: In progress; manufactured in a FDA-registered facility
Target issues: Wrinkles; inflammation; body pain; fatigue
Reasons to buy
+Easy to use+Best entry-level device into the world of red light therapy; catch-all +Reasonably priced
Reasons to avoid
-No timer-Bulky
The Hooga Red Light Therapy device is one of the original at-home light therapy devices available on the market. Aiming to make expensive light treatments that were once limited to salons and spas available to more users, Hooga created this efficient, powerful, and affordable red light therapy device that's as easy-to-use as it is effective. The sheer size of this device allows you to target larger areas in one sitting and is ideal for those of us who thrive on multitasking.
We like propping it on a table for 10 minutes while we Netflix and chill or even relaxing with an at-home mani with the panels set up alongside our DIY polish station. Some users have reported new hair growth upon doing just that for 3 weeks, while some report increased energy, better mood, and noticeably less inflammation/joint pain. The warm glow of this red light therapy device had a noticeable impact on our skin's inflammation and elasticity after just a few weeks of use.
We recommend this device in particular for its excellence in treating wrinkles, elasticity, inflammation, and even hair loss. Because this device is larger in size, it makes it easy to treat a larger portion of skin in one sitting. Catch this red light therapy device on one of Amazon's frequent sales to lower the price on this bad boy. Users report getting as much as 11% off, knocking the price down to $159.99.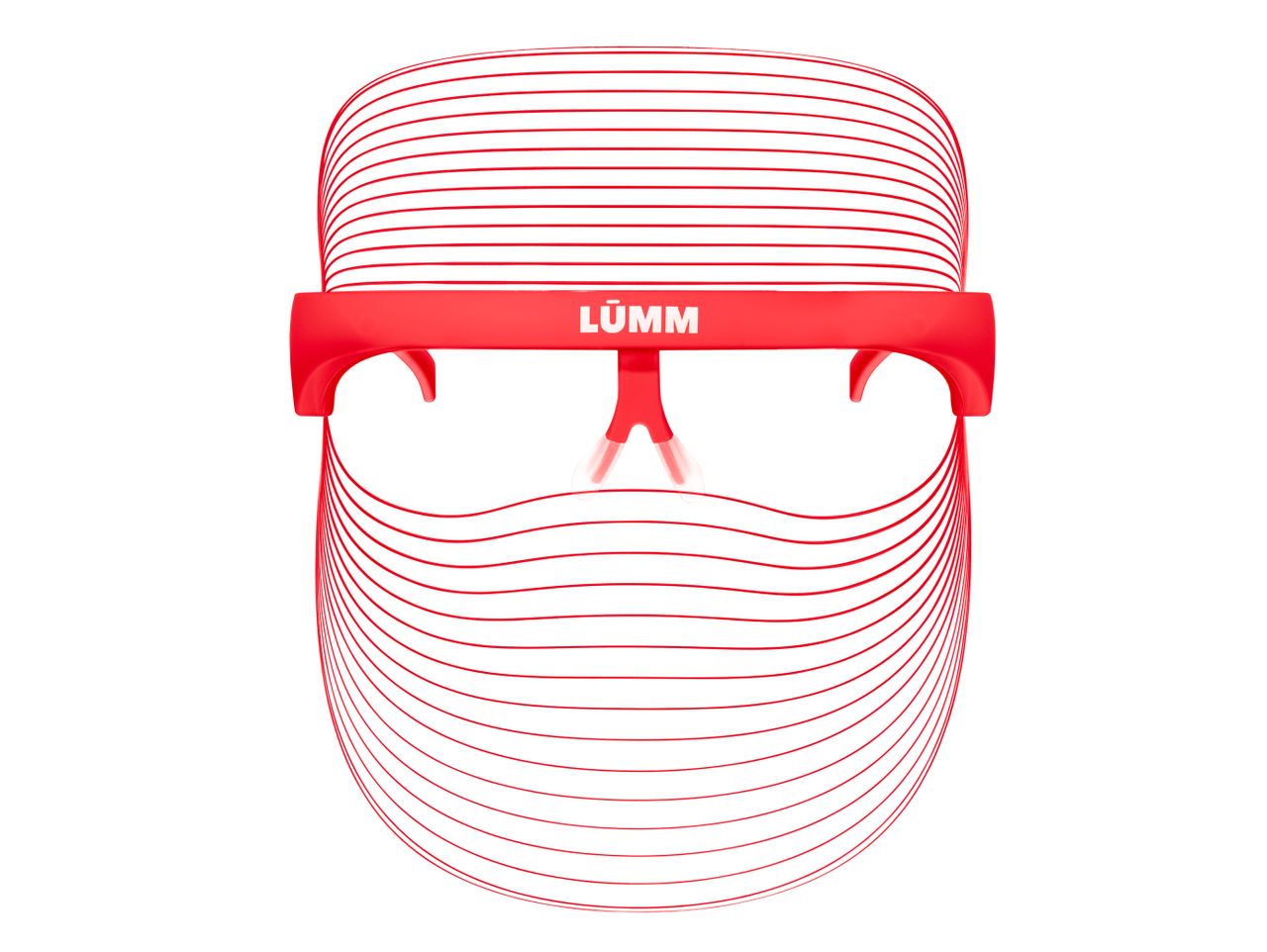 9. LŪMM GlowPanel 2.0
Best wearable red light therapy device
Specifications
RRP: $149/£107
Type: Wearable face shield
FDA-cleared: Pending
Target issues: Loss of elasticity and collagen, acne, puffiness, uneven texture
Reasons to buy
+Super light, wearable, and handy+3 LED wavelengths target different concerns: red for collagen loss, blue for acne and bacteria, yellow for uneven texture+Safe, non-UV light waves+Reasonably priced
Reasons to avoid
-Eyes are exposed to light, so user needs external eye protection-Takes 20-30 days for full, visible results
No, this isn't a fancy Covid-19 face shield (though you could argue for a two-birds-in-one situation). The LŪMM GlowPanel 2.0 is actually the latest in viral LED device trends, and it's not hard to see why. Offering not just one, but three different frequencies to target a myriad of skin concerns (red wavelength for collagen production, blue for acne- and bacteria-fighting, and yellow for puffiness and blotchiness), it's like receiving three devices for the price of one
At first wear, the GlowPanel 2.0 is definitely one of the more comfortable LED masks we've tested, with standard sunglass-like nose bridge support and ear stems, the latter of which brilliantly camouflages its tiny charging port and power button (it took us less than 2 hours for what seemed like a "full" charge). The mask itself felt very lightweight—not too snug, not too tight—and dare we say it... cool? There were definite Daft Punk vibes going on here, which could explain why younger fans have taken quite easily to the device. 
We tested it for the recommended 15 minutes, twice a day for one week, upon waking and before bedtime, both times with eyes closed to be safe—a caveat being the device offered no eye protection, save for the absence of wavelength nodes in the eye area. The device automatically turns off after 15 minutes too so no worries on overdoing it.
We noticed a definite change in inflammation and blotchy texture, but the recommended 20-30 days of use is said to promise even more impressive results such as a tighter, more supple complexion, acne reduction, and even dewiness. 
Is red light therapy safe?
Healthline maintains that red light therapy is generally considered safe for use, save for some people reporting blistering and burning from faulty units or from going over the recommended time usage. Eye protection is also recommended when using a facial red light therapy device for extra precaution. 
LŪMM co-founder Ryan McCarthy concurs. "LED light therapy has been around for decades, used for a wide array of cosmetic and therapeutic benefits. At this time, there are no known adverse side effects of the use of LED light therapy. Each product is different; you should always read the instruction manual thoroughly before use. If you have any further questions, contact the brand directly and consult your physician."
How often should I use red light therapy?
There is no hard and fast recommendation for the frequency of red light therapy use, although most devices recommend once daily, for around 15 minutes, for best results. 
Is red light therapy safe during pregnancy?
"It is not recommended to use red light therapy if you are pregnant or have reason to believe you are pregnant," McCarthy says.
Is red light therapy similar to tanning?
"No, not at all," McCarthy assures. "Tanning beds use very harmful UV light to burn and damage the skin. LED light therapy uses a safe, lower intensity, non-UV infrared light."
Will red light therapy interfere with any medications? 
McCarthy recommends consulting your physician before using any kind of LED light therapy device.
How warm does red light therapy get? 
McCarthy assures that red light therapy uses LED infrared wavelength technology for treatment. "The light does not heat the skin—if you feel any heat or discomfort, you should contact your physician," he says.
woman&home thanks Dr. Dennis Gross of Dr. Dennis Gross Skincare and Ryan McCarthy of LŪMM for their time and expertise.