The 14 best at-home red light therapy devices for your skincare goals
From collagen-boosting to acne-fighting, these are the tried and tested red light therapy devices our beauty experts truly recommend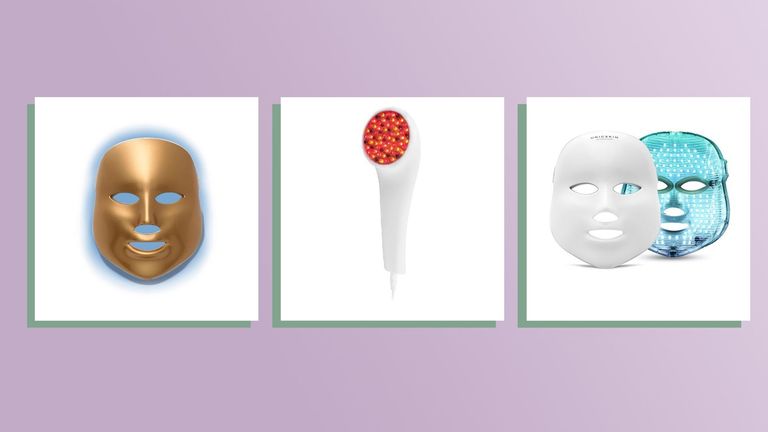 (Image credit: Future)
Contributions from
The quest for the best red light therapy device has gone mainstream, with more and more people investigating at-home LED tools as a means of achieving their skincare goals. We've tried and tested some of the best ones out there to discover which products are truly worth your time and money.
These results-driven yet pain-free skincare devices use LED to gently stimulate the skin at various levels and achieve a boost in everything from collagen production, to circulation, plus anti-bacterial and anti-inflammatory actions. This means incorporating LED light into your skincare routine can target wrinkles, pigmentation, acne, and scarring.
Our selection of at-home red light therapy devices below spans a wide range of price points and skin concerns. We've also consulted with medical professionals to answer all your red light therapy FAQs—namely how to choose the right at-home device for your needs and whether or not it's possible to overdo it.
The best at-home red light therapy devices, as chosen by our beauty experts
Many companies now offer red light therapy devices to use at home, so there were plenty of different devices for us to test and choose from. However, it's worth noting that even the best at-home red light therapy devices won't be as powerful as professional LED treatments, and therefore not as effective at achieving certain high-level results, such as getting rid of acne scars. For treatments of this nature it's still worth consulting a dermatologist.
(opens in new tab)
1. Dr. Dennis Gross Skincare SpectraLite FaceWare Pro
Best red light therapy device overall
Specifications
RRP: $435/£430
Type: Full mask
FDA-cleared: Yes
Target issues: Lines; redness; blemishes
Reasons to buy
+
Ideal for all skin types
+
Effective at addressing acne concerns
+
Also recommended for full-face wrinkles
Reasons to avoid
-
Slippery attachment strap
We found this to be the top performer of any red light therapy device we tried—one that very much justifies its price tag. This three-minute-long LED procedure targets a large range of skincare concerns: wrinkles, fine lines, blemishes, and dark circles, to name just a few. Dr Dennis Gross boasts a patented design that contours to the face and specifically targets areas in need. With red light to support natural collagen production and blue light to help get rid of acne and redness, this mask truly packs a punch.
On testing, we would recommend starting with a dry and freshly cleansed face. Use an adjustable strap to place the mask on your face, which we did find slipped a little but didn't get in the way of the treatment. Then let the red light-blue light combination therapy do its thing until the timer goes off. After, we followed up with one of the best vitamin C serums to boost brightness further. Expect an improvement in circulation and brightness within 12 weeks.
2. MZ Skin LED 2.0 LightMAX Supercharged LED Mask
Best high-tech red light therapy device
Specifications
RRP: $595/£545
Type: Mask
FDA-cleared: Yes
Target issues: Skin lines, blemishes, collagen, inflammation
Reasons to buy
+
Soft silicone contours to your face
+
Reduces wrinkle depth and treats acne
+
Portable so you can bring it anywhere
Reasons to avoid
-
It's expensive
-
Not as widely available as other red light therapy devices on this list
Dr Maryam Zamani is back with a brand-new LED face mask that looks—and feels—the part. Crafted from patented, medical-grade soft silicone in a millennial pink shade, this device molds to the contours of your face, a little like the best face masks, for a comfortable, sleek aesthetic.
Looks aside, it's also portable so we found we could pop it on and get on with our day uninterrupted. As for technology, it boasts two LED light modes: Anti-aging (using infrared and red light therapy) and Acne (combining red light and blue light therapy). Simply slip the mask on, adjust the strap at the back and select your chosen mode to begin the 10–30 minute treatment.
Designed to rival the power of the tools used in-clinic, this mask delivers impressive results. Clinical trials revealed that in just four weeks, wrinkle depth was reduced by 36% and collagen fibers increased in just two weeks. Impressive, huh? Expect a brighter, healthier-looking complexion.
3. The Light Salon Boost LED Face Mask
The best plumping red light therapy device
Specifications
RRP: $495/£395
Type: Mask
FDA-cleared: Yes
Target issues: Skin tone, fine lines, wrinkles and hydration
Reasons to buy
+
Lightweight silicone material
+
Combines red and near-infrared light
+
Works in 10 minutes
Reasons to avoid
-
Adjustable strap is a little fiddly
If you haven't had a chance to visit The Light Salon in real life, we suggest rectifying that pronto. Situated in department stores across the US and UK, the station boasts an impressive menu of LED treatments from The Blue to fight acne to The Full-Body Signature for top-to-toe results. If, however, you can't book in—invest in their at-home alternative instead.
The Boost LED Face Mask delivers 10-minute treatments of near-infrared and red light to soften fine lines, calm inflammation, and plump up the skin. For best results, the brand recommends wearing the mask three times a week, over the course of four weeks. According to clinical trials, wrinkle depth is reduced by 36% in four weeks.
We found that it's super comfortable to wear with its soft silicone shell and adjustable straps. It's also portable and boasts an impressive 5000 hours of use. If you're a frequent flyer, this is a great choice as it can be laid out entirely flat in the protective bag and will rehydrate skin post-flight. Big tick!
4. Unicskin UnicLED Korean Mask
The best red light therapy device for different modes
Specifications
RRP: $470/£315
Type: Mask
FDA-cleared : Yes
Target issues: wrinkles, sun damage, hyperpigmentation, acne, sebum regulation, redness, sagging and inflammation
Reasons to buy
+
Seven different color modes
+
Results can be seen after three sessions
+
Brightens and smooths skin
Reasons to avoid
-
Has to be plugged in while wearing
-
Low stock levels make this device harder to buy than others on this list
If you're after an LED mask that tackles every major skincare concern going, this is the one for you. With seven—yes, seven—different light modes, the device tackles wrinkles, sun damage, hyperpigmentation, melasma, acne, sebum regulation, redness, inflammation, and sagging.
So, how does it work? Despite sounding complicated, we found it incredibly easy. Plug the mask in, set your preferred time and intensity (intensity level varies from 1-5), pick your color (choose from red, blue, green, purple, yellow, aqua blue, and white), then sit back and relax. It does have to be plugged in while wearing so we found it slightly less convenient than some others on the list, but it's comfortable to wear and sometimes it's nice just to kick back without moving for a quarter hour.
The best part about this mask is that you can create a bespoke treatment depending on your skincare needs. For instance, if you want to treat pigmentation and acne, try the green light for 15 minutes followed by the blue light for 15 minutes. Clever!
(opens in new tab)
5. LightStim for Wrinkles
Best red light therapy device for fine lines
Specifications
RRP: $249/£99
Type: Handheld wand
FDA-cleared: Yes
Target issues: Lines; loss of firmness; enlarged pores
Reasons to buy
+
Best for all skin types, from forehead to lips
+
Has a built-in timer
+
Reasonably priced
Take advantage of the four different wavelengths of therapeutic light energy included in the LightStim for Wrinkles handheld device. As one of the more affordable red light therapy devices on this list (especially when it's on sale), you get great bang for your buck. As the name implies, this device targets aging skin, addressing fine lines, loss of firmness, and visible pores.
The patented technology used here employs multiple wavelengths of light to give your skin a major boost of elastin, collagen, and antibacterial properties for a more youthful appearance overall. Not only that, but this handheld device couldn't be any easier to use and allows you to target every area of your face—from the jawline to any forehead wrinkle—with ease.
Three minutes is all it takes to get the most out of this LED tool, so making this a part of your daily routine is easy enough. We recommend incorporating it into your nighttime skincare routine to wake up with a brighter, plumper, and more youthful complexion as time goes on.
6. CurrentBody Skin LED Light Therapy Mask
The most convenient red light therapy device
Specifications
RRP: $399/£275
Type: Mask
FDA cleared: Yes
Target issues: Texture, firmness, lines, inflammation
Reasons to buy
+
Very flexible and comfortable
+
Can be used with hydrating masks
+
A-list approved
Reasons to avoid
-
Pricier than some other models
Not only is the CurrentBody Skin LED Mask one of the most comfortable red light therapy devices we have tried, but it's also the quickest to use and easiest to store. This comes down to its unique flexible silicone material, which hugs the face so you can sit up and pop it on for the required ten minutes while you watch television.
The grippy material also ensures that the red and near-infra-red LED lights can reach and evenly penetrate every contour of your complexion. A combination of two light types boost collagen production and calm the skin for long-term effects, but also rev up circulation so you get instant radiance.
You can opt to use a hydrating hydrogel mask underneath for extra glow, or simply apply it after your best cleanser and before your best face moisturizer. Aside from a sizeable initial investment (as all LED masks generally involve), this mask ticks all our boxes. No wonder it won a woman&home Beauty Award and is loved by stars including Carey Mulligan.
7. DÉESSE PRO LED Mask
Best ultra-luxe red light therapy device
Specifications
RRP: $2,318/£1,680
Type: Mask
FDA-cleared: Yes
Target issues: Firmness, skin texture, plumpness, pigmentation, acne
Reasons to buy
+
A-listers love this customizable mask
+
Three times more LED than other masks
+
Four LED types, six treatment modes
Reasons to avoid
-
It has a 4-figure price tag
-
Harder to find in the US
We know what you're thinking—would you take a look at that price tag? It goes without saying that this red light therapy device is designed for the few, not the many. But if you are able to stretch to the sizeable initial spend, there are many justifications as to why you should. The DÉESSE PRO LED Mask is as close as you'll get to a professional LED treatment at home. It boasts three times as many LED lights as its competitors (770 in total) and four different wavelengths, each performing its own function on the skin. You'll get classic red for collagen stimulation, brightening green, antibacterial blue, and calming infra-red. There's also the option of six treatment types including Post Procedure and Anti-Ageing—each using a bespoke combination of lights and timings to tackle your chosen concern.
The super customizable experience extends to timings as well, and the mask can be worn for between 10-30 minutes, starting off twice a week. The materials are luxurious and feel nice enough on the face, although you will probably want to lie down while wearing it for the most comfortable experience. Our tester found this a blessing as it forced us to simply be still for 20 minutes, which is never a bad thing. Anecdotally, users report seeing results on glow and lines within weeks, A-list beauty addict Kim Kardashian is a known fan, as is highly respected Beverly Hills aesthetician Shani Darden.
As we've said before the DÉESSE won't be for everyone due to that eye-watering cost, but for superior red light therapy at home, you really couldn't do much better. If you're Stateside, the only authorized retailer that appears to sell this red light therapy mask is Shani Darden Skincare (opens in new tab) -and that usually has a waiting list.

(opens in new tab)
8. Dr. Dennis Gross Skincare DRx SpectraLite EyeCare Pro
Best red light therapy device for the eyes
Specifications
RRP: $169/£175
Type: Hands-free glasses
FDA-cleared: Yes
Target issues: Dark circles; lines; crows feet
Reasons to buy
+
Full-spectrum of age-defying wavelengths
+
Targets crows feet and 'eleven' lines
+
Short application time
This hands-free light therapy device is specifically built to target the eye area—including crow's feet, eleven lines, and general loss of elasticity in the skin around the eye area that comes with age. It is ideal for those with general skin texture and laxity concerns, as well as anyone dealing with dark circles, dullness, or fine lines overall.
For those looking to supplement the best eye cream in their arsenal with a bit of tech, commit to daily use of this device and see a noticeable difference in a few weeks. In a 10-week daily-use clinical study, 97% of subjects showed visible improvement. We can get on board with those odds.
The adjustable strap that stretches around the back of the head ensures this device is comfortable for heads of all sizes. And as with all beauty regimens and products, the more consistent you are, the better your results will be.
(opens in new tab)
9. LŪMM GlowPanel 2.0
Most comfortable red light therapy device
Specifications
RRP: $99 (US only)
Type: Wearable face shield
FDA-cleared: Pending
Target issues: Loss of elasticity and collagen, acne, puffiness, uneven texture
Reasons to buy
+
Super light, wearable, and affordable
+
3 LED wavelengths target different concerns
+
Safe, non-UV light waves
Reasons to avoid
-
Needs external eye protection
-
FDA approval still pending
The LŪMM GlowPanel 2.0 is the latest in viral LED device trends, and it's not hard to see why. Offering three different frequencies to target a myriad of skin concerns (red wavelength for collagen production, blue for acne and bacteria-fighting, and yellow for puffiness and blotchiness), it's basically three devices for the price of one
At first wear, the GlowPanel 2.0 is one of the more comfortable LED masks we've tested, with sunglass-like nose bridge support and ear stems. It's also lightweight—not too snug, not too tight—and dare we say it... cool? We tested it for the recommended 15 minutes, twice a day for one week, both times with eyes closed to be safe—a caveat being the device offered no eye protection.
As for results, we noticed a definite change in inflammation and uneven texture. However, the recommended 20-30 days of use is said to bring even more impressive results such as a tighter, more supple complexion, acne reduction, and even dewiness.
(opens in new tab)
10. LightStim for Acne
Best red light therapy device for acne
Specifications
RRP: $169/£169
Type: Handheld wand
FDA-cleared: Yes
Target issues: Acne; redness
Reasons to buy
+
Good for all skin types
+
Alternative and effective way to target acne
+
Addresses existing acne while preventing new blemishes
Reasons to avoid
-
Targets bacteria rather than collagen
-
Difficult to buy in the UK compared to other devices in this list
Due to hormonal changes and external stressors, acne can be a problem at any stage of life. And it doesn't ever seem to get any less frustrating, despite our best efforts at following a skincare routine for acne to a T.
Instead of investing in another topical acne treatment, consider a red light therapy device specifically designed to target both existing acne and new underlying blemishes threatening to pop up. The LightStim for Acne is our top red light therapy device pick for acne-prone skin.
Utilizing multiple wavelengths, this device uses a mix of blue light to combat acne-causing bacteria and red light to soothe redness and inflammation. The 3-minute built-in timer will let you know when your session is up to ensure you reap all the benefits without going overboard.
(opens in new tab)
11. Foreo UFO 2
Best red light therapy device for dryness
Specifications
RRP: $179/£111
Type: Handheld orb
FDA-cleared: Yes
Target issues: Dryness; fine lines
Reasons to buy
+
Heats, cools, and pulsates
+
Compact and easy to use
+
Does away with sticky hands post-mask application
Reasons to avoid
-
Doesn't hold a long charge
Using ultra-fast heating, cooling, pulsations, and full-spectrum LED lights, the famous Foreo UFO 2 Smart Mask is a multi-tasking wonder. It starts by warming and prepping the skin before cooling and lifting to add firmness and reduce puffiness. We found this combination of temperatures felt both relaxing and refreshing and was one of the most enjoyable experiences we had throughout our testing.
Using the FOREO For You app, we synced the mask to our phone using a unique barcode to activate the red light therapy. Talk about futuristic skincare. Oh, and the best part? This device ensures every last drop of essence is well spent on our faces, as opposed to ending up on our hands.
Women of all ages have taken the leap and purchased this more expensive red light therapy mask because it actually delivers on its promises. Great for those of us who seek skincare for dry skin, our skin felt plumper after just four weeks of use.
12. MZ SKIN Light Therapy Golden Facial Treatment Device
The best red light therapy device for multifaceted rejuvenation
Specifications
RRP: $625/£385
Type: Mask
FDA-Cleared: Yes
Target issues: Skin texture, lines, collagen, inflammation
Reasons to buy
+
Combined four LED wavelengths
+
Comfortable, no need to lie down
+
Slick and visually appealing
Reasons to avoid
-
While not the most expensive device on this list, this product is still a pricy investment
The MZ Skin Light-Therapy Golden Facial Treatment Device has visual appeal in abundance. It's hard to make skincare tech look desirable but you could display this slick gold-toned mask on a shelf, should you wish.
The red light therapy device isn't just a pretty face. It's been created by a highly respected Aesthetic Doctor and Oculoplastic Surgeon, Dr Maryam Zamani, and combines not one but four LED wavelengths (red, blue, green, and yellow) to achieve results on skin texture, tone, and firmness in one hit. You only need to wear it for ten minutes per day, a couple of times a week at first, then build up to longer 30-minute sessions over time.
Unlike some LED masks, this fits securely to the face, thanks to a robust adjustable strap at the back. While it's not the cheapest red light therapy device on our list, it's far from the priciest either. And given its medical pedigree, multitasking results, and user-friendly feel—it is a great investment in your skin.
(opens in new tab)
13. Hooga Red Light Therapy Device
Best for red light therapy beginners
Specifications
RRP: $169 (US only)
Type: Standalone lamp
FDA-cleared: In progress; manufactured in a FDA-registered facility
Target issues: Wrinkles; inflammation; body pain; fatigue
Reasons to buy
+
Easy to use
+
Good entry-level device
+
Reasonably priced
The Hooga Red Light Therapy device is one of the original at-home light therapy devices to land on the shelves. Aiming to make expensive light treatments more accessible, Hooga created this efficient, powerful, and affordable red light therapy device that's as easy to use as it is effective.
On testing, we found the sheer size of this device allowed us to target larger areas in one sitting, so is ideal for those of us who thrive on multitasking. Prop it up on a table for ten minutes while working or watching your favorite Netflix series. The warm glow of this red light therapy device had a noticeable impact on our skin's inflammation and elasticity after just a few weeks of use. We recommend this device for anyone who wants to tackle wrinkles, elasticity, inflammation, and even hair loss.
14. Trophy Skin RejuvaliteMD High-Power Ageless LED Treatment
Best red light panel for those short on time
Specifications
RRP: $249/£161
Type: Standalone lamp
FDA-cleared: Yes
Target issues: Fine lines, poor circulation, discoloration
Reasons to buy
+
Ideal if you'd rather not wear a mask
+
Features four types of color wavelengths
+
Only need to use it for 5 minutes per session
Reasons to avoid
-
Must use consistently for marked improvements
If you're re-considering whether you want to put a mask directly onto your face after reading through this guide, the standalone Trophy Skin RejuvaliteMD High-Power Ageless LED Treatment will target your most troublesome skin woes in as little as five minutes per day, several times per week, without any mask-wearing needed. This particular model stands out for featuring four UV-free wavelengths (red, yellow, amber, and infrared) to tackle wrinkles, discoloration, and poor circulation.
To use this red light therapy device, simply wash your face, don a pair of UV goggles to protect your eyes, and position the panel 4 to 6 inches away from your skin. You can use the time to meditate on your bed, sofa, or even the floor (if that's where you're most comfy).
You will need to use this device consistently in order to see marked results. (TrophySkin recommends starting off with five treatments per week within the first two months.) However, the results don't lie, we found that a combined 25 minutes per week is all it takes to start noticing firmer, more supple skin.
---
What is red light therapy? Your FAQs answered
Professionals have been using red light, as well as other wavelengths like blue and yellow LED, for years in salons and clinics, but what is red light therapy and how does it benefit your skin?
"LED light therapy encourages wound healing, boosts collagen production, and kills P-acne bacteria, addressing a multitude of concerns," explains Genevieve Knodell, aesthetic practitioner at Stratum Dermatology Clinic (opens in new tab). "It's great for skin prep, before or after any procedure to accelerate healing by stimulating collagen and elastin, suppressing melanocyte activity, and providing anti-inflammatory benefits that will repair and strengthen the skin."
How do I choose a good red light therapy device?
"For at-home LED devices, you should look for a device that incorporates red and blue LED and sits flush to the face—this allows the LED to penetrate the skin," says board-certified dermatologist and dermatologic surgeon Dr. Dennis Gross, who is also the creator of Dr. Dennis Gross Skincare (opens in new tab).
"The key to designing the device is to maximize energy, allowing the surface of the skin to be touched by the lights. 415nm is the most effective wavelength for blue light—successfully targeting and killing acne-causing bacteria. For red LED, look for a device that is in the spectral range of 600-1300nm (red and infrared)—these wavelengths stimulate collagen production, reduce inflammation, and diminish hyperpigmentation," he adds.
"To ensure you are using a high-quality device, look for medical-grade, FDA cleared device that has clinical studies that clearly show the device's effectiveness," Dr. Gross recommends. "There are strict regulations for the strength of red LED at-home devices, however, some devices are more effective than others. Ultimately, you want the device to lay flat on the skin surface without heat or risk of burning."
Here are some key terms and features to look out for:
Wrinkle reducing: If one of your main skincare concerns ties back to wrinkle reduction, be sure to keep an eye out for a device that targets wrinkles in particular.

Plumping: Seeking a more youthful, glowing appearance overall? Look for a device that targets aging skin concerns with red and yellow light specifically.

FDA-approved: While red light therapy has been proven to address a wide range of skincare concerns, this form of therapy is still relatively young. Be sure to keep an eye out for FDA-approved devices.

Acne solutions: Acne-fighting red light therapy devices will combat acne-causing bacteria and soothe existing redness and inflammation.
What to look for in a red light therapy device according to a professional
For professional input when it comes to finding the right red light therapy device for your skin needs, we spoke with Dr. Tom Ingegno, Doctor of Acupuncture and Chinese Medicine, and owner of Charm City Integrative Health in Baltimore, USA.
"There are a staggering number of products available on the market that can easily overwhelm a consumer," says Dr. Tom. Thus, he recommends focusing on the following criteria when considering a purchase:
Intended use: Red light can be used for a variety of internal and external conditions, from exercise recovery to pain relief. For the best results, Dr. Tom says to find something that's specifically made with skincare in mind—typically a mask.
Size: "[Red light] devices can be as big as a door and hit the whole body or as small as a flashlight for 'spot treatments,'" says Dr. Tom. If you only intend to target your face, don't opt for a full-body panel. "Smaller devices may be more practical for users who wish to treat wrinkles and acne."
Time: How much time are you able or willing to spend per week? According to Dr. Tom, red light treatments typically last for 10-20 minutes daily. Of course, each red light therapy device is different so make sure to read the instructions regarding the recommended frequency of use.
Specifications: Dr. Tom calls this the most important factor to consider. "Red Light Therapy devices need to operate within the red light spectrum of roughly 600-660 nm wavelength. If the unit also has near-infrared bulbs, which affect deeper tissue than the skin, those bulbs need to emit a frequency of roughly 840-880nm." The intensity of the bulbs will determine how close you'll need the device to be to your skin in order to see any type of change.
How about cost? Our list of the best red light therapy devices spans a variety of price points, but is it always better to opt for something expensive?
According to Dr. Tom, "It isn't necessary to buy the most costly device. Several years ago there were only a few companies selling consumer red light devices, in the last few years so many companies have flooded the market that if you look at the size, intended use, and most important specifications you can find a wide price range. In general, a 'name-brand' device with the same specifications as an unknown brand provides the exact same red light."
Is red light therapy safe?
Experts maintain that red light therapy is generally considered safe for use, save for some people reporting blistering and burning from faulty units or from going over the recommended time usage. Eye protection is also recommended when using a facial red light therapy device for extra precaution.
LŪMM (opens in new tab) co-founder Ryan McCarthy concurs: "LED light therapy has been around for decades, used for a wide array of cosmetic and therapeutic benefits. At this time, there are no known adverse side effects of the use of LED light therapy. Each product is different; you should always read the instruction manual thoroughly before use. If you have any further questions, contact the brand directly and consult your physician."
"Unlike harmful UV rays used in tanning beds that can burn and damage skin, LED light therapy uses a safe, lower intensity, non-UV infrared light," says McCarthy. He does note that it is not recommended to use red light therapy if you're pregnant.
How often should I use red light therapy?
There's no hard and fast recommendation for the frequency of red light therapy use, although most devices recommend once daily, for around 15 minutes, for best results. Several devices will also automatically turn off after a certain amount of time.
We strongly encourage checking the specific instructions for your chosen device and following the recommended usage.
If you see a dermatologist, take your device to them for assessment before using and following their advice in regards to usage.
Can you overdo red light therapy?
Yes, it is possible to overdo red light therapy. Side effects of overuse may include inflammation and tissue damage.
Dr. Tom Ingegno, Doctor of Acupuncture and Chinese Medicine, owns and operates Charm City Integrative Health (opens in new tab) in Baltimore, USA. He says for most cases, 20 minutes of RLT daily should be sufficient. (Of course, always consult with your primary care doctor before electing to start any new treatment to find what'll work best for you.)
However, as Dr. Ingegno reminds us, red light "is a relatively low-risk therapy. It is important to remember that RLT is on the opposite end of the light spectrum and does not have the same issues as heavy amounts of UV light." Thus, the likelihood of any severe side effects is slim — but you'll still want to be careful.
While you want to make sure you're not overdoing red light therapy, you still want to be getting enough of it for noticeable effects. "We often see influencers standing in a room with a red light panel on the opposite side of the room," says Dr. Ingegno, "Those photos may look pretty, but they are doing nothing, therapeutically speaking."
But you don't need the largest, most powerful red lights for every instance — say, if you're placing a face mask directly on your skin. If you do opt for panels, Dr. Ingegno suggests they have enough power to have an effect from about 12 inches away.
Emma Stoddart is a freelance beauty journalist and self-confessed skincare aficionado with over five years' industry experience. Emma has worked for some of the UK's top women's titles including Net-A-Porter, Stylist and Grazia. Her experience spans online and print as well as producing editorial shoots with some of the industry's biggest artists, including Val Garland. Asides from working with them behind the scenes, she's also had the chance to interview the likes of Patrick Ta, Pat McGrath, and Sam McKnight for all their insider tips and tricks.
With contributions from