Solawave review: we test the A-list's favorite LED skincare wand
Our beauty editor's honest Solawave review – does the viral red light device live up to the Insta-hype?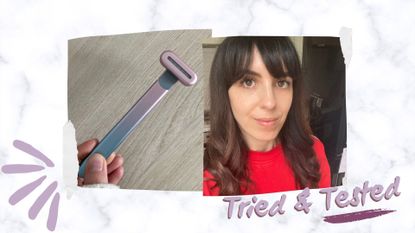 (Image credit: Future/Stephanie Maylor)
It's compact size and price point make the Solawave the perfect entryway into light therapy. The results are subtle, but my skin looks healthier, and the therapeutic warmth and massaging vibrations elevate it above other LED masks. The best thing is how easy it is to slot into your regimen - you're more likely to see results that way.
Reasons to buy
+

Portable and travel-friendly

+

Cordless, rechargeable design

+

Impressive before and after results

+

Five-minute treatment time

+

Relaxing warming sensation

+

More affordable than other LED devices
Reasons to avoid
-

Not hands-free - requires manual movement

-

Red light only so won't address acne
Almost every Solawave review I've read has one thing in common. They all fawn over this magical red light skincare wand and its glow-giving, skin-sculpting results. But can this compact microcurrent and LED tool really deliver better skin in two weeks?
Like many of the best red light therapy devices, Solawave has a major A-list following - Reese Witherspoon, Nicole Kidman, and Euphoria's Sydney Sweeney are all paid-up members of the Solawave skin club. But this buzzy tool isn't just an Insta-fad endorsed by celebrities and 20-something influencers with already-perfect skin. It's patented and grounded in serious science, approved by dermatologists, and backed by impressive results in independent trials. A brand that is willing to post unfiltered, 'real life' before and after pictures clearly has a lot to be proud of.
Specifications
RRP: $149/£111.99
Type: Red light wand

Treats: Wrinkles, fine lines, dark circles, dark spots
Weight: ~1 oz/28g
Battery life: 1 charge lasts 60 minutes
Warranty: 1 year
I am lucky enough to have tried a few LED light therapy devices but the Solawave's dinky tool is the only one I've kept up religiously as part of my daily skincare routine. More than just red light therapy, it also uses microcurrent, facial massage, and heat to target multiple skin concerns – as my Solawave review before and after shots show.
Our Beauty Editor's Solawave review
Solawave design
Most red light therapy devices come in the form of a mask with a strap that goes around the back of the head. These are at best clinical-looking, and at worst give off creepy Michael Myers vibes. They also take up a lot of room. I'm one of those neat freaks who doesn't like anything 'out'. I even have a black squeazy dish soap dispenser so I don't have to keep Fairy Liquid by the sink. I don't want a massive, hockey-style mask on my bedside table, so I tuck them in my wardrobe, where they remain squirreled away from sight, and as it turns out memory. In fact, I probably still have one in there.
The beauty of the Solawave is it is neat, nifty, and portable. Measuring 6in/1.5cm in width, and 6in/14.5cm in length, it is not much bigger than a nail file, which means it not only suits my anti-clutter sensibilities, but it's incredibly portable and travel-friendly. It's made from aluminum alloy, which feels cool and soft to the touch, and also makes the device as light as a pen. The head twists 90 degrees in a clockwise direction to reach every contour of your face and neck.
Currently, it comes in three colorways – matte black, metallic lilac, and ombre, all very pretty and Instagrammable. It's hard to deny its grid-worthy appeal – this tool was made for trendy flatlays, sandwiched between a flat white, Macbook Air and a copy of Roxie Nafousi's Manifest (ahem, see my photo above). In the box, you'll find just the wand, a quick-start instruction guide, and a charging cable. This is beauty tech at its slickest and most alluring.
Solawave technology explained
One of the biggest draws of the Solawave, as opposed to other red light devices, is it has four technologies in one tool. On top of LED, it also utilizes microcurrent, massage, and heat to tackle multiple issues, from lines and wrinkles to puffy eyes and pigmentation. The claims are enough to draw in even the most skeptical beauty editor. According to an independent claims validation study of 60 people over 30 days, 93% reported their skin looked more vibrant and lifted after using Solawave for 14 days. Let's dive deeper into those individual technologies:
Red light therapy: Low-level wavelengths of red light at 630 nanometers help promote collagen production to smooth lines and wrinkles. Red light helps improve circulation to address puffiness.
Microcurrent: Solawave sends low-voltage electrical waves (300 microamps) to stimulate the muscles and tissues in the face, like a gentle workout to help lift and tone, as well as improve blood flow.
Facial massage: The vibration provides gentle massage therapy. This encourages better circulation and lymphatic drainage to de-puff and enhances radiance temporarily.
Therapeutic warmth: As you glide the device across the skin, it slowly heats up to a maximum temperature of 107°F/41.6°C. Not only does this add to relaxation, but helps your serum penetrate more effectively and boosts the skin's glow.
How it feels to use the Solawave
In a word – bliss. The warmth of the head feels particularly lovely around tired eyes at the end of the day, and the gentle buzzing, which massages skin, makes the whole thing feel like a moment of self-care, rather than a chore. Plus, you only need to use the device for a minimum of five minutes, three times per week. Infinitely achievable. It may require you to do the work of moving the device around the face, but you can still multitask, whether that's scrolling through the Zara sale or catching up on MAFSA (or some variation of 'Too Hot to Marry at First Sight').
Solawave should only be used on cleansed skin and requires a layer of serum to activate the wand. It automatically turns on when making contact with hydrated skin. If your skin is too dry, it will shut off. The good thing about this device is you can use it with any of your own best skincare products. However, Solawave does offer a Renew Complex Serum, which apparently gets results up to three times faster. I've been using it with my own skincare wardrobe, but I'm intrigued by the acceleration the Renew Complex Serum is supposed to provide.
I prefer to use the wand at the end of the day, as I get into bed. You glide the Solawave across your face, moving in upward, outward motions across your forehead, cheeks, under eyes, jaw, and neck. I find it works best in a 90-degree, T-angle across most of the face, switching to the vertical I-shape for under the eyes.
How well does the Solawave perform?
A cordless tool, whether that's one of the best hair straighteners or an LED skincare device like this, is undeniably useful, but only if the battery life is sufficient. The Solawave more than delivers on that front. It takes 120 minutes to charge fully through the USB cable and will then work for a full 60 minutes. But what does that mean in real terms? Well, I have used it at least three times a week for the past few months and I have only needed to charge it twice.
What's not good about it?
Any good Solawave review must try to remain impartial, so although it's difficult to find the negatives with this handy-dandy tool, there are a couple of limitations. First of all, you may have noticed, this is not a hands-free gadget. You are in control of gliding the Solawave across your skin. It's not exactly labor-intensive but if you prefer your beauty tools to do the hard work for you, then you may be better suited to a lie-back-and-relax LED mask, like the Dr Dennis Gross Drx Spectralite Faceware.
To illustrate the second downside, we need to pause for a quick science lesson on LED, which stands for 'light emitting diode' and involves sending different wavelengths of light into the skin to alter cellular function. There are different lights to choose from. Blue light kills acne-causing bacteria to treat blemishes. Green and yellow light targets hyperpigmentation and uneven skin tone. Red light stimulates the production of collagen and elastin to improve firmness and reduce wrinkles.
The Solawave only utilizes the benefits of red light therapy. This wasn't a deal-breaker for me – my spotty days are, for the most part, behind me. But if someone wants to alternate between blue light therapy for acne and wrinkle-smoothing red light, then the Solawave might feel a little lacking, and a mask with red, blue, yellow, and combination light options may be preferable.
Solawave review: W&H verdict
Not to sound like a brat – although it may be too late for that! – but I get to test a lot of beauty gadgetry as part of my job. Truthfully, it's very rare for anything to 'stick'. Often that's because I don't have the time (I have two children, five and under) but also because I lack the space to store bulky items (I have two children, five and under, who come with approximately 324,505 toys). The Solawave transcends both of those limitations. If I can keep it up fairly diligently, then anyone can.
As for the improvements in my skin, I'll admit it's not mind-blowing. But that's okay. Within a couple of weeks of using the Solawave, my skin felt and looked healthier. It's the sort of thing you can't really put your finger on - is it a new foundation? Is it a facial? Having said that, it's when looking at my before and after photos that I've really seen the results for myself. My complexion looks less patchy, save for a pesky spot. Typical. My laughter lines look less creased, and my cheeks appear lifted.
In the second set of pictures above, I'm actually wearing makeup in the 'before', and nothing whatsoever in the 'after' but I think my skin looks so much fresher, healthier, and hydrated now. I'm a hat-trick away from 40 so I definitely need a bit more help than I did a few years ago. The Solawave is the perfect addition to supplement my everyday vitamin C, retinol, SPF routine, and I will be waving that magic wand for the foreseeable.
Stephanie Maylor is a Beauty Editor working across five national magazine titles, with almost 15 years' experience in the industry. She has written for many brands, including woman&home, Grazia, Now, More!, Fabulous, NW, Woman, Woman's Own, Woman's Weekly, Essentials, Best, Chat, and OK! online.
In 2010 she launched her own beauty blog, which was shortlisted for Best Beauty Blog in the 2011 and 2012 Johnson & Johnson Beauty Journalism Awards. She has interviewed many high profile industry experts and celebrities including Alesha Dixon, Twiggy and Christina Hendricks.