Your ultimate body makeup guide—contour limbs and get an A-list glow
Get body makeup right with these expert tips to even, glowing application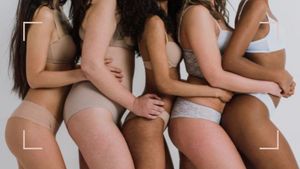 (Image credit: Future/Getty Images)
Learn how to apply body makeup like a pro and you can cheat leaner looking limbs, flawless skin, and a red carpet glow that will really boost your confidence. Whether you're heading to an event or it's your wedding day, there are times when we'd all like flawless-looking skin—but it just takes one knock to your shin on the coffee table and you're left with a big, blue bruise.
When celebs hit the red carpet, you might have wondered how they all look so ridiculously perfect. Well, the answer is body makeup. Using the right products can conceal imperfections and contour the body, leaving it looking leaner, toned, and generally a lot more flawless.
Although body makeup might seem as simple as slapping on the best foundation to your legs and knowing how to apply concealer on bruises, getting it to look natural on your limbs can be tricky and the last thing you want is it to slide off in the rain, ruin your outfit or become streaky. To find out how to apply body makeup like a pro, we asked expert and head of S19 (opens in new tab), Sarah Dorey, for her top tips.
How to apply body makeup
Choose your base
If you want to get flawless skin all over, it's important to use the right products. It's tempting to use your regular foundation on your body, but these formulas have been designed for the skin on your face, where the epidermis (the top layer) of the skin is thinner with more sebaceous glands.
Body makeup has been specifically designed to suit the skin on our arms and legs and tends to be a thinner consistency, more spreadable, and with a much more hydrating formula that's rich in pigment. It's often water-resistant too so even if it rains, your legs won't go patchy!
Get the right shade
You might find that your body is a different color to your face and your normal makeup can end up looking too light or too dark, so try and test three shades that look suitable, applying a swatch to your shin and chest to match the color. Make sure you're looking at the swatches in natural daylight to get a really good likeness.
If you want to fake sun-kissed skin, try using a deeper tone. "Start by choosing your shade," says Sarah. "For instantly flawless skin, select a shade closest to your skin tone, or go one or two shades darker for more of a tan." However, if you're looking to bronze your whole body, you'd be better off with a dedicated self tan formula - our Coco & Eve tan review may just have the all-over bronze recommendation you seek.
Use a brush
Using your hands to apply body makeup is great as your palms warm the product up, but being slapdash can lead to streaks and missed areas. To get a really professional finish, start by applying a thin layer with your hands, massaging into areas like the backs of your thighs—but finish this off with a fluffy brush. "Buff and build until your desired coverage is achieved—for an effortless 'second skin' finish that looks and feels invisible," says Sarah.
Spot-conceal
When you've coated your limbs in a light layer of body makeup, areas like ingrown hairs, scars, freckles or blemishes might be poking through. The best way to fix this is to add a dab of concealer on with a smaller brush and blend the edges until it's undetectable. This allows for precise coverage just where you need it!
Try contouring
When you apply a layer of body makeup, it can leave your skin looking a little flat. However, using a deeper shade in certain areas and contouring your muscles can create a more sculpted looking physique with more definition.
Pick up some body makeup one or two times deeper than your skin tone and apply it to areas of shadow like underneath collar bones, the groove of your bicep muscle and the calf muscle, just like you would use a bronzer on your face. This 'carves' out the area and creates the illusion of more depth and muscle tone.
Add highlighter
"Highlight areas of your body you'd like to accentuate," says Sarah. Highlighting areas like the collar bones, front of the thighs, shins, and tops of shoulders creates an optical illusion. The addition of shimmer or lightness is incredibly flattering in those areas and immediately draws the eye there, making you look leaner and longer. Makeup artist Charlotte Tilbury is a pro at this and always applies a body shimmer cream down the center of her clients' legs to elongate them.
Best body makeup to cover bruises and add definition
S19 Super FX Body Makeup
The formula to buy if you're looking for a skin tone match that's spot on. Let it dry before you get dressed and the lightweight, transfer and water resistant formula will leave you instantly flawless.
---
Charlotte Tilbury Supermodel Body Highlighter
A shimmering cream that mimics golden sunshine. Use this product as a highlighter and smooth onto areas you want the eye to be drawn to. A brush will give you a seamless blend.
---
Vichy Dermablend SOS Cover Concealer Stick
Incredible coverage that melts seamlessly into the skin. It's a must for small niggling patches of discoloration that your 'foundation' won't quite cover.
---
MAC Studio Face and Body Foundation
Comfortable to wear and easy to apply, this face and body foundation has stood the test of time for good reason. It gives a sheer, satin finish but is perfectly buildable for the areas where you need more coverage.
---
Sally Hansen Airbrush Legs Spray
This affordable option is a must have for speedy application. Maneuver the aerosol around your skin and blend with your hands—be quick though as it does dry down and set!
---
ALLEVEN Colour Shield
The effects of this body spray are incomparable. It gives complete coverage of bruises and imperfections with a luminous, satin finish that looks undetectable on the skin.
ALLEVEN Colour Shield at uk.alleven.com for US$97/£70 (opens in new tab)
---
Vita Liberata Body Blur
A must have for tanning addicts, this will smooth out uneven skin tone, conceal bruising and redness, and feel lovely and hydrating on dry skin.
woman&home thanks Sarah Dorey for her time and expertise.
Emma North is a Beauty Writer who works for digital titles including woman&home, Woman, Woman's Weekly, Woman's Own, Chat and GoodtoKnow. Emma's career in beauty journalism began with internships at publications including Vogue, Elle, The Telegraph and Glamour. She was then taken under the wing of Funmi Fetto, Contributing Beauty Editor at Vogue where Emma assisted with Funmi's debut beauty book, Palette.