The Sephora Spring Sale Event is here — here's what you need to know before shopping
The Sephora Spring Sale offers the retailer's best discounts and deals of the season, and we're shamelessly hoarding everything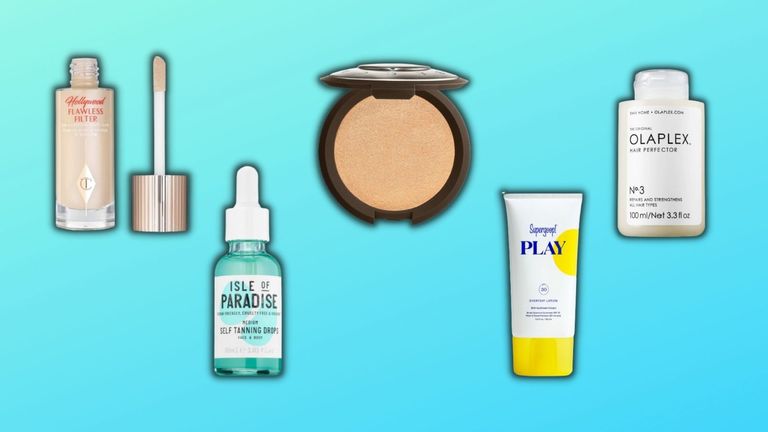 (Image credit: Future and Sephora)
The Sephora Spring Sale just kicked off, and we're here to break it all down so you can score the greatest discounts possible. There's never been a better time to indulge in a spring refresh, beauty style.
For basketball fans, there's March Madness and the Villanova Wildcats. For the football-obsessed, there's Superbowl Sunday, plus accompanying dips and cheeky (and poignant) ads. And for the beauty savants, there's the Sephora Spring Sale: the retailer's most highly-anticipated shopping event with discounts on best hair dryers, best foundations, and more — including new and old skincare, makeup, fragrance, and haircare products.
But before forging into the wild west with trepidation, you'll want a comprehensive overview on the sale, plus insights on top products worth backing.
Breakdown of the Sephora Spring Sale
There are three tiers that correlate with how much you spend in a calendar year: Rogue ( at least $1,000 per year), VIB (at least $350 per year), and Insider (friendly reminder, membership is free). Rogue and VIP shoppers get more discounts and have earlier and longer access to the event.
Rouge: 20% off from Friday, April 9 to Monday, April 19
VIB: 15% off from Tuesday, April 13 to Monday, April 19
Insider: 10% off from Thursday, April 15 to Monday, April 19
You can shop in-store or online with the code OMGSPRING applied at checkout.
A generous portion of the Sephora Collection is 30% off between Friday, April 9, and Monday, April 19th for Beauty Insiders only (Tiered savings won't cross over into this specific promotion).
Shoppers can redeem discounts as often as they'd like during their designated tier-level time period, and you aren't held to a purchase minimum.
For U.S. shoppers, excluded products include: The Ordinary products and Nudestix Anti-Bacterial Hand Sanitizer Gel; one Dyson item is allowed per transaction.
For Canadian shoppers, excluded products include: MAC Viva Glam; five Morphe items are allowed per transaction.
This promotion cannot be combined with other offers.
Things that do not apply: Instacart, Instagram shopping, in-store services, previous purchases, and purchases of gift cards, gift wrapping, and packaging
Sephora Spring Sale - Quick Links
Best Makeup
Let's be real: It's time to swap your outdated, thick makeup for more lightweight (and undeniably enduring) formulas. And it certainly doesn't hurt to stock up on two-in-one products that'll eliminate the need for additional transactions. We know the search is overwhelming, so we've curated our top three makeup picks for your arsenal. You're welcome.
Best Skin Products
Sunny skies warrant the winter-to-summer skincare transition: from dense creams to nourishing and weightless formulas. As expert beauty connoisseurs, we've scoured far and wide to find the best skin products, all of which are designed to maintain optimal skin health (even in the heat).
Best Hair Products
Sephora has a treasure trove of haircare goodies, spanning from new releases to legacy holy grails for all types and textures. Amid this abyss, we've rounded up products for repairing and restoring winter-dried (and fried) strands. That being said, we'd be remiss if we excluded the Dyson Airwrap Styler Limited Edition Gift Set, which grants users with versatile styling and control over tresses. Cheers to the season of new beginnings and better hair days.
Dominique (Dom) is a very online shopping writer at Woman & Home, where she covers products, sales/deals, and market news across categories. Before joining the team, she penned stories as an editorial fellow at Insider Reviews, the affiliate commerce team at Insider Inc./Business Insider. The bespectacled NJ transplant specializes in commerce journalism, women's lifestyle content, and hoarding makeup—much to her mother's dismay.
Her foray into storytelling began in the early aughts, the era in which she developed a passion for fiction writing and an aversion to math. This passion, along with many failed math exams, led her to Marist College, where she studied public relations, creative advertising, and English.
Aside from writing, she doodles in notebooks, crafts memes, and sleuths for homes out of her tax bracket on Zillow. Follow her adventures via the web:
Instagram: @dominiquemcintee / @drugstoredomi
LinkedIn: https://www.linkedin.com/in/dominique-mcintee-3a32ab9a/
To connect: dominique.mcintee@futurenet.com