The Olaplex Nº.8 Bond Intense Moisture Mask just launched, and it's already our favorite haircare staple — here's how it works
Introducing the Olaplex Nº.8 Bond Intense Moisture Mask, the latest nourishing treatment for your coveted mane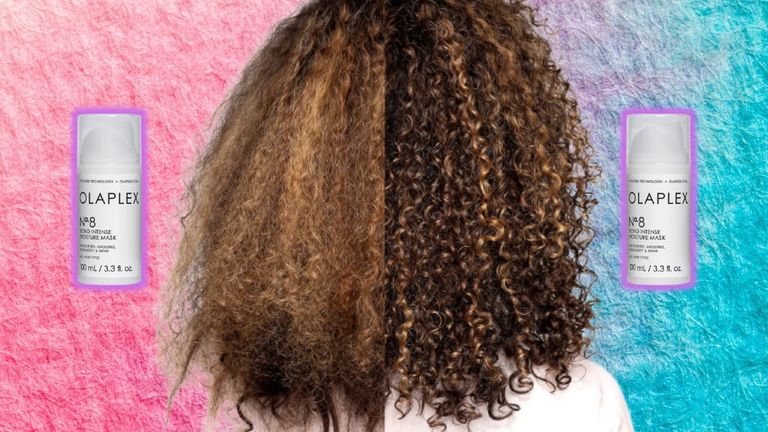 (Image credit: Future and Olaplex)
The Olaplex Nº.8 Bond Intense Moisture Mask is officially on the market, and you can purchase yours through Olaplex.com and Sephora's mobile app. From the household name popularized by mainstream media, stylists, and shoppers alike, this treatment restores and repairs compromised hair with patented bond-building technology.
Hair damage is a formidable foe that goes beyond split ends and breakage. The culprits of hair damage run the gamut — from obvious offenders, like heat styling, over-processing, and over-washing, to less commonly known causes, such as elastic hair ties, diet, and stressful life events. If not properly addressed, your hair will become scorched earth as visibly dryer, frizzier, and less dense.
Luckily, the Olaplex Nº.8 Bond Intense Moisture Mask is now available as a beacon of hope. This reparative treatment eases existing damage and prevents future breakage — for virgin hair and manes that have been put through the wringer.
By design, the Nº.8 features a weightless texture, which fully absorbs into the hair shaft. When applied, the lightweight formula coats hair in rich hydration, giving it slip. As you work it through, your hair will feel slick to the touch and smooth for combing with your fingers. Additionally, its airless pump is a thoughtful feature, which enables users to control the amount of product they use (and limits the need for constant replacements). Ultimately, your locks will become more hydrated, fuller, and easier to maintain over time.
Albeit pricey for its compact size, the Olaplex Nº.8 excels in performance, thanks to the brand's patented bond-building technology: a robust system designed to bring unprecedented, long-lasting results for all hair types (be it coiled or pin-straight). Backed by Bis-Aminopropyl Diglycol Dimaleate, a potent ingredient, this technology rebuilds the hair's disulfide bonds, which mold its structure and strength. According to science, these mended bonds will restore your hair's health.
So, you can say farewell to the vexing, straw-like strands from your favorite hot tools: best hair dryers, best straighteners, etc. The Olaplex patented Bond Building technology is a god-send. Regardless, you'll still want to use heat protection for your hair whenever necessary.
How To Use The Olaplex Nº.8
Lather product to clean, damp hair at the ends and work through. Don't start at the roots and work downwards as this may make your hair feel greasy. Two pumps for shoulder-length hair: less for fine, short hair and more for long, thick hair.
Leave it on for ten minutes. You can leave it in for longer than the recommended time; however, it's not advised to cut the time down.
Rinse thoroughly and style as you normally would. If done properly, results will last through multiple shampoos and washes.
For optimal results, Olaplex recommends to use the Nº.8 weekly in conjunction with the Nº.0 Intense Bond Building Hair Treatment and Nº.3 Hair Perfector. You can apply the treatment as often as you'd like; nonetheless, those with curly, color-treated, and moisture-deprived hair should use it more frequently (and if you plan to dye your hair at home, we got you covered).

How The Olaplex Nº.8 compares to the Nº.3 Hair Perfector and Nº.5 Bond maintenance conditioner
The Olaplex Nº.8 is a deep conditioning mask formulated to repair and revive dry, damaged hair. Though it's an at-home treatment like the Nº.8, the Nº.3 is neither a mask nor a conditioner. On the contrary, the Nº.5 is a conditioner to incorporate into your daily haircare routine.
Complementing the duo, the Olaplex Nº.8 elevates the damage control tenfold. It harnesses active ingredients, all of which help hair look lightweight, full-bodied, and nourished. For extra volume, pair your treatment with Jennifer Aniston's go-to spray, in addition to your Olaplex goodies.
Other Olaplex Products:
Dominique (Dom) is a very online shopping writer at Woman & Home, where she covers products, sales/deals, and market news across categories. Before joining the team, she penned stories as an editorial fellow at Insider Reviews, the affiliate commerce team at Insider Inc./Business Insider. The bespectacled NJ transplant specializes in commerce journalism, women's lifestyle content, and hoarding makeup—much to her mother's dismay.
Her foray into storytelling began in the early aughts, the era in which she developed a passion for fiction writing and an aversion to math. This passion, along with many failed math exams, led her to Marist College, where she studied public relations, creative advertising, and English.
Aside from writing, she doodles in notebooks, crafts memes, and sleuths for homes out of her tax bracket on Zillow. Follow her adventures via the web:
Instagram: @dominiquemcintee / @drugstoredomi
LinkedIn: https://www.linkedin.com/in/dominique-mcintee-3a32ab9a/
To connect: dominique.mcintee@futurenet.com