Sensationally cheap city breaks for under £360 per person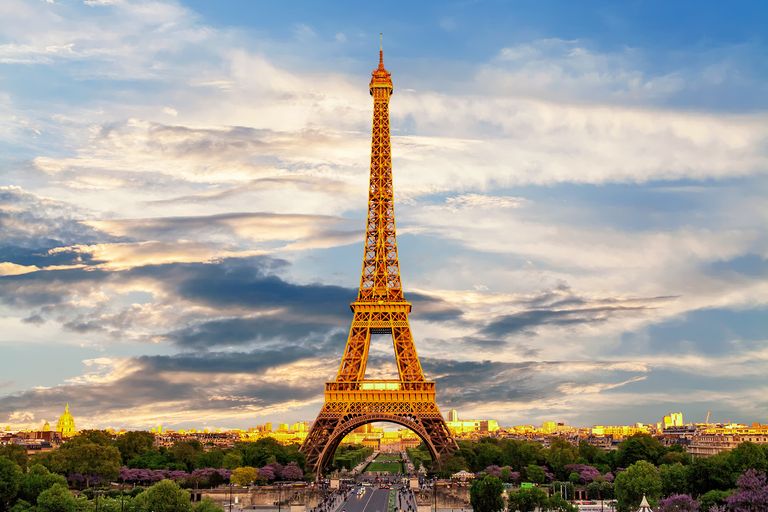 Need a last-minute getaway? Book one of these great value, cheap city breaks in Europe that won't set you back more than £360.
We've scoured the web for some of the best cheap city breaks out there to help you find a brilliant last minute holiday. These are the top cheap city breaks for 2019.
Note: All prices are based on the cost of a flight and hotel from 13-16 September 2019, unless otherwise specified.
See Paris, France from £199
If it sounds too good to be true, it usually is… But we're not leading you on here. Riviera Travel has an astonishingly good Paris city break deal, with prices as low as £199 for travel and hotel. Book in advance for their 30 November departure and you could be in Paris just four hours after boarding a train from London St Pancras.
Included in the price is accommodation in a three or four-star hotel, and daily excursions with expert guides. You'll hop on a coach to explore L'Arc de Triomphe, the Eiffel Tower, Champs Élysées and the glorious River Seine, before driving out of the city to Versailles. There's the opportunity to spend a day in Montmartre before heading home on the train. For as little as £199 per person, this is an exceptionally good value European city break.
Intrigued? Get the brochure here >
Explore Belfast & the Titanic from £359
Northern Ireland's capital is a brilliant weekend break, and Newmarket Holidays are offering a four-day escape for just £359 in October 2019 (and other selected dates). The tour includes flights from your selected airport (Gatwick offers the best prices) and accommodation in reliable city-centre hotels.
More like this: European city breaks within 2 hours of the UK
You'll visit the Titanic Belfast, where the original cruise ship was built and now the site of a museum and tribute to the vessel and the people who died on it. There'll be a guided tour of the city, and the option for an excursion to the Giant's Causeway the following day before returning home.
Relax in Budapest, Hungary for just £358
Budapest has long been known for its healing, thermal waters, and what better place to enjoy an action-packed city break and get some downtime too? Wizz Air flights cost just £60 return (from London Gatwick; hand-luggage only), and check into the exceptional, five-star Corinthia Hotel for three nights at £298 per person.
Spend your days exploring the city's palaces, see the skyline from the river on a cruise or experience its unusual pub scene – the ruin bars are old warehouses and industrial buildings now converted into great bars and restaurants. Then, retire to the hotel where a pool and spa will be the perfect antidote to a busy day.
Geneva, Switzerland for only £280
Switzerland has a reputation for being expensive, but getting there doesn't have to break the bank. You can fly with easyJet for just £64 return (London Gatwick; hand luggage only), and a few nights in the Novotel Geneve Centre will set you back just £215 per person.
Spend your days soaking up the atmosphere in the city's medieval old town, where St Peter's Cathedral looms over the rooftops (climb the tower for a brilliant view) and tiny little passageways offer shortcuts through the pretty, ancient streets. Don't miss the museums, from the Patek Philippe where you can learn about the art of watchmaking to the International Museum of the Reformation, which charts the city's history, and be sure to get out of town and enjoy some of Switzerland's finest countryside.
More like this: The best places to visit in September for a late summer break
Get creative in Copenhagen for £250
Copenhagen has never been so accessible – for just £35 you can hop over the ocean with Ryanair and find yourself among the city's cool cafes, fascinating museums and arty galleries. Book into the Wakeup Copenhagen, where rooms are small but refreshingly light and incredibly clean, and you'll pay just £215 per person for a three-night stay.
If you want to keep the budget down, head to the city's free museums, such as National Gallery and National Museum, or if the weather's great try swimming in the outdoor pool right on the harbour – also a free activity. There are free bikes for getting around, and you can have a cheap cruise around the harbour by boarding the ferries that take passengers to and fro. Tivoli Gardens often has free concerts, too, so keep an eye out for something spectacular that won't mean splashing out.
Mill about in Milan for just £245
There's a lot to love about Milan, from sipping an espresso in a classic Italian coffee bar in the morning to knocking back negronis at aperitivo hour. But best of all, it's a pretty affordable city for a long weekend. Ryanair flights cost just £53 return (Southend Airport; no hand-luggage) and three nights in the cool and contemporary Concoct Milan is just £385 total.
This means you can save your euros for exploring the city's breathtaking Duomo – a gothic masterpiece with spectacular views from the top. Don't miss shopping in Galleria Vittorio Emanuele II with its Baroque touches and spectacular glass domed ceiling. There may be a no more elegant city in Europe.