Where to find the best Cyber Monday spa deals, plus all the Black Friday offers that are still available to book now
Our guide to the best Cyber Monday and Black Friday spa deals available to book now, including treatments, spa days and weekend getaways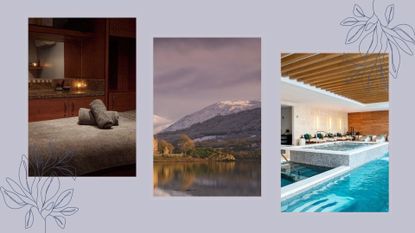 (Image credit: Future / Secret Escapes / Buyagift)
We've rounded up the Black Friday and Cyber Monday spa deals that are worth your attention. With companies offerings savings of up to 50% on spa days, treatments and luxurious overnight stays, there's never been a better time to book a restorative day (or weekend) away.
We've scoured the internet for the best spa deals available right now, whether you're on the hunt for bargains on the most beautiful spa breaks in the UK, or looking to book a restorative retreat in the US or across the rest of the world.
Most of the best spa day deals we've spotted this year come from third-party sites like Buyagift, Virgin Experience Days, Groupon and Wowcher in the UK, and on TravelZoo and on Groupon in the US. Many of these deals come in the form of vouchers that you can use for up to 12 months, so you can book now, and decide the date later. These packages, in our opinion, are among the best Christmas gifts you can choose for mom, or one of the best Christmas gifts for her.
Best Black Friday and Cyber Monday spa deals to book in 2022
Where to find the best spa deals in the UK
Best current spa deals in the UK
Where to find the best spa deals in the US
Best current spa deals in the US and beyond
Below is a selection of the best spa deals taking place in the US, as well as the best international deals for US travelers.
When will the Black Friday and Cyber Monday spa deals end?
Most retailers are running various discounts until the end of Cyber Monday, Monday 28 November. However, some companies, like Booking.com, are running promotions until 1 December and others, like Groupon or Wowcher have no stated end date for most of their offers. However, on third-party sites, we've noticed that pricing does fluctuate massively throughout the year so if you see a deal you like, book it now.
What spa deals were on offer last year for Black Friday and Cyber Monday?
Last year saw spa breaks discounted across the globe, with the best discounts to be had on luxury destinations such as Mexico and Las Vegas. In 2021, one of our Black Friday highlights was the savings to be found on the Blue Diamond Luxury Boutique Hotel in Mexico, which was reduced by over $150 per night – and the good news is that this hotel is taking part in the sales this year, so you can snap up similar discounts.
Over in the UK, the top deal was at the luxurious Appleby Manor Hotel & Garden Spa, with a saving of £78 per night. Again, this hotel is also available at a discounted rate in the sales ahead of Black Friday, with a great saving of £90 per night.
Secret Escapes offered big discounts on spa breaks and wellness retreats in 2021, while websites such as Wowcher, Groupon, Buyagift and Red Letter Days were the best places to find individual spa days and treatment deals.
Overall, we've found the offers and discounts in 2022 comparable to last year, and in some cases, even better.
Where can I find the best spa deals?
The best spa deals for weekends away, couples' spa days, or individual treatment bundles are usually found on third-party websites, such as Secret Escapes, Groupon, and Wowcher, which offer special discounts throughout the year and typically even bigger savings during the Black Friday sales.
For mini-breaks or week-long retreats, Secret Escapes has plenty of options in the US, the UK, and the rest of the world. If you're looking for a spa day, a half spa day, or treatment at a spa, Travelzoo, Groupon and Wowcher tend to have more options.
Secret Escapes cover some of the most famous spas across the world, but the biggest discounts to be had are on far-flung destinations like Mexico and the Maldives.
What are the four different types of spas?
There are four key types of spas for you to relax and unwind at, according to the spa experts at spafinder.com. These are:
Day spas: Where typically guests will visit for a day package, but stay somewhere else or travel back home in the evening. Sometimes these spas also offer evening packages or morning packages too, if you want to make the most of a half day off.
Destination spas: These are purpose-built resorts dedicated to wellness, often in beautiful settings and with a holistic approach, from the ingredients used in the kitchen to the relaxing surroundings and activities on offer.
Resort and hotel spas: Hotels and resorts may boast their own spa within the grounds that's a separate entity from the hotel itself. Sometimes, you may have to pay more to use the spa, while at other resorts access is included as a hotel guest.
Mineral and thermal spring spas: Harnessing the power of nature, these more traditional spas are often in outdoor settings and often include natural elements like seawater and seaweed to enhance treatments, and possibly natural outdoor pools to really enhance the experience.
What do spa days include?
Spa days vary from place to place, but typically, you can expect to see a combination of these elements during a spa day or half-spa day. If you do a spa stay (e.g you stay overnight at the venue), you'll also likely get all of this included:
Access to thermal facilities (such as saunas, steam rooms, and jacuzzi/hot tubs) as well as plunge pools and swimming pools. This is usually between set times stipulated by the spa.
Use of slippers, towels, and robes
A treatment (or treatments) at the spa
Welcome drink/snack
Use of the lounge/cafe area
A light lunch, potentially with a warm drink, glass of fizz, or soft drink included
Some spas offer a discount voucher to be redeemed against further treatments or items in the spa shop
Often, you'll be given a basic package as part of the deal – particularly with Black Friday spa deals – but can add on extras, such as lunch, afternoon tea or more treatments to enhance your day.