These are the makeup products Princess Diana wore for her famous engagement photo
Lady Diana looked every inch a princess in her official engagement picture thanks to these beauty products.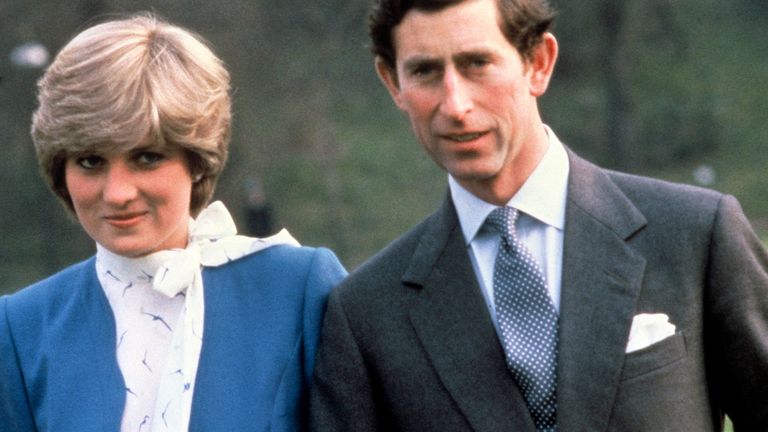 (Image credit: LONDON - FEBRUARY 24: Princess Diana, Princess of Wales and Prince Charles, Prince of Wales pose outside Buckingham Palace as they announce their engagement on February 24, 1981 in London, England. (Photo by Anwar Hussein/Getty Images))
Princess Diana's style, hairstyle and makeup are still inspiring countless women over 20 years after her tragic death. Season 4 of The Crown has only crystallised her status as a fashion and beauty icon now that a younger generation is picking up the baton and recreating her looks. 
While an entire glam squad was responsible for her effortlessly chic looks at Royal engagements, many have revealed some of their expert tricks over the years. 
Clayton Howard, the make-up artist Lord Snowdon often used for photoshoots, created Princess Diana's look for the Vogue magazine shoot that would produce the official engagement picture. He helpfully revealed a bespoke face chart of the makeup he used on the bride-to-be. 
While some products have now been discontinued, the brands Howard used - both high street and high end - are still bestsellers today so we've found some handy dupes for you to copy the iconic look at home. 
Max Factor Sheer Genius Foundation in Honey Touch 
We know from Royal makeup artist Mary Greenwell that she favoured a light-handed approach to foundation for Princess Diana when she started working with the young royal after this photoshoot took place. A 'skin should look like skin' ethos meant a three-pronged attack of moisturiser, sheer foundation "and always concealer to lift the eye area," she says. 
While Max Factor Sheer Genius Foundation in Honey Touch is no longer available, the sheer coverage of Max Factor Miracle Second Skin Foundation, a foundation/skincare hybrid with skin-loving coconut milk and probiotics, is a good alternative.
Max Factor Blusher Stick in Blushing Frost 
Cream blusher works on almost everyone and creates a youthful dewy look, especially a universally-flattering pink shade. 
Max Factor has moved away from the stick format of the 80s to a handy pot of solid blush.  Simply warm a little of the Miracle Touch Cream Blush between your fingterps to transform it into an easy-to-blend cream and blend outwards from across the tops of the cheekbones for a believable bona fide flush.
Max Factor Tint of Pink Lipstick 
With a few rare exceptions, Princess Diana favoured a natural lip shade.
Max Factor's Tint of Pink Lipstick used on this shoot is now discontinued but the coral pink tones of Max Factor Colour Elixir Lipstick in Pink Brandy is a good dupe and just as flattering today as part of a modern makeup look.
Max Factor Highlight in Platinum Frost 
Highlighter applied atop cheekbones brings light to the skin and contours in a more flattering way than adding shadows with muddy tones.
Max Factor's best-selling Miracle Sculpting Wand Highlight in Universal makes light work of the application thanks to a soft cushion tip for sweeping across cheekbones and down the bridge of the nose. 
Elizabeth Arden Blue Kohl 636 
As a young royal, Princess Diana initially loved to wear blue eyeliner - until Greenwell weened her off it. "Blue eyes should never wear blue pencil or shadow - it is dulling for the eyes," she says. Instead, Greenwell started experimenting with a more subtle brown smoky eye.
For the engagement photoshoot, however, Howard used a blue kohl pencil by Elizabeth Arden to ring around Princess Diana's eyes. The brand still has a blue shade option in its High Drama Eyeliner stable. 
Thanks to the appeal of Emma Corrin in The Crown, blue eyeliner sales have shot through the roof but you'll still find stock on Amazon.
Elizabeth Arden Navy Blue Mascara 
Coloured mascara is officially back. Whether you wear it on its own like Princess Diana or you want to ease into the technicolor trend by layering it over your regular black shade, Benefit Badgal Bang Volumising Mascara will deliver gravity-defying lashes.