Princess Charlotte was captured sticking to the 'three second rule' during her latest royal engagement and fans are obsessed
It seems that Princess Charlotte is a follower of the 'three second rule'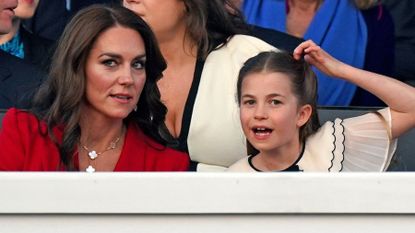 (Image credit: Getty Images)
Princess Charlotte left royal fans delighted after she was seemingly seen adhering to the 'three second rule' while tucking into a sweet snack during a special post-coronation engagement.
Princess Charlotte was spotted sticking to the 'three second rule' after her fireside snack fell onto the floor during her latest public appearance.
Charlotte was joined by mom, Princess Catherine, dad, Prince William, and brothers, Prince George and Prince Louis, for a special family outing following the coronation celebrations.
In other royal news, there's one Prince Louis and Princess Charlotte coronation photo you just HAVE to see after she fulfilled her special 'unofficial role'.
---
Princess Charlotte stepped out with Prince George and Prince Louis plus the Prince and Princess of Wales as the family gathered for a special visit to local Scout hut in Slough as part of the Big Help Out.
Following a busy weekend of coronation celebrations, during which Kate and Charlotte wore matching tiaras with Alexander McQueen dresses and Charlotte provided some hilarious reactions at the coronation concert, the family-of-five got stuck in with the Scouts.
As part of their fun-filled day outdoors, which saw Princess Catherine nail casual chic, the Wales children were treated to some sticky s'mores as they roasted marshmallows by a campfire.
In a moment captured on camera by royal journalist, Rebecca English, Princess Charlotte, who was quite the fashionista in sparkly sneakers, can be seen tucking in and dropping a piece of her marshmallowy cookie on the grass.
I'm slightly slow in sending this as am down with the family with very slow signal but this adorable video of Louis should make up for it! pic.twitter.com/ZMtPWmnHP3May 8, 2023
See more
Proving she's a believer in the 'three second rule', the eight-year-old Princess quickly picked up her snack and made sure it didn't go to waste.
Reacting to the sweet moment, royal fans were pleased to see Princess Charlotte not shying away from the famous dropped food rule.
"It's refreshing to see that even royalty uses the 'three second rule'. Princess Charlotte drops her s'more but it must taste too good to leave it in the grass," one supporter wrote on Twitter.
Another added, "Love the fact Princess Charlotte picks up her dropped piece of s'more and pops it straight in her mouth!"
"You've got to love #Princess Charlotte adhering to the three second rule," a third joked, while another chipped in to add, "How Princess Charlotte drops a piece of biscuit, picks it up and eats it is CLASS."
The Wales family's day with the Scouts also consisted of Prince William sharing some super cute father-son time with his little boys, George and Louis, as he sat with them on his lap behind the controls of a bright yellow digger.
Meanwhile, Princess Catherine revealed the utterly lovely nickname she uses for Prince Louis as she got stuck into roasting marshmallows with her little ones.
Passing lively Prince Louis a wooden skewer to throw into the flames, Princess Catherine told her youngest son, who marked his fifth birthday earlier this month, "Pop that in the fire Lou-Bug!"
Prince William can also be heard in the footage, declaring, "You've made his day!"