Princess Charlotte is quite the fashionista as she follows Kate's lead in white sneakers with sparkly accents
In an adorable "mini-me" moment, Princess Charlotte wears similar sneakers to Kate's, and we're obsessed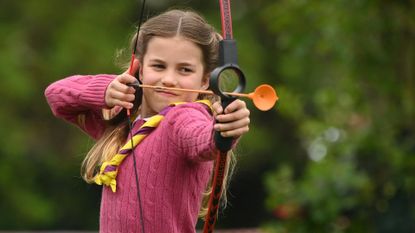 (Image credit: Getty Images)
Princess Charlotte recently rocked a super cute pair of white sneakers that look just like her mom's classic sneakers, and we're loving that she's growing into a little fashionista.
On May 8, the whole Windsor family, including Princess Kate, Prince William, and their three kids, George, Charlotte, and Louis set out to Slough to participate in the Big Help Out. This day, which honors the reverence of King Charles' coronation, is meant to be a day of service, and the Windsors set a prime example as the whole family set out to do some volunteer work themselves.
As per usual, Kate looked fabulous, even despite the fact that they had to dress with the expectation of doing some manual labor. She rocked a pair of slip-on, flat boots from Blundstone, which were ideal for the day, seeing as they were facing some rather muddy terrain - as well as a chic denim blouse and a pair of well-fitting skinny jeans for the eventful day.
Princess Charlotte, on the other hand, although only eight years old, showed up looking rather fashionable in a pink cable-knit sweater and cutoff denim shorts.
---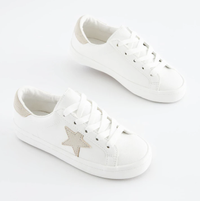 Star Lace-Up Trainers, from £20 ($25) | Next
Just like Princess Charlotte's super cool sneakers these feature a metallic star motif - perfect for any kids in your life!
The young princess also wore a cute pair of crisp, white sneakers that featured some sparkly detailing on them, creating a perfect balance between chic and playful.
The best white sneakers are undeniably one of the most important pairs of shoes you can have in your arsenal. Not only do they match everything (casual outfits, dresses, business casual workwear), but they're also super comfortable. Luckily, most pairs are also relatively inexpensive - especially if you're comparing them to the traditional Emmy London pumps Kate Middleton is often wearing, or even her Boden flats.
While Charlotte's shoes are obviously meant for a child, the pair she's wearing looks quite similar to Kate's beloved Veja sneakers, which she wears all the time. In fact, she even wore them this past Sunday afternoon, stepping out in the sneakers and a baby blue blazer to meet royal fans attending the upcoming coronation concert.
---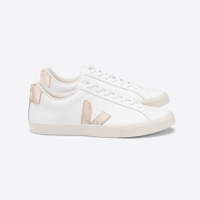 Esplar Leather White Platine Sneakers, £120 ($130) | Veja
The Veja Leather White Platines are the perfect addition to your shoe collection if you're after a pair of fresh white sneakers to see you through spring and summer, offering a casual vibe with a touch of rose gold glamor.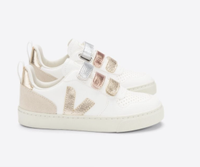 V-10 Multico Kids Sneakers, £85 ($107) | Veja
Veja kids collection is just as stylish as the adults range but 100% cuter, treat a loved one in your life with a mini pair of sneakers that give off serious royal vibes.
White sneakers are the ultimate pair of shoes to have on hand in your 2023 capsule wardrobe - and if Kate and Charlotte wearing the stylish kicks aren't enough proof, then we don't know what is, really.
Madeline Merinuk is woman&home's US lifestyle news writer. She covers celebrity, entertainment, fashion, and beauty news but is also obsessed with internet trends - you can find her reciting trending TikTok sounds out loud at any given time.
After winning multiple student journalism awards for her investigative work, she graduated from Hofstra University in 2021 with a B.A. in Journalism. After graduating, she worked at today.com, the digital site for the Today Show, where she wrote pop culture news and interviewed big-name personalities like Emily Ratajkowski, Haley Lu Richardson, Emma Corrin, and more.
Her personal interests, in no particular order, are: cheese, Joni Mitchell, reading, hot yoga, traveling, having multiple chapsticks in every handbag at all times, and dancing to ABBA songs as if she were in the Mamma Mia movies.