Kate Middleton just stepped out in the most fabulous spring outfit, including a new pair of £130 Boden flats
Kate Middleton rocked her trusty high street faves, from Reiss, LK Bennett and Boden...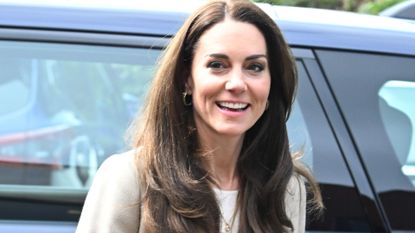 (Image credit: Getty Images)
Kate Middleton stepped out today in a fab outfit while visiting a baby bank in Windsor - and we're obsessed with her chic business casual attire.
Princess Catherine is always impressing us with her ability to look chic and put-together wherever she goes - and one of her most recent outfits really caught our eye as some major spring capsule wardrobe inspiration.
We're always looking for ways to make a blazer look good, and we're taking a page from Kate's book. Her blazer, which is from Reiss ($545), is a chic beige color, perfect for those spring days when the weather still warrants a light jacket. She paired her blazer with one of her pairs of classic black cigarette pants from LK Bennett, a timeless black leather belt with a gold buckle, and a crisp white t-shirt.
---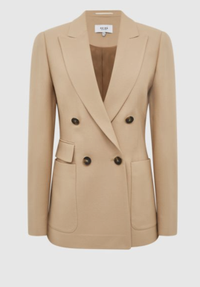 Larson Double Breasted Blazer, £298 ($545) | Reiss
Snag Kate's exact blazer! This stunning Reiss jacket is the perfect wardrobe essential and looks good with both jeans and trousers.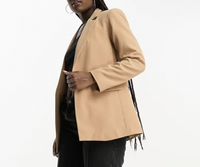 New Look boyfriend blazer in camel, £35.99 ($66) | ASOS
This chic and cost-efficient camel-colored blazer is perfect for dressing up or down. It's super similar to Kate's but doesn't break the bank!
The Princess also wore a super stylish pair of black Boden flats, complete with a square, rattan detailing. These shoes are undeniably chic and perfect for just about any spring outfit, whether dressed up or down. Luckily, the suede, pointed-toe shoes come in a variety of colorways and are relatively inexpensive (for a shoe worn by a royal, we might add). Plus, if Kate is wearing it, we trust that the quality of the item must be impeccable, making it a worthwhile footwear investment.
---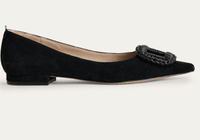 Pointed Ballet Flats in Black Suede, £130 ($190) | Boden
The square buckle detail on these pointed suede flats ensures a standout finish. Show them off with cropped hemlines. The black version has already sold out in the UK and US but they are still available in various other shades.
Kate also topped her outfit off with some incredible gold jewelry pieces. Kate always keeps it simple when it comes to accessories - so she chose to style her outfit with a simple gold chain with a citrine pendant from Daniella Draper, as well as a pair of intricately detailed gold hoops from French designer Sézane (which, much to our chagrin, are no longer available to shop).
---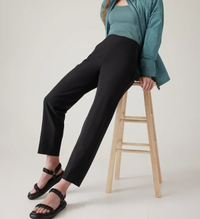 Athleta Endless Pants in Black, $109 | Athleta
These semi-fitted pants are just like Kate's and skim easily over the body with straight-cut legs that look fab with trainers or flat pumps.
Kate wore this sleek look as she visited The Baby Bank in Windsor, where she learned about the work the organization carries out to support families in Windsor and surrounding areas.
The Baby Bank, which was founded in 2015 by two mothers from Windsor, aims to provide essential items to families facing financial hardship - a cause that Kate has been openly passionate about. According to an Instagram post, The Baby Bank provides a variety of essentials to mothers, including, "new-born starter kits, school uniforms, nappies, buggies, and beds." The organization stays afloat with the help of donations from locals and businesses - and now, the charity has royal support from a very kind and stylish Princess Kate.
Madeline Merinuk is woman&home's US lifestyle news writer. She covers celebrity, entertainment, fashion, and beauty news but is also obsessed with internet trends - you can find her reciting trending TikTok sounds out loud at any given time.
After winning multiple student journalism awards for her investigative work, she graduated from Hofstra University in 2021 with a B.A. in Journalism. After graduating, she worked at today.com, the digital site for the Today Show, where she wrote pop culture news and interviewed big-name personalities like Emily Ratajkowski, Haley Lu Richardson, Emma Corrin, and more.
Her personal interests, in no particular order, are: cheese, Joni Mitchell, reading, hot yoga, traveling, having multiple chapsticks in every handbag at all times, and dancing to ABBA songs as if she were in the Mamma Mia movies.