Kate Middleton's classic black cigarette pants are a wardrobe staple that look good dressed up or down
Kate Middleton once again proves that timeless style doesn't have to be boring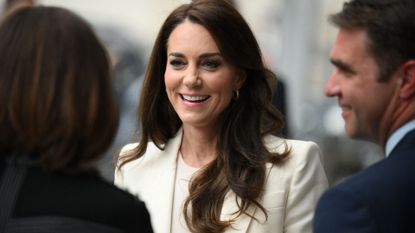 (Image credit: Getty Images)
Kate Middleton recently stepped out in the chicest outfit, proving that cigarette pants are still timeless, and flattering.
As winter turns to spring, it's hard to make a wardrobe transition. You might be asking yourself questions akin to "what essentials do I need for my spring capsule wardrobe?" or "how do I make this outfit suitable for ever-changing weather?"
Luckily, Kate Middleton just debuted an outfit that we're already dubbing as our spring uniform, and it involves a pair of pants that continues to endure in the fashion world. Obviously, this isn't the first time Kate recognized for her impeccable off-duty style (we're particularly obsessed with her countryside look where she's sporting her favorite Le Chameau wellies!), but we love that she's bringing cigarette pants back into the fashion foray.
Kate recently held an Inaugural Meeting of the New Business Taskforce for Early Childhood in London, England - and of course, she showed up looking effortlessly chic.
On top, she wore a classic, plain white shirt paired with a white blazer by Alexander McQueen. She paired this blazer-top combo with a pair of smart, black cigarette pants - a perfect wardrobe essential for spring.
Not only are cigarette pants fairly comfortable, but they are also appropriate for a variety of occasions. You can dress them down with a pair of chic sneakers or sandals and your favorite tank or tee - or, you could pair them with heels and a blazer, like Kate did, for an accessible and comfortable business casual look.
---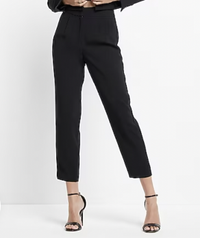 Super High Waisted Pleated Ankle Pant, $88 | Express
A sleek and tailored ankle-length style that's cut to fit and flatter you from the waist down. Tuck in tees, tanks or blouses for work and play.
However, this isn't the first time Kate has sported a pair of black trousers for a power-suit type look. She's been known to wear smart pants on a few occasions - and usually opts to pair hers with blazers of multiple colorways, including neutral colors like grey and white. She's also sported these pants with more casual attire, like crew neck sweaters.
If you want to totally nail the Kate Middleton look and are in the market to splurge on a high-quality pair of pants for spring - we've got you covered. An exact pair of trousers that Kate has worn previously are the Jigsaw Crosshatch Mason Trousers, which come in at around $125 and are sold in a variety of colors.
So, if there's any note we can take from Kate's obviously exquisite style, it's that pants - cigarette pants specifically - are a truly timeless and versatile piece of clothing that every woman should have in their wardrobe.
Madeline Merinuk is woman&home's US lifestyle news writer. She covers celebrity, entertainment, fashion, and beauty news but is also obsessed with internet trends - you can find her reciting trending TikTok sounds out loud at any given time.
After winning multiple student journalism awards for her investigative work, she graduated from Hofstra University in 2021 with a B.A. in Journalism. After graduating, she worked at today.com, the digital site for the Today Show, where she wrote pop culture news and interviewed big-name personalities like Emily Ratajkowski, Haley Lu Richardson, Emma Corrin, and more.
Her personal interests, in no particular order, are: cheese, Joni Mitchell, reading, hot yoga, traveling, having multiple chapsticks in every handbag at all times, and dancing to ABBA songs as if she were in the Mamma Mia movies.