Kate Middleton's latest slip-on flat boots are a style essential we can get on board with
These boots are made for walkin' - and here's where you can buy them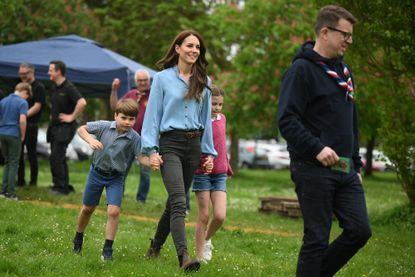 (Image credit: Getty Images)
Kate Middleton recently stepped out in some super versatile and stylish outdoor boots, and we're obsessed with the laid-back look. Here's where you can get a pair for yourself...
On May 8, Brits from across the country took the bank holiday to volunteer their time to communities in need in an effort to contribute to the Big Help Out - including Prince William, Princess Kate, and their three children, George, Charlotte, and Louis.
As part of celebrating this community-centered day, Kate and her family visited Slough, where they set to improve the maintenance of the 3rd Upton Scouts Hut.
Throughout the day, they were seen helping Prince Louis on an actual JCB digger, shoveling soil, trying her hand at archery, and then closing the day by posing with all the volunteers who came out to give their time to the community.
While looking at pictures from the philanthropic day, we couldn't help but notice Kate's casual chic outfit - especially her new Blundstone boots.
These boots are beloved by people all over the globe who take their outdoor footwear seriously - they're actually one of the most popular brands - so there's no surprise as to why Kate owns a pair herself.
These boots were perfect for the outdoor activities the family was participating in today, especially seeing as it had rained essentially all weekend, making for some quite muddy terrain. Luckily, these boots are perfect for protection from the forces of nature, including dirt, mud, and snow.
---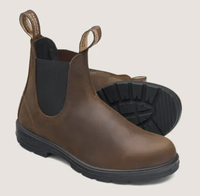 CHELSEA BOOTS IN ANTIQUE BROWN, $229.95 (£183) | Blundstone
These slip-on Chelsea boots work equally well with both dresses and jeans, we especially love the brown version but they also come in black too!
On the same day, Kate nailed casual chic by sporting a chic yet appropriate denim blouse, along with a pair of black skinny jeans, as well as a brown belt that tied the look together. The Princess's blouse was the Frill Neck Shirt in Mid-Blue Denim from the brand Really Wild - but unfortunately, this shirt is no longer stocked by the brand.
Kate and Louis particularly shared some special moments on this day, with the two participating in laborious activities like pushing a wheelbarrow and shoveling sand and soil.
Then, at the end, the little ones were treated to toasted marshmallows - and of course, Prince Louis' face while eating them was absolutely priceless.
Madeline Merinuk is woman&home's US lifestyle news writer. She covers celebrity, entertainment, fashion, and beauty news but is also obsessed with internet trends - you can find her reciting trending TikTok sounds out loud at any given time.
After winning multiple student journalism awards for her investigative work, she graduated from Hofstra University in 2021 with a B.A. in Journalism. After graduating, she worked at today.com, the digital site for the Today Show, where she wrote pop culture news and interviewed big-name personalities like Emily Ratajkowski, Haley Lu Richardson, Emma Corrin, and more.
Her personal interests, in no particular order, are: cheese, Joni Mitchell, reading, hot yoga, traveling, having multiple chapsticks in every handbag at all times, and dancing to ABBA songs as if she were in the Mamma Mia movies.