Prince William and Princess Kate release the cutest new photos of 'handsome' Prince Louis in an actual JCB digger
Prince Louis in an actual JCB digger is the adorable moment you need to see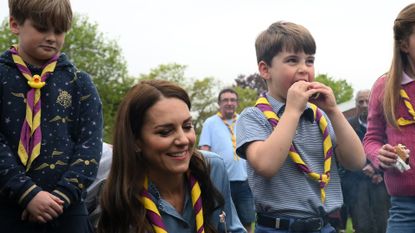 (Image credit: Getty Images)
The adorable Prince Louis is always keeping us on our toes at royal engagements - and some recent photos snapped of him on a real JCB digger only further prove that point.
On the weekend of King Charles III's coronation, all of the royals stepped out to mark the historic day, attending parties, coronation concerts, and more to celebrate the momentous occasion. One royal who we always have our eyes on is the hilarious little Prince Louis, the youngest son of William and Kate.
As part of the bank holiday, William, Kate, and their children all participated in the Big Help Out, a nationwide effort to lead a day of volunteering and community service.
The five-year-old joined his parents and siblings at 3rd Upton Scouts Hut in Slough to help out in renovating and fixing up the building.
During their visit, Prince Louis got on a digger to help his dad - and we must say, the young royal looks pretty happy to be completing such a task.
The two were seen digging up some holes, with William mostly taking control of the steering and moving of the digger vehicle - and Louis standing alongside his father, looking unequivocally adorable, as per usual. Kate also showed up rocking a chic outfit of a delicate blue blouse and skinny jeans.
Prince George and Princess Charlotte also helped out some volunteers today who reset a path, dug a new irrigation pathway, and then sanded and revarnished the front door of the building. They also added planters with some floral and botanical arrangements to the front of the building and helped paint a mural to give the building a much-needed makeover.
The kids were all smiles as they helped their mom and dad with their community service duties - and after completing some of their extra duties of pushing wheelbarrows and helping to clean the area, they were gifted some delicious-looking s'mores as a treat for their hard work.
And, of course, the pictures of Prince Louis eating said s'mores are truly the epitome of adorable, as he often is.
The royal youngsters kept their cool and behaved all weekend for the coronation celebrations, including the ceremony, the flypast balcony appearance, and the coronation concert (which Louis did not attend due to his young age.)
Although, of course, we were on the lookout for cheeky Prince Louis moments throughout the weekend - and the adorable kiddo certainly delivered. Not only was he seen yawning and staring at the ceiling multiple times throughout the official coronation ceremony, but he also gave onlookers an adorable little dance while standing on the balcony with his family for the flypast.
Madeline Merinuk is woman&home's US lifestyle news writer. She covers celebrity, entertainment, fashion, and beauty news but is also obsessed with internet trends - you can find her reciting trending TikTok sounds out loud at any given time.
After winning multiple student journalism awards for her investigative work, she graduated from Hofstra University in 2021 with a B.A. in Journalism. After graduating, she worked at today.com, the digital site for the Today Show, where she wrote pop culture news and interviewed big-name personalities like Emily Ratajkowski, Haley Lu Richardson, Emma Corrin, and more.
Her personal interests, in no particular order, are: cheese, Joni Mitchell, reading, hot yoga, traveling, having multiple chapsticks in every handbag at all times, and dancing to ABBA songs as if she were in the Mamma Mia movies.