The one Prince Louis and Princess Charlotte coronation photo you just HAVE to see after she fulfilled her special 'unofficial role'
Prince Louis and Princess Charlotte's sibling bond was clear to see at the coronation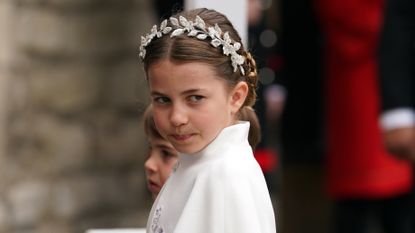 (Image credit: Getty Images)
Prince Louis and Princess Charlotte shared a seriously sweet special moment during the coronation of their grandpa, King Charles III.
There's one Prince Louis and Princess Charlotte coronation photo royal fans just have to see, with the youngest Wales siblings displaying their adorable relationship.
It comes after it was predicted that Princess Charlotte would take on an unofficial big sister role to look after cheeky Prince Louis throughout the big day.
In other royal news, Duchess Sophie looked exquisite in a gorgeous white coronation gown as Lady Louise Windsor nailed powder blue spring florals.
---
While the eldest Wales child, Prince George, was busy taking on his momentous role as King Charles's Page of Honor, Prince Louis and Princess Charlotte arrived at Westminster Abbey alongside their parents, Prince William and Princess Catherine.
While Princess Catherine and Princess Charlotte matched in sparkling leaf tiaras and Alexander McQueen dresses for the ultimate mini-me showcase, it was the moment that eight-year-old Charlotte and five-year-old Louis were captured holding hands that really melted our hearts.
As hundreds of guests and members of The Firm gathered to watch King Charles be crowned, Princess Charlotte seemingly made sure to take Prince Louis under her wing as a caring big sister.
While the Princess of Wales admitted she was hoping for good behavior from Prince Louis as she expressed her 'nerves and anticipation' ahead of the coronation, it was previously predicted that Princess Charlotte would take on the duty of looking after her little brother.
The BBC's former Royal Correspondent Jennie Bond explained, "I think she is very much the big sister. And maybe Catherine will have had a little quiet word with her daughter about keeping an eye on Prince Louis during the service."
Speaking to OK! magazine, she added, "Charlotte is a confident young girl and I think she will take it upon herself to make sure that Louis, as best as she can, is kept in check."
Prince Louis and Princess Charlotte later stole the show as the Royal Family gathered for King Charles's long-awaited Buckingham Palace balcony appearance.
The little ones stood alongside King Charles and Queen Camilla as they waved to hundreds of well-wishers stood beneath, with Prince Louis showing off his clapping skills and Princess Charlotte nailing the royal wave.