Princess Catherine's 'timeless and contemporary' style is perfect preparation for her life as Queen
Princess Catherine's timeless style is perfect for a future Queen Consort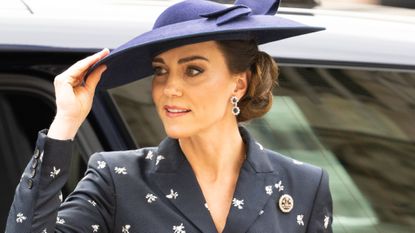 (Image credit: Getty Images)
Princess Catherine's 'timeless and contemporary' style is perfect as the Princess of Wales prepares to become Queen Consort some day.
---
Kate Middleton's dresses, her incredible heel collection, her designer handbags and gorgeous jewelry stash all come together to make the Princess of Wales's wardrobe one of the chicest in the world.
While Princess Catherine does keep things casual at times with the likes of her Superga plimsols, favorite jeans, classy blazers and go-to summer espadrilles, she never fails to step out in style for royal outings and official appearances.
And while Kate's hair transformation has seen her locks take various forms over the years, a royal expert has pointed out that Catherine has been nailing her modern yet timeless signature style for years.
Historian and expert on the royals, Tessa Dunlop, pointed out that Catherine's iconic fashion sense is ideal for preparing for the important role as Queen she will take on alongside her husband when he is crowned King in the future, despite having been accused of "dressing older" in the past.
"She used to dress old for her age and now everyone thinks she's really chic but she hasn't changed her style that much.
"It's timeless, it's consistency, and that's trying to be a queen," Tessa told OK! magazine.
Pointing out that Princess Catherine's wardrobe fits in with the values of the monarch she is a part of and will one day head up with William, Tessa continued, "Monarchy is an institution that really upholds tradition, that's the great contradiction of it.
"In many ways, in a progressive era, so Kate has to look contemporary, but also timeless."
Lately we've seen Princess Catherine sport a new 'safe bet' wardrobe staple in the form of turtleneck sweaters, with the mom-of-three often teaming them with coordinating long skirts or chic trousers, a long coat and a pair of simple heels.
Catherine even seemingly took style tips from Meghan Markle with a neutral color block outfit teamed with a camel coat.