King Charles is breaking royal protocol for Prince George at the coronation
Prince George has a major role at King Charles and Queen Camilla's coronation as a Page of Honor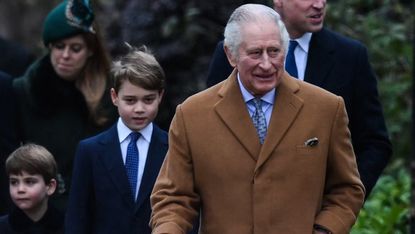 (Image credit: Getty Images)
Prince George's important role at King Charles and Queen Camilla's coronation has been confirmed, but this actually goes against royal tradition.
Preparations are currently underway for the coronation of King Charles and Queen Camilla which is taking place next month.
The exciting day will see plenty of royal events including the procession to Westminster Abbey and the Coronation Concert broadcast live from Windsor Castle.
As well as Buckingham Palace revealing the beautiful royal invitations, roles for the big day have also been confirmed.
And future heir to the throne Prince George is set to play a major role in the proceedings as he is one of the Pages of Honor at the ceremony.

But while royal fans are very excited to see George play such an instrumental role in the coronation, Pages of Honors aren't usually members of the royal family, and are instead the children of nobility.
Pages of Honor typically assist with coronations or the state opening of parliament, but unlike regular pages, are not required for day-to-day service.
The page's job on the day is to carry the long trains of the King and Queen's ceremonial robes as they walk to Westminster Abbey.
It is expected that the pages will be wearing special outfits on the day including a red frock coat with gold trimmings, a satin white waistcoat, white breeches, white gloves, black buckled shoes, and a lace cravat with ruffles.

The boys might also be wearing a sword and a feathered hat with this traditional outfit.
In a statement, a spokesperson for the Prince and Princess of Wales said they were "very excited and delighted" about George's upcoming role.
A spokesperson told People, "His parents are very excited and delighted that he is a page.
"It's something that his parents have thought long and hard about and are very much looking forward to - and I'm sure George is, too."

His brother Prince Louis, four, and cousin Prince Archie, three, haven't been given the role, likely because they are too young.
The King and Queen have both chosen four page boys to assist them, and as well as Prince George, King Charles picked Lord Oliver Cholmondeley, 13, Nicholas Barclay, 13, and Ralph Tollemache, 12.
While Queen Camilla's Pages of Honor will be her grandsons Gus and Louis Lopes, 13, and Freddy Parker Bowles, 12, and her great-nephew Arthur Elliot, 11.
Naomi is a news and lifestyle journalist and digital content creator with bylines in The Independent, The Sun, Cosmopolitan, and Fabulous. She covers a range of topics and currently works at Heart Radio in London.