Princess Catherine could break a major royal tradition at King Charles' coronation
Princess Catherine may choose to forego years of royal tradition at King Charles and Queen Camilla's coronation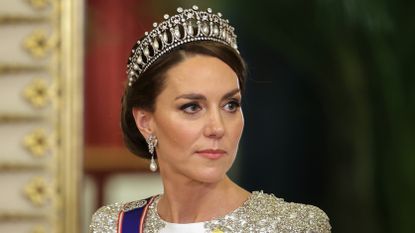 (Image credit: Getty Images)
King Charles and Queen Camilla are set to be crowned on May 6, but Princess Catherine may decide against wearing a tiara at the historic event.
In just a few weeks, King Charles and Queen Consort Camilla will be crowned in front of the whole world at Westminster Abbey.
But despite Prince Harry and Meghan Markle still not confirming whether they will attend the historic event, it has been suggested that Princess Catherine may break a royal tradition.
According to People, the Princess of Wales could decide not to wear a tiara at the event and opt for something more low key.
Court Jeweller writer Lauren Kiehna said, "Tiaras were worn by nearly every royal lady at the Queen's coronation in 1953, as well lots of aristocratic women but times have certainly changed in 70 years.

"I'm certainly hoping we'll see coronation tiaras, but it's possible that Charles is following the example of some of his European counterparts, like the King of the Netherlands, and setting a daytime formal dress code for the event."
This would mean that many grand jewels such as necklaces, brooches and earrings would be worn, but no tiaras.
She added, "I'll be sad if that's true but it may just be another part of the 'de-formalizing' of the British royal world that has taken place over the last several decades."
Meanwhile, what we do know for sure is that King Charles and Queen Camilla will be wearing crowns.

Charles will be handed the St. Edward's Crown, which according to the Historic Royal Palace's website, is "the most important and sacred of all the crowns" and is only used at the moment of crowning itself.
The incredible headpiece, which was made for King Charles II in 1661, weighs nearly 5 lbs and is encrusted with 444 semi-precious stones.
Camilla will be wearing Queen Mary's Crown which was originally worn for King George V's coronation in 1911.
There are also set to be some big differences compared to the late Queen's coronation, with an estimated 2,000 guests at Westminster Abbey, compared to the 8,251 people at Elizabeth's.
The service has also been shortened to 60 minutes, down from three hours, and is thought to introduce more 'modern elements'.
Naomi is a news and lifestyle journalist and digital content creator with bylines in The Independent, The Sun, Cosmopolitan, and Fabulous. She covers a range of topics and currently works at Heart Radio in London.