Prince Louis and Prince Archie will not be Pages of Honour at King Charles's Coronation
The young princes won't take on the same role as Prince George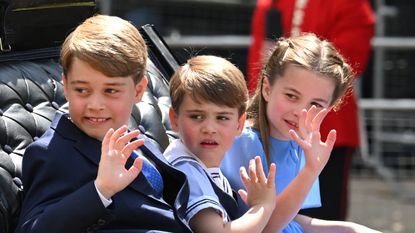 (Image credit: Getty Images)
Prince Louis and Prince Archie have missed out on a special role in King Charles's coronation for a very simple reason.
The two young Princes won't be Coronation page boys at the ceremony on May 6.
However, it's been confirmed that Prince George will take on this role after weeks of speculation about what his role in the Coronation will be.
---
Prince Louis and Prince Archie will not be Pages of Honour at King Charles's Coronation, The Palace has confirmed.
Prince George, who is second in line to the throne in the royal line of succession, will take on the role at the historic event, which takes place at Westminster Abbey on May 6.
The King and Queen have both chosen four page boys. As well as Prince George, King Charles' other page boys will include the children of family friends, Lord Oliver Cholmondeley, 13, Nicholas Barclay, 13, and Ralph Tollemache, 12.
While Queen Camilla's Pages of Honour will be her grandsons Gus and Louis Lopes, 13, and Freddy Parker Bowles, 12, and her great-nephew Arthur Elliot, 11.
Given that the boys are all around the same age, with nine-year-old Prince George being the youngest, it's expected that Prince Louis, four, and three-year-old Prince Archie weren't chosen due to their young age.
As the procession of the King and Queen makes its way through the Nave of Westminster Abbey on May 6, the pages will hold the robes of some of the leading individuals taking part.
In a statement, a spokesperson for the Prince and Princess of Wales said the couple was "very excited and delighted" about George's upcoming role. "His parents are very excited and delighted that he is a page," the spokesperson told People. "It's something that his parents have thought long and hard about and are very much looking forward to - and I'm sure George is, too."
The confirmation of Prince George's role in the Coronation comes after it was revealed that his mum Kate was "concerned" about the impact a big role might have on the young Prince.
Royal commentator Tom Quinn suggested a "bit of an argument" had been going on behind the scenes over the part Prince George could play, without affecting him.
The royal author told Express.co.uk, "I've heard from my contacts that there is a bit of an argument going on about whether George should play a more formal role. I've heard that Kate and William are worried that it will be too much for him."
Explaining another reason for Kate and William's possible concerns, he said, "It's almost an echo of the way William and Harry were sometimes made to attend formal occasions that they shouldn't have been made to attend - most famously, the funeral of their mother, and walking behind her coffin at their age."
"A lot of people criticized that and said that it was a horrible thing to make two boys that young, and especially Harry, do."
Robyn is a celebrity and entertainment journalist and editor with over eight years experience in the industry. As well as contributing regular to woman&home, she also often writes for Woman, Woman's Own, Woman's Weekly and The Sun.