Inside Meghan Markle's 'low-key' birthday party for Prince Archie during coronation
Meghan Markle is set to throw a birthday party for her eldest son Archie during the King's coronation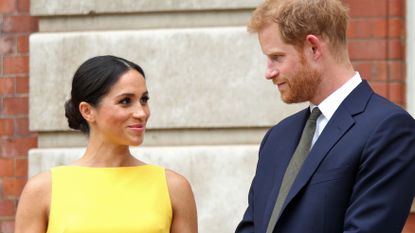 (Image credit: Getty Images)
The Duchess of Sussex Meghan Markle is planning a 'low-key' birthday party for Prince Archie's fourth birthday.
King Charles and Queen Camilla's coronation is right around the corner, with royal fans looking forward to a weekend of festivities.
And while Prince Harry will be heading to the UK to watch his father be crowned, his wife Meghan Markle will be staying at home.
While the reason for Meghan's absence hasn't been revealed by Buckingham Palace, it has been suggested she wants to spend the time with son Archie and daughter Lilibet.
It's thought Meghan will be planning a small, intimate gathering for Archie's fourth birthday which also falls on May 6.
A source told PEOPLE, "It's going to be a low-key party at home.
"They'll have friends around them and Meghan's mom, Doria [Ragland]. Meghan will definitely have support that weekend."
"They are so sweet together. Archie loves Lili. He's such a sweet boy. When she's not around, he asks, 'Where's Lili?' "
Meanwhile, a source told US weekly that the Duchess wants an 'intimate celebration', adding, "Meghan is planning something really low-key."
"Since Harry won't be able to attend, she just wants to do something intimate with family and a few very close friends."
Another source told the publication, "As much as Meghan appreciates the invite to the coronation, she wouldn't miss her son's birthday for the world. Despite being the Duchess of Sussex, Meghan is a mom first.
"She feels very grateful to be included in such a special occasion by the royal family and is glad that Harry can go and show support on behalf of their family. But being the same day as Archie's birthday, unfortunately, she's just going to have to miss out on this one."
For Archie's second birthday in 2021, Harry and Meghan made a donation of over 200 woollen beanie hats to charity organization Make Give Live.
The charity revealed the generous gift with a Tweet that read, "Thank you Harry & Meghan, Duke & Duchess of Sussex, and of course, Archie for the generous donation of these 200 beanies to your friends on the other side of the world in NZ."
In Christmas 2020, the couple also bought 100 hats from the enterprise group and put the donation in Archie's name.
At the time, Make Give Live founder Claire Conza told the New Zealand Herald, "As Make Give Live operates on a buy one, give one model, this will allow the group to make an extra 200 hats to distribute to families in need next winter through the various charities it supports."
This comes after it was revealed Prince Harry will be flying back to California almost immediately after the coronation celebrations end to get back in time for Archie's birthday.
Naomi is a news and lifestyle journalist and digital content creator with bylines in The Independent, The Sun, Cosmopolitan, and Fabulous. She covers a range of topics and currently works at Heart Radio in London.