Why is King Charles's coronation on Prince Archie's birthday?
King Charles's coronation date falls on the same day as Prince Archie's birthday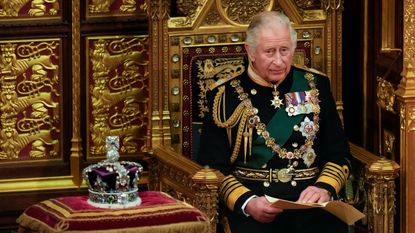 (Image credit: Alastair Grant - WPA Pool/Getty Images)
When Queen Elizabeth II passed away in September, the then-Prince Charles became King.
Now, King Charles's Coronation date of May 6 is just weeks away, with more and more details being revealed. From the crown King Charles will wear to who will perform at the Coronation concert, many questions are starting to get answered as the big day draws nearer.
We also now know the official coronation dish, with the Royal Family announcing a coronation quiche recipe, which is set to be the dish eaten across the world in celebration of King Charles.
But one question that remains among royal fans is why is King Charles's Coronation taking place on his grandson Archie's fourth birthday?
Why is King Charles's Coronation on Archie's birthday?
Prince Harry's son Prince Archie turns four on May 6, the day that the coronation of King Charles takes place.
While this may seem like a controversial decision by the Royal Family - especially given the troubled relationship between Prince Harry and King Charles - there are a number of reasons behind the decision.
It was announced back in October that the coronation would take place on Saturday, May 6, with the palace releasing a statement on Twitter that read, "The Coronation of His Majesty The King will take place on Saturday 6 May 2023 at Westminster Abbey. The Ceremony will see His Majesty King Charles III crowned alongside The Queen Consort."
There is no particular royal rule that dictates a specific date of coronation, nor an exact duration between the death of one monarch and the crowning of another, so why choose the same day as Prince Archie's birthday?
The date of May 6 is a very important one for the Royal Family, and coronations do often take place on a date of special significance for the Firm - and especially King Charles.
The King's great-grandfather, George V, became king on May 6, 1910, upon the death of King Edward VII (who was the eldest son of Queen Victoria and Prince Albert). And in 1937, Charles's grandfather, King George VI, also held his coronation in May - although on the 12. Charles's late mother, the then-Princess Elizabeth attended.
May 6 is also the anniversary of Charles's aunt, Princess Margaret's wedding to Antony Armstrong-Jones in 1960. So it's likely the date of May 6 was chosen to reflect all of these celebrations and anniversaries.
Royal expert Katie Nicholl mused that the date choice was not a dig at Prince Harry, saying, "Having the coronation on Archie's birthday is definitely not a snub. I think it's very much a happy coincidence. Obviously, a huge amount of planning has to go into an important moment in history, such as a coronation, and the royal calendar is full of anniversaries and birthdays, so I think this is absolutely one of those occasions where it's a coincidence and hopefully a happy coincidence."
Are Harry and Meghan attending the Coronation?
After weeks of speculation and negotiations on the terms of the Sussexes attending the coronation, it was revealed by Buckingham Palace that Prince Harry would be attending alone, without Meghan or their children.
In March, a source told OK! Magazine that one of the couple's demands during negotiations involved the couple asking for "some kind of celebration or acknowledgment to be factored into the day's plans to ensure that Archie's fourth birthday won't get lost during the momentous day."
However, it seems this perhaps wasn't agreed as Meghan will stay at their home in California to celebrate Archie's big day, while Prince Harry attends his father's coronation.
What role will Harry play in the Coronation?
Even though Prince Harry will be attending King Charles's coronation, he is likely to be excluded from key parts of the ceremony, including the Buckingham Palace balcony finale, experts have said.
But it's not a huge surprise that Harry won't appear on the balcony, as this is something that only senior royals are invited to do. For the Platinum Jubilee in 2022, the late Queen dictated that only working members of the royal family would appear on the famous balcony, ruling out Harry and Meghan.
In light of their fraught relationship, King Charles has also scrapped Prince William and Prince Harry's traditional joint role.
Before it was confirmed whether Harry would attend or not, the King decided to scrap the tradition of royal Dukes kneeling to 'paying homage' to the monarch, meaning Harry won't take on an official role in the ceremony, according to The Telegraph. Instead, it's expected he will join other members of the Royal Family watching from the Royal Gallery.
Prince William, who is heir to the throne in the royal line of succession, is now set to undertake this royal tradition alone.
Robyn is a celebrity and entertainment journalist and editor with over eight years experience in the industry. As well as contributing regular to woman&home, she also often writes for Woman, Woman's Own, Woman's Weekly and The Sun.