Are Prince Harry and Meghan Markle still royal?
Your questions answered!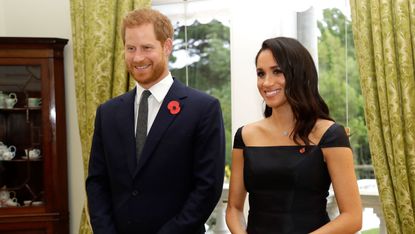 (Image credit: Getty Images)
It's coming up to one-year since Prince Harry and Meghan Markle revealed they'd be stepping down as senior royals - an announcement that shocked the world.
After just two years of married life, the Duke and Duchess of Sussex revealed, on Instagram, that they were packing their bags and moving out of the global spotlight - to start a more "peaceful" life in America.
Meghan, in particular, had struggled under the glare of the public eye. Having faced racist, sexist and "unsurvivable" abuse online, Prince Harry said he had been "left with no other option" but to take his family out of the limelight.
Hinting at the gravity of the decision, Prince Harry said, "I've accepted this, knowing that it doesn't change who I am or how committed I am. But I hope that helps you understand what it had to come to, that I would step my family back from all I have ever known, to take a step forward into what I hope can be a more peaceful life."
While the couple's controversial decision was given the royal seal of approval by the Queen - who shared a statement wishing them the best - the agreement was made on a year-long basis and is set to be reviewed in just a matter of months.
At the time, the Palace said, "The Royal Family and Sussexes have agreed to an initial 12-month review to ensure the arrangement works for all parties."
Since then, the couple have gone on to sign several lucrative deals with Netflix and Spotify, and launched their own podcast, Archewell. All whilst settling into their new family home in Santa Barbara.
And, rumour has it the Queen is considering stripping them of their HRH titles, for fear letting them keep them offers too much of a double standard for those who remain loyal within the Firm.
With all that being said, the question leaving everyone fairly confused is: Are Prince Harry and Meghan Markle still royal?
Are Prince Harry and Meghan Markle still royals?
Prince Harry and Meghan Markle are no longer working members of the royal family and can no longer represent the Queen on royal duties.
They are also no longer funded through the Sovereign Grant and have become "financially independent".
While Prince Harry and Meghan Markle retain their His and Her Royal Highness titles, they no longer actively use them.
Buckingham Palace confirmed this in a statement last year, saying, "The Duke and Duchess of Sussex are grateful to Her Majesty and the Royal Family for their ongoing support as they embark on the next chapter of their lives.
"As agreed in this new arrangement, they understand that they are required to step back from Royal duties, including official military appointments. They will no longer receive public funds for Royal duties.
"With The Queen's blessing, the Sussexes will continue to maintain their private patronages and associations. While they can no longer formally represent The Queen, the Sussexes have made clear that everything they do will continue to uphold the values of Her Majesty.
"The Sussexes will not use their HRH titles as they are no longer working members of the Royal Family."
Will Prince Harry and Meghan keep their HRH titles moving forward?
Although the Queen hasn't officially stripped them off their HRH titles yet, there is speculation that the Duke and Duchess of Sussex are "quite likely" to lose them in the future.
As the end of the 12-month review approaches, royal expert, Robert Lacey, thinks the couple could forfeit their HRH titles.
He explained, "There are two titles involved, there is the HRH status and then there is the actual title of Duke and Duchess of Sussex.
"Obviously if the review in March concludes they can't stay working royals, then it's quite likely they would lose or forfeit their HRH styles. They have already put it into suspension."
But, according to Woman's royal columnist, Duncan Larcombe, there is a bigger danger at play here. And that would be if the Queen decides to strip ex-soldier Harry of his military titles, and therefore force him out of the huge role he currently plays within the Armed Forces.
Writing in his column for Woman magazine, Duncan says the Duke was "incensed" when Prince Harry's request to lay a wreath was refused by Buckingham Palace. Days later, in a bold move he and Meghan decided to lay their own wreath in America.
According to Duncan it was decided by the Palace that Harry's partaking in such a big event would seem as though he were "cherry picking" the royal engagements he wanted to join, having made the decision to step back just months before.
Duncan explains, "It was decided that one prominent ex-soldier's homage to those who never made it home would look as though Harry was cherry-picking the causes he was allowed to support. The Sussexes must not, they felt, be allowed to 'dip in and out' of engagements when it suited. Harry was, understandably, incensed."
With that in mind, Duncan has warned the Queen must think twice before removing Harry's involvement in the military going forwards. After all, having served as part of the Armed Forces, he is one of few who truly understands what they're going through.
"This February, the 'Megxit' deal will be up for review. The Queen will have to decide what her grandson can and can't do. One thing we do know is that Harry and Meghan will not return to Britain with their tails between their legs. So it seems likely the Queen will press ahead and strip her grandson 
of all the ceremonial ties he has with the military," Duncan says.
"Harry understands the military. The military adores Harry. He has earned the right to consider himself one of their own. Yes, fears of 'cherry-picking' are real, but so is Harry's deep connection with, and adoration for, the Armed Forces. By blocking him from a royal/military function, the Queen will lose an enormous asset – a royal who can look servicemen in the eye.
"Harry should be allowed to wear his poppy. That's what the forces want, it's what Harry wants and, ultimately, it is what is best for the Royal Family."
Is Harry no longer a Prince?
Prince Harry is still a Prince and the Duke of Sussex and remains in the line of succession to the British throne. He is currently sixth in line after his niece and nephews.
His son, Archie, however does not have a royal title. Archie Harrison Mountbatten-Windsor will grow up as a private citizen, in line with the Duke and Duchess of Sussex's wishes.
What does Harry and Meghan stepping down mean?
While originally, it was thought the couple would split their time between the UK and the US and "step back" from royal duties, BBC royal correspondent Daniela Relph said that's far from the case now.
She explained, "When they first issued that statement about what they wanted, they talked about forging this progressive role within the Royal Family, about stepping back from royal duties. This isn't stepping back, it's stepping away entirely."
The couple no longer represent the Queen on official duties. Which, in turn, means they are entitled to more of a private life.
But that doesn't mean they won't continue to respect and honour Prince Harry's grandmother, the Queen.
"While they can no longer formally represent the Queen, the Sussexes have made clear that everything they do will continue to uphold the values of Her Majesty,' an insider revealed.
The road to independence has seen the couple cut off from the funding they previously received through the Sovereign Grant and even pay back the £2.4million spent on refurbishing Frogmore Cottage, which was covered by taxpayers in 2018-2019.
While Frogmore Cottage will remain their UK home, the couple will pay rent to Her Majesty for the privilege.
For the wider royal family, Meghan and Harry's departure has seen huge holes emerge in the royal diary, as two of the most senior members of the royal family are no longer on the royal rota of events.
And, with the 94-year-old Monarch cutting down on the number of royal engagements, it is thought the extra workload will largely fall on the shoulders of Prince Harry's brother, Prince William and his wife, the Duchess of Cambridge.
A palace source told The Mirror, "If the Sussexes are only here half the year then it will fall to William and Kate to pick up the slack with more engagements, more pressure, and that has not even been considered."
Another royal set to step up this year in absence of Meghan and Harry is Princess Eugenie, who is due to give birth any day now.
Woman's royal expert, Duncan Larcombe adds, "The departure of Harry and Meghan and the ongoing Prince Andrew scandal has placed further demands on Eugenie and her sister to step up to the plate."
Why did Meghan and Harry leave the royal family?
It is thought Prince Harry and Meghan Markle were deeply unhappy with the "unsurvivable" abuse that began towards Meghan from the second she was revealed as Prince Harry's girlfriend.
Prince Harry even released a rare public statement in 2016 saying that a "line had been crossed" as Meghan was "subject to a wave of abuse and harassment". He went as far as to say he was "worried about Ms. Markle's safety".
Sadly, the abuse didn't end there and the father-of-one has since labelled it the "motherhood of all harassment".
The final nail in the coffin seemed to come during a telling interview with Tom Bradby during their documentary, Harry and Meghan: An African Journey, when Meghan truly revealed just how unhappy she was in her new life - one of many times the couple have broken the royal rule book.
When asked if she was coping, a pregnant Meghan said she was "existing, not living," as she revealed the extent of how much she was struggling to adapt to life in the royal family.
"I tried, I really tried, but I think that what that does internally is probably really damaging," Meghan told Tom. "I never thought that this would be easy, but I thought it would be fair and that's the part that's really hard to reconcile."
She went on to say, "Thank you for asking because not many people have asked if I'm okay. But it's a very real thing to be going through behind the scenes."
Months later the couple announced the news of their departure on Instagram with the following statement:
"After many months of reflection and internal discussions, we have chosen to make a transition this year in starting to carve out a progressive new role within this institution. We intend to step back as 'senior' members of the Royal Family and work to become financially independent, while continuing to fully support Her Majesty The Queen.
"It is with your encouragement, particularly over the last few years, that we feel prepared to make this adjustment. We now plan to balance our time between the United Kingdom and North America, continuing to honour our duty to The Queen, the Commonwealth, and our patronages.
"This geographic balance will enable us to raise our son with an appreciation for the royal tradition into which he was born, while also providing our family with the space to focus on the next chapter, including the launch of our new charitable entity. We look forward to sharing the full details of this exciting next step in due course, as we continue to collaborate with Her Majesty The Queen, The Prince of Wales, The Duke of Cambridge and all relevant parties. Until then, please accept our deepest thanks for your continued support." - The Duke and Duchess of Sussex."
Georgia writes across Woman & Home and Good to Know and specialises in all things royal. Previously labelled the "Queen of the royals," Georgia knows the whose who and what's what when it comes to the monarchy. When she's not eagerly following the royal family, Georgia enjoys shopping and self-care. She lives with this motto in mind; "if your dreams don't scare you, they aren't big enough."