Harry and Meghan have moved to a new Santa Barbara 'family' home
The couple have bought their first home together – an £11.2 million property in Montecito.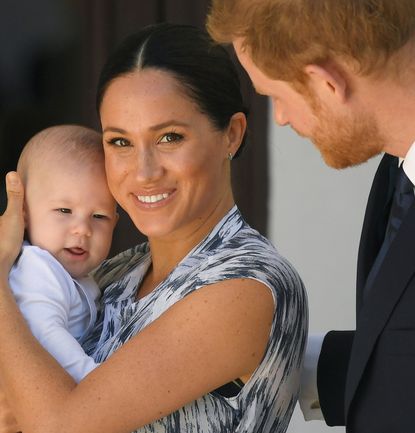 Prince Harry and Meghan Markle have bought their first home together in California and yes, it's everything we expected and more.
The Duke and Duchess have bought their first home together in the exclusive Santa Barbara area of California.
It's reported to have nine bedrooms and a whopping 16 bathrooms, and is where they plan to bring up their young son Archie Harrison Mountbatten-Windsor.
The royal couple have invested in a £11.2 million property in Santa Barbara, which will be their main home with son Archie.
The news was confirmed by a representative for the Duke and Duchess of Sussex, who told HELLO! that they moved in in July, and that,"They have settled into the quiet privacy of their community since their arrival and hope that this will be respected for their neighbours, as well as for them as a family."
The couple's home is reportedly situated in Montecito, Santa Barbara, a location which is widely popular among Hollywood's rich and famous, as it is renowned for its privacy. In fact, the neighbourhood is full of secluded hillside estates, to ensure even your neighbours are at a significant distance.
Harry and Meghan's home in particular is placed on a private road with a lengthy driveway and of course, giant security gates. According to TMZ, the property is 18,000 square feet on five acres of land, which explains the hefty price tag!
The royals will also have the likes of Oprah Winfrey, Tom Cruise and Ellen DeGeneres as their neighbours, so it's safe to say they're in good company.
The house itself is reportedly made up of nine bedrooms and 16 bathrooms as well as a separate guest house which will definitely come in handy when their royal relatives or Meghan's mother, a fellow California resident, come to visit the couple.
It also includes a library, an office, a games room, a spa with a separate dry and wet sauna area, a gym, an arcade and a movie theatre, but that's not all. The couple also have awine cellar in and a garage that has space for up to five cars in their new home. And outside, they've got tiered rose gardens, a tennis court, a tea house, a children's cottage and a large outdoor pool as well as a giant lawn space.
According to a source speaking toPageSix, "This is the first home either of them has ever owned. It has been a very special time for them as a couple and as a family, to have complete privacy for six weeks since they moved in."
We bet they're enjoying every second there. We certainly would!