Wedding etiquette: what to do - and what not to do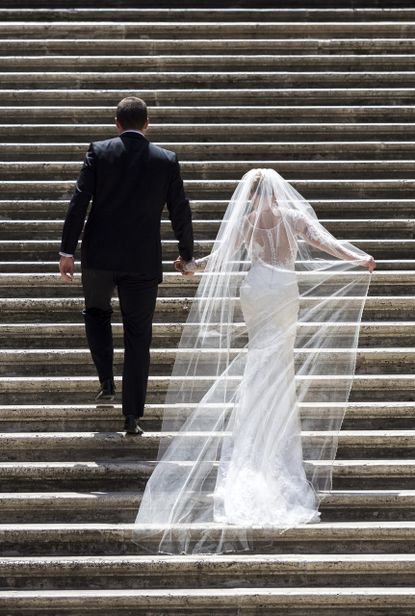 (Image credit: Rex Features (Shutterstock))
With the arrival of summer, it's now officially wedding season. But how to navigate the tricky politics of other people's weddings?
Whether you're a bemused bride-to-be or simply struggling to cope with the latest flash flood of invitations to crash through your letterbox, wedding season can be difficult to negotiate. From what to wear to who to invite, how much to spend on a gift to the niceties of the social media embargo, the rules seem to keep on changing. Sidestep any unforeseen implosions with our handy guide to navigating the minefield of wedding etiquette...
Rules to best practise the best wedding etiquette
Do I have to wear a dress to a wedding?
Unless there's a formal dress code, no. You can't go wrong with a smart shirt teamed with a midi skirt or tailored trouser, but don't dismiss the jumpsuit out of hand, either. It'll eliminate all the 'what goes with what' angst, even if it does make relieving yourself a little trickier - particularly after a glass or three of fizz.
If I do go for a dress, are there any wedding etiquette 'rules'?
Officially, no. Unofficially... yes. Liz Krueger's Instagram snap featuring the bodycon mini dress which provoked 'outright rudeness', 'ass slaps' and even a drenching in beer by fellow wedding guests went viral earlier this summer. Whether or not you salute her sartorial choices, it's a cautionary tale. Try to limit yourself to one 'sexy' element, be it a cheeky flash of cleavage, bodycon silhouette or higher hemline. If you're not invited to the ceremony, you can ramp it up to two... well, she's practically daring you to upstage her now, isn't she..? At the other end of the scale, try to avoid full-length dresses unless there's a black tie dress code (or it's a Bali beach wedding). If your hem hits some point between knee and ankle, you're pretty safe.
Can I wear white?
No. You can wear elements of white (e.g. a white shirt), or patterns which incorporate white, but steer clear of white dresses. Ditto cream, ivory, alabaster...
Can you wear a black dress to a wedding?
Our American friends have kickstarted a slow-burning trend for wearing black to weddings over recent years, but sporting it from head to toe is still generally frowned upon in the UK.
"Traditionally wearing back has been a big no-no for wedding guests and is said to mean you don't want the wedding to happen and you are in mourning!" Caroline Bradley, editor at hitched.co.uk explains. "However if you just can't resist reaching for your LBD then accessorise with brighter and lighter colours that can become focal point of your outfit."
You could also try to accent your outfit with metallic or brightly coloured shoes, jewellery and belts.
We all know that white is an absolute no-go, but can you wear cream to a wedding?
Caroline Bradley lends us some more of her sage advice on this one: "My rule is - if in doubt, don't. If you have any concerns over your outfit being too bridal, I would suggest avoiding it. Most brides opt for cream, ivory or champagne, rather than pure white for their wedding dress and you don't want to be colour coordinating with the bride on her big day!"
Can I wear lace?
Yes - as long as it's not white. Or cream. Or ivory. Or alabaster.
Still not sure what to wear to a wedding? Take a look at our gallery of the best wedding guest outfits for some inspiration!
Do I have to wear heels?
No. Flat shoes are perfectly acceptable. Pointed, strappy styles look elegant with more formal attire. They're also a darn sight more practical if you're planning to dance the night away and/or make the most of the table wine.
Do I have to wear a hat?
Unless it's specified on the invitation, no (although it's still considered good form at church services). If you do wear one, don't make it too big - it's not Ascot, and the person sitting behind you is unlikely to enjoy the view. Fascinators are just as good. Bejewelled headbands, floral garlands and fancy pins are also becoming increasingly acceptable, but, if you're going to go there, it might be worth checking with the bride. After all, no one wants to look like a bridesmaid gone rogue...
Can I ask my bridesmaids to pay for their own dresses?
No. Although it's becoming an increasingly common practice (with one bride even asking her bridesmaids to chip in for HER dress earlier this year), this is one point on which virtually all etiquette experts agree. If you can't afford to clothe them, don't ask them.
Can I throw myself a bridal shower?
No, cheeky. If someone decides to throw one for you, though, well... never look a gift horse in the mouth. Just don't suggest it yourself. And don't expect additional gifts on the big day.
If you're a wedding guest, do you have to buy a wedding gift?
Here's what editor at hitched.co.uk Caroline Bardley has to say on the matter: "In short - yes. The happy couple will have spent a lot of time and money planning the wedding and even a small gesture is the perfect way to show your appreciation for being included in such an important day."
And what about if you're part of the bridal party? Do you have to buy a wedding gift if you're a bridesmaid?
"If you are part of the wedding party then you should definitely get the couple a wedding gift - being some of the closest people too them means you can pick something even more personal" says Caroline.
"The closer you are to the bride or groom, the more likely it is that you'll want to give the couple a special gift" add the wedding gift experts at 'Buy Our Honeymoon'. "Everyone's circumstances are different, and there isn't a rule book, but wedding gifts are more than just a tradition."
For brides & grooms: Can I ask for money instead of gifts?
It's not considered great form to just ask for cash, so if you'd rather have money than a new blender as a wedding gift, try setting up an online 'registry' using a site like Honeyfund (opens in new tab) or buy-our-honeymoon (opens in new tab) which allows your guests to buy 'experiences' for your honeymoon you. If you're after honeymoon contributions, for instance, friends could choose from shouting your taxi to the airport or standing your first night beachside cocktails.
The brains behind 'Buy Our Honeymoon' explain: "Instead of pillowcases, you could have the first night of your stay in a luxury hotel. Instead of wine glasses, you could have cocktails beside the ocean. If you already have all the stuff you need for your home, a honeymoon gift list means your guests can give you the honeymoon of your dreams instead."
"The trouble with just asking for cash is that it's much nicer as a guest to be able to think about what your gift represents, rather than simply how much you've spent. Even something small like a gift of gelato in Rome is so much more romantic than a gift of £20 - we think it's more romantic that a set of spoons for your kitchen drawer"
If I've been asked for money, how much should I give?
This is an awkward one, but the simple answer is: as much as you feel is appropriate, based on your closeness to the couple and your personal financial situation. The average guest typically gives around £50, with most offerings falling in the £15-£100 range. Try not to let the tale of the ex-colleague lambasted via email for writing the bride and groom a cheque for a 'mere' £100 scare you - being asked to make an 'adjustment' to 'match the warmth of your good wishes' is, we can assure you, unlikely.
Does 'no gifts' really mean no gifts?
If the couple have specified 'no gifts', it's still considered good form to make a token gesture - if you're stuck, snap up a bottle of their favourite wine or make a donation to a cause close to their heart.
Do I have to buy something from the list?
No.But unless you've come up with an extremely thoughtful, personal gift idea which you know will be well-received, it's best to stick to it. As the wedding gift experts at 'Buy Our Honeymoon' explain: "The reason wedding gift lists exist is simply to provide practical guidance for your guests so they know they can give you something that you'll like and cherish.They're never a demand."
Do I need to bring a gift if I've only been invited to the evening reception?
No. But be aware that many guests probably will.
Do I have to buy a gift for a vow renewal/remarriage?
Not if you were at the original ceremony. But a token gesture will always be well received.
Do I need to send thank you notes?
Yes, within 3 months of the ceremony. Email is acceptable. Text is not.
MORE: This is the most watched Royal Wedding of all time
Do I have to send paper invitations?
No, but people still tend to take them more seriously. If you really want to go paper-free, try using a site like Paperless Post (opens in new tab), which allows you to customise your own e-invites.
Should I handwrite my invitations?
Weddings expert Caroline says: "It's time-consuming (and admittedly a bit boring!) handwriting all your thank you notes but it does make each guest feel valued and you're not just sending them a generic message. If you're struggling to get through them then try and give yourself a target of writing ten thank you notes at a time and spread this over a week."
Is my partner/child invited?
If their name's not on the invitation, no. And it's bad form to ask. Sorry.
Do I need to invite my friends' partners/children?
No. But it's a good idea to prepare a 'party line' before sending out the invites. Making exceptions for some guests and not others is a recipe for disaster. Cohabiting partners should always be invited. If you can afford it, some experts suggest allowing every guest a plus-one, whether coupled up or not.
Can I take pictures on my phone?
Try to hold back until the ceremony's over. Do you really think the bride wants to gaze out over a sea of iPhones every time she watches her wedding video?
Can I ban phones/social media at my wedding?
Yes - don't force everyone to surrender their phones on entry, though - you're not Madonna. A polite note on the invitations and order of service should do it. If, on the other hand, you want to get your wedding trending, come up with an appropriate hashtag and be sure to print it, along with a few words of encouragement, on the invitations and order of service as well as on signs and notes to be placed around the venue.
Do I have to tip wedding vendors/the different companies who help bring my special day to life?
We asked Caroline, and here's what she said: "Tipping is very personal - don't feel obliged to to tip your suppliers but if you feel like they have gone above and beyond what you expected then go ahead."
Do I have to have wedding favours and programs for each of my guests? Or can I save money and do without?
Over to wedding expert Caroline on this one: "Guests won't expect wedding favours so if you are looking for ways to cut costs then just don't have them at all - it's better to have no wedding favours than favours for just some guests. When it comes to programs, one between two will be plenty."