Are Anna Wintour and Bill Nighy dating as the two walked down the 2023 Met Gala red carpet together
Met Gala powerhouse Anna Wintour and Bill Nighy spark dating rumors as they step on the red carpet together during the fashionable annual event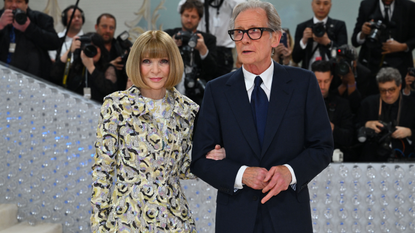 (Image credit: ANGELA WEISS / Contributor)
Anna Wintour, who has been the driving force behind the Met Gala since 1995, made headlines at the annual event last night for reportedly confirming her romance with British actor Bill Nighy when stepping on the red carpet together.
Honoring the late creative director of Chanel Karl Lagerfeld, who was the Met Gala 2023 theme, the evening revolved around attendees' stylish looks - from Nicole Kidman's vintage Chanel dress featuring 250 feathers and 3000 sequins to Glenn Close's sophisticated outfit - but it was Anna's appearance alongside the Love Actually star that turned most heads.
Although neither party specifically confirmed the relationship, the 73-year-olds showed up arm-in-arm following years of speculation regarding their romantic status - supposedly indirectly acknowledging their coupledom.
Specifically, in 2021, the two were spotted on a supposed date in Rome, Italy.
Then, back in December of last year, rumors began swirling once more as Anna and Bill attended a screening of the actor's Oscar-nominated film Living together at the Crosby Street Hotel in New York. Fast-forward a few months and the two have got everyone talking at one of the biggest fashion events of the year.
During their appearance, Anna wore a column, white Chanel gown over a yellow, black and gray patterned flared coat with a pair of high-heeled white sandals. Her iconic short bob and bangs pulled the look together as she walked down the carpet with Bill, who opted for a classic dark blue suit and tie.
As fans of the magazine powerhouse know, Anna was married to professor and psychiatrist David Shaffer from 1984 to 1999. The two share 38-year-old son Charles Shaffer and 35-year-old daughter Bee Shaffer.
A few years after her divorce, in 2004, Anna married American businessman Shelby Bryan but the two split up in 2020.
Bill, on the other hand, was married to British actress Diana Quick from 1982 to 2008. The two share 38-year-old daughter Mary Nighy, a fellow actress and filmmaker.
Another couple that caught everyone's attention last night was Rihanna and A$AP, whose fashionably late appearance at the 2023 Met Gala was worth the wait.
After the last of the guests had filed into the Metropolitan Museum of Art, where the main event was held, a pregnany Rihanna and A$AP Rocky were finally spotted leaving the Carlyle hotel in New York City headed to the fashion affair wearing outfits seemingly entirely inspired by Karl.
Rihanna was seen heading to the fête wearing a fur Fendi coat that was part of the brand's 1997 ready-to-wear collection that Karl himself worked on. She teamed the coat with a pair of ivory white pumps with wrap-around laces and finished off the look with a gorgeous pearl choker (we know Karl loved those!) and stud diamond earrings.
And yet, once on the red carpet, the pregnant superstar - who is already mom to an 11-month-old son - debuted an entirely different ensemble much to the delight of fans and all those who had been waiting for her arrival on the red carpet.
The 2023 Super Bowl singer wore a white Valentino dress that looked like a giant bouquet of roses - an ensemble that stood out even more given the white sunglasses and red lip that Rihanna chose to complete the look. Talk about re-defining maternity chic.
We can only imagine Anna Wintour's reaction to the ensemble inside the museum!
Anna Rahmanan is a New York-based writer and editor who covers culture, entertainment, food, fashion and travel news. Anna's words have appeared on Time Out New York, the Huffington Post, Fortune, Forbes, Us Weekly, Bon Appetit and Brooklyn Magazine, among other outlets.