Nicole Kidman stuns on Met Gala 2023 red carpet in vintage Chanel dress featuring 250 feathers and 3000 sequins
Nicole Kidman first wore her 2023 Met Gala dress in the 2004 Chanel No.5 ad campaign she starred in, directed by Baz Luhrmann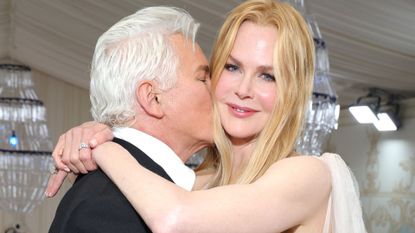 (Image credit: Getty Images)
Nicole Kidman, a Met Gala veteran, stunned on the 2023 red carpet in a vintage Chanel dress that came with plenty of special significance and hidden details.
Nicole Kidman always turns heads on the red carpet and her Met Gala looks are certainly no exception. For the 2023 Met Gala theme, which honors Karl Lagerfeld's legacy as a designer, Nicole stepped out with her husband Keith Urban in a dress she's worn before - an archival look from Karl's 2004 Chanel collection - proving once again that recycling is chic.
The mesmerising gown, which is floor-length and light pink, was reportedly embroidered with 250 pink ostrich feathers - and over 3,000 silver crystals and sequins, according to Vogue. The dress also features a long train with (you guessed it) lots of those feathers and sequins, adding to the already fabulous silhouette of the gown.
The vintage look is from Karl's 2004 Haute Couture collection from Chanel, a fashion house the Karl most notably made his mark on during his long and successful career.
The Nine Perfect Strangers star even recalled how she felt while watching Karl sketch out the dress back in 2004 - the dress that was made specifically for her, we might add.
"I have the most indelible memories of fittings with Karl in the atelier, and I loved witnessing his dedication to his craft," Nicole told Vogue of the dress. "I remember his laugh when he first sketched the dress and handed me the sketch... He designed a number of dresses for me, but I think this is the most spectacular."
She also added that the pink hue was a signature color within Karl's palette when designing for Nicole.
"I remember he made me a pink dress for the Oscars one year," she recalled. "When he designed, he always loved to see me in the palest of pink."
If you have a sharp eye and had pondered whether her look appeared familiar, you'd be right - Nicole first wore the dress in a commercial for the iconic Chanel perfume, Chanel No. 5, in 2004, directed by Baz Luhrmann.
She did, of course, update the look with a new hairdo for the 2023 Met Gala, leaving her strawberry blonde locks down in effortless waves for the red carpet, as opposed to the half-up-half-down side swept updo she sports in the commercial. She also popped a chic (and honestly, adorable) black bow in her hair to pull some of her strands back - not only a nod to one of Karl's iconic Chanel looks but also a flattering hair trend that isn't going anywhere soon.
Could Nicole Kidman's 2023 Met Gala look become one of the best Met Gala looks of all time?
Madeline Merinuk is woman&home's US lifestyle news writer. She covers celebrity, entertainment, fashion, and beauty news but is also obsessed with internet trends - you can find her reciting trending TikTok sounds out loud at any given time.
After winning multiple student journalism awards for her investigative work, she graduated from Hofstra University in 2021 with a B.A. in Journalism. After graduating, she worked at today.com, the digital site for the Today Show, where she wrote pop culture news and interviewed big-name personalities like Emily Ratajkowski, Haley Lu Richardson, Emma Corrin, and more.
Her personal interests, in no particular order, are: cheese, Joni Mitchell, reading, hot yoga, traveling, having multiple chapsticks in every handbag at all times, and dancing to ABBA songs as if she were in the Mamma Mia movies.