Cast members of Love Actually *will* reunite for a TV special - OMG!
The cast members of the Christmas classic Love Actually will reunite for a TV special set to air on ABC next week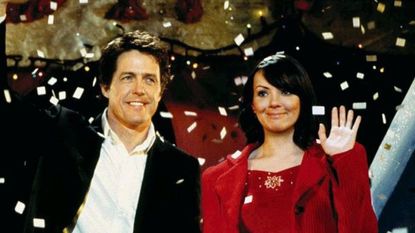 (Image credit: Love Actually / Universal Pictures)
Believe it or not, Love Actually is turning 20 next year and, to mark the occasion, the majority of the cast members will reunite for a TV special that is scheduled to air on ABC next week.
The participating actors will include Hugh Grant, Laura Linney, Thomas Brodie-Sangster, Bill Nighy and Emma Thompson, who once revealed the real-life heartbreak that inspired that emotional Love Actually scene. The 2003 film's writer-director Richard Curtis will also be present.
The network announced the November 29 reunion, which will air on ABC at 8pm EST but then be available for streaming on Hulu the next day, in a tweet that includes an awesome preview clip that fans can't get stop watching.
In the promotional video, actors are being asked to fill in the sentence, "Love actually is..." Among the stand-out answers is Hugh's, who replies saying, "Dead!"
Now, more than ever, we all need some love…actually."The Laughter & Secrets of 'Love Actually,' 20 Years Later: A @DianeSawyer Special" premieres Tuesday, Nov. 29th at 8/7c on @ABC. Stream later on @Hulu. https://t.co/ZGewRPfd2o pic.twitter.com/aDUYk4gAJRNovember 22, 2022
See more
Officially dubbed The Laughter & Secrets of 'Love Actually': 20 Years Later - A Diane Sawyer Special, the upcoming program will take look a look at how the film was made but it will also analyze the ways that the COVID-19 pandemic affected the way folks interact with each other, both on a romantic and a simpler community level - a theme that resonates with the plot of the movie, which followed the lives of eight different couples dealing with various lifestyles and situations the month before Christmas in London.
While we're on the topic, did you know that a Love Actually scene was stolen from Four Weddings and a Funeral?
Love Actually writer-director Richard, in fact, also served as a screenwriter on the 1994 hit Four Weddings and a Funeral and decided to borrow a scene that he cut from the latter production and repurpose it for the Christmas classic.
The scene in question follows the basic premise of a character insulting the food served at a wedding, only to discover that the person he is attempting to charm with hit witty insults is in fact the chef.
Four Weddings and a Funeral obviously features multiple weddings so it is clear how this scene could have easily been slotted in. Love Actually also begins with a wedding and at the beginning of the film, we watch as Keira Knightley's Juliet marries Chiwetel Ejiofor's Peter.
Later at the wedding reception, Juliet and Peter's wedding caterer, Colin Frissell, (played by Kris Marshall) attempts to flirt with Nancy (played by Julia Davis) by discussing the 'dodgy food' that he compares to a 'dead baby's finger'.
She reveals that she has, in fact, catered for this wedding and his insults have all been directed at her cooking skills.
But back to next week's reunion: this actually won't be the first time that the stars appear together since the 2003 release of the film. In fact, back in 2017, NBC produced a short sequel in honor of Red Nose Day, a charity dedicated to children in need that was created by writer-director Richard.
Twitter users quickly responded to the video clip shared by ABC production 20/20 with much enthusiasm, albeit noticing the absence of actor Colin Firth, who famously took on the role of character Jamie Bennett, from the short video.
"Love this so much!!!!!," someone commented matter-of-factly.
"This had better be available for me to watch in the UK or I shall RIOT," another noted.
"THIS IS WHAT DREAMS ARE MADE OF," a third Twitter user wrote, echoing a lot of people's sentiments.
We've never been so excited to celebrate an anniversary a full year early!
Anna Rahmanan is a New York-based writer and editor who covers culture, entertainment, food, fashion and travel news. Anna's words have appeared on Time Out New York, the Huffington Post, Fortune, Forbes, Us Weekly, Bon Appetit and Brooklyn Magazine, among other outlets.