Glenn Close's sophisticated 2023 Met Gala outfit paid homage to Karl Lagerfeld in more ways than one
Each part of Glenn Close's outfit was a tribute to Chanel's late creative director Karl Lagerfeld, who was honored at the 2023 Met Gala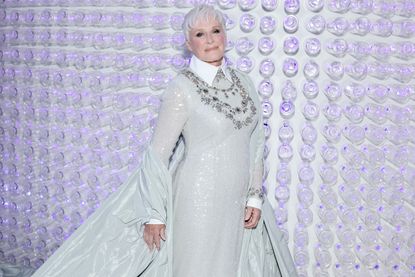 (Image credit: Cindy Ord/MG23 / Contributor)
Leave it up to Fatal Attraction star Glenn Close to show up at the 2023 Met Gala perfectly on-theme and looking as sophisticated as ever.
The actress donned a long, silver gown inspired by the 2023 Met Gala theme and designed by Erdem Moralıoğlu, who also accompanied the 76-year-old star on the red carpet.
As explained by the star herself in an interview with Vogue, Erdem was able to create a look composed of elements that paid tribute to Karl Lagerfeld, the late creative director at Chanel, in different ways.
Our fashion editor picked Glenn Close as one of the Met Gala's best dressed guests for 2023 and it's clear why.
Glenn's gown featured a 40-metre-long taffeta cape that was actually inspired by the final look worn by model Devon Aoki during Chanel's fall/winter 1999 couture show. The dress itself, on the other hand, calls out to Karl's spring/summer 1983 collection.
Perhaps most notable, though, were Glenn's sleeves and collar - entirely reminiscent of the sorts of looks that Karl was wont to don himself throughout his public life.
"It's been a really wonderful and collaborative process," Erdem said to Vogue while discussing his creative process alongside the Academy Award-nominated actress. "I loved the drama of it and the idea of creating something that has a volume and a sense of history to it. Because there was a familiarity between [Glenn and I], I think it gave us a bravery when approaching the theme which is so special."
Glenn herself agreed, "it is unexpected," she said to the outlet. "I love how Erdem has incorporated his homage to Lagerfeld."
The celebrity went on to sing the praises of the famous designer. "If I were 50 years younger, I would wear one of his flowing dresses, running barefoot in a field of wildflowers – then again, maybe I still will," she said on the record. "As it is, I am deeply flattered and grateful that he has offered to dress me."
Also taking inspiration from vintage Chanel looks for the evening were Penélope Cruz, who wore a vintage Chanel bridal dress, Nicole Kidman in a Chanel dress from 2004 and Gisele Bündchen at the 2023 Met Gala.
Anna Rahmanan is a New York-based writer and editor who covers culture, entertainment, food, fashion and travel news. Anna's words have appeared on Time Out New York, the Huffington Post, Fortune, Forbes, Us Weekly, Bon Appetit and Brooklyn Magazine, among other outlets.