Gisele Bündchen steps out on Met Gala 2023 red carpet in vintage, angelic cape for first red carpet appearance since divorce
Gisele Bündchen's 2023 Met Gala look was a showstopper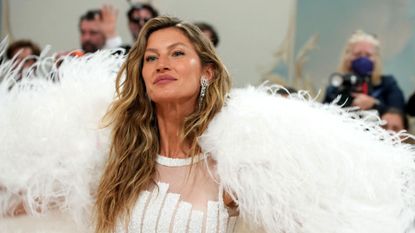 (Image credit: Getty Images)
Gisele Bündchen attended the 2023 Met Gala in a stunning Chanel dress, paying homage to her Victoria's Secret days with a dramatic, angelic cape that stole the show.
Gisele Bündchen's entire outfit was a showstopper and an elegant way to interpret the 2023 Met Gala theme, hailing the model's triumphant return to the red carpet following her divorce from Tom Brady last October.
The model stunned on the Met Gala's red carpet in New York in an all-white, vintage Chanel ensemble from (of course) Karl Lagerfeld's collections. Vintage Karl and Chanel looks were a popular choice for the evening, with Penélope Cruz opting for a white vintage Chanel gown and Nicole Kidman wearing Chanel and plenty of feathers like Gisele too.
Gisele's floor length gown, which featured vertical white paneling with a layer of mesh underneath, was the perfect Met look - but we're particularly obsessed with the feathery, dramatic cape.
The cape, which features some height in the shoulders, giving major 80's shoulder pad vibes, perfectly matched the white column dress, and certainly added plenty of drama to the outfit. The former VS angel exuded vintage Chanel vibes with this look.
The gown, which is an archival piece from Karl Lagerfeld, isn't new to Gisele - she told Vogue correspondent La La Anthony on the red carpet earlier this evening that she first wore the dress back in either 2006 or 2007.
The gown, which on its own is sartorial genius, pairs perfectly with Gisele's 18k white gold earrings and matching metallic clutch - both from the French fashion house. So, head to toe, Gisele is in vintage Chanel, truly paying homage to Karl's legacy as a designer.
The model's hair was styled to evoke effortlessly chic vibes, parted deep on the side and curled lightly - perfectly complementing her already present boho energy.
Gisele's appearance at the 2023 Met Gala is a return to the iconic event for the supermodel, whose last red carpet appearance was at the Met Gala in 2019. Since then the mother of two has gone through a divorce with her husband of 13 years, sporting star Tom Brady. The couple officially divorced last year and the 2023 Met Gala marks Gisele's first red carpet appearance since then.
The supermodel recently told Vanity Fair that in this new phase of her life, she's playing the director. "No one is going to come save you," she said. "Never give your power away to nobody. This is your life. This is your movie. You are the director on it."
Gisele was certainly owning it on the steps of the Met this evening and dazzled with her incredible outfit and bright smile.
Madeline Merinuk is woman&home's US lifestyle news writer. She covers celebrity, entertainment, fashion, and beauty news but is also obsessed with internet trends - you can find her reciting trending TikTok sounds out loud at any given time.
After winning multiple student journalism awards for her investigative work, she graduated from Hofstra University in 2021 with a B.A. in Journalism. After graduating, she worked at today.com, the digital site for the Today Show, where she wrote pop culture news and interviewed big-name personalities like Emily Ratajkowski, Haley Lu Richardson, Emma Corrin, and more.
Her personal interests, in no particular order, are: cheese, Joni Mitchell, reading, hot yoga, traveling, having multiple chapsticks in every handbag at all times, and dancing to ABBA songs as if she were in the Mamma Mia movies.