Gisele Bündchen finally responded to those internet rumors that she's a 'witch'
Gisele gave her first interview since divorcing Tom Brady, and she has a lot to say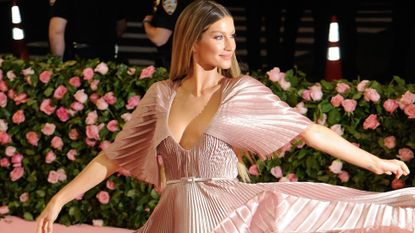 (Image credit: Getty Images)
Gisele Bünchen has been in the spotlight more than ever since her divorce from Tom Brady. Now, Gisele is taking back her spotlight, and focusing on the things that make her happy - one of which being "witchy" activities.
According to Vanity Fair there's a room in Gisele's home in Costa Rica, where she has crystals and astrological books on display - only adding fuel to the TikTok fire.
Back in mid-2022 when Gisele and Tom Brady announced their divorce, Gisele's life was being scrutinized more than ever before. Having been married to one of the most famous football players of this generation one thing folks were saying over on #WitchTok (the side of TikTok that delves into all things witchy: astrology, crystals, moon phases, etc.) and beyond is that Gisele could be, in fact, a witch.
These theories mostly came from fans who feared a decline in Tom's performance on the field post-divorce, claiming that Gisele had "powers" and would perform "hexes" that would contribute to the football player's success. These speculators feared that, post-divorce, Tom wouldn't possess the same skill on the field, since Gisele was no longer using her "witch" powers on him to help him play better.
Yes, seriously.
Gisele finally addressed these rumors in her recent interview. "I'm a witch of love," she said coyly.
Vanity Fair notes that, within Gisele's home, tarot decks, crystals, and other metaphysical items can be found. "This is why they called me a witch, I guess," she laughed, pulling a tarot card from her deck. "If you want to call me a witch because I love astrology, I love crystals, I pray, I believe in the power of nature, then go ahead."
Vanity Fair also reveals that, as a "lapsed Catholic," Gisele relies on these spiritual and metaphysical elements to give her strength, especially when she's needed it most.
Don't get her wrong, though - she doesn't believe in fairytales. "No one is going to come save you," she said. "Never give your power away to nobody. This is your life. This is your movie. You are the director on it."
Gisele also addressed circulated rumors that she and Tom had divorced over football. "It's not so black and white," she said.
"Sometimes you grow together; sometimes you grow apart," she continued. "When I was 26 years old and he was 29 years old, we met, we wanted a family, we wanted things together. As time goes by, we realize that we just wanted different things, and now we have a choice to make. That doesn't mean you don't love the person."
Gisele and Tom still split time between their three kids, Jack, Benjamin, and Vivian Lake. Now, living partially between Costa Rica and Miami, Gisele admits she would have loved to raise her kids in Costa Rica. "My dream was to raise my kids here," she said. "I didn't get to be here as much as I'd like, but now I'm bringing them more often."
Madeline Merinuk is woman&home's US lifestyle news writer. She covers celebrity, entertainment, fashion, and beauty news but is also obsessed with internet trends - you can find her reciting trending TikTok sounds out loud at any given time.
After winning multiple student journalism awards for her investigative work, she graduated from Hofstra University in 2021 with a B.A. in Journalism. After graduating, she worked at today.com, the digital site for the Today Show, where she wrote pop culture news and interviewed big-name personalities like Emily Ratajkowski, Haley Lu Richardson, Emma Corrin, and more.
Her personal interests, in no particular order, are: cheese, Joni Mitchell, reading, hot yoga, traveling, having multiple chapsticks in every handbag at all times, and dancing to ABBA songs as if she were in the Mamma Mia movies.