Anyone for tea? Britain's most indulgent afternoon teas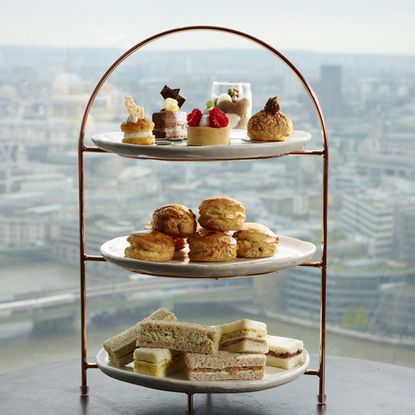 Celebrate any occasion with our pick of the most decadent afternoon teas in London and beyond.
If you're looking for something a little extra when it comes to your afternoon tea, then Oblix's offering is perfect. Perched on the 32nd floor of The Shard this relaxed but refined restaurant now offers three tiers of treats for those partial to a few scones to tide them over between lunch and dinner.
Sandwiches are delicately flavoured with luxurious additions to the expected flavours - mango lifts coronation chicken while fresh black truffles give the duck egg sandwich a deliciously savoury kick.
The patisserie section includes bite-size versions of the restaurant's main dessert menu with a honeycomb, pecan and chocolate slice being our favourite. Miniature scones complete the trinity and are served with fragrant blackberry and bay jam as well as plenty of clotted cream. Afternoon tea starts at £38 per person.
The Pelham, South Kensington
The Taittinger floral high tea at the Pelham has to be the prettiest afternoon tea set up we've ever seen... The delicious cakes and summery snacks have been curated specifically to accentuate and compliment the colourful interiors of the hotel's décor. Traditional Floral Afternoon Tea costs, £30, but you can add free-flowing Champagne for £55 (1.5 hours).
Varsity Hotel & Spa, Cambridge
If you want a classic afternoon tea with dramatic views, the stunning restaurant at the Varsity Hotel & Spa is the one for you. Enjoy your finger sandwiches and scones with a panoramic view of Cambridge's historic skyline. The centrepiece of this afternoon tea is SIX's extensive selection of brews. The hotel's master tea blenders have worked closely with the Head Chef to ensure that each blend will complement the food perfectly. Traditional Afternoon Tea - Monday to Thursday for £19.5 per person, and Friday Saturday & Sunday for £27.5 per person.
The Black Swan, Helmsley
This Yorkshire gem is renowned for its classic afternoon tea, enjoyed within its stunning and vast grounds. The Black Swan prides itself on offering a taste of Yorkshire with the usual finger sandwiches and scones. Afternoon Tea is available from 12pm – 5pm for £21.95 and is served in the tearoom, the lounge and the Cygnet Bar. Advance booking is recommended. Upgrade to a glass of fizz for just £10.50!
45 Park Lane, The Dorchester Collection
For those of us who like their afternoon tea to be just that little bit different, head to the iconic Mayfair hotel, 45 Park Lane - on one of the cities most exclusive streets. The Dorchester Collection hotel has been inspired by our friends across the pond, with their first ever American afternoon tea, 'CUTcakes & Tea'. So if you're expecting your standard scones and sandwiches, this probably isn't the one for you. The contemporary twist on an English classic involves plenty of delicious sounding treats though - from a cola cake to some black truffled grilled cheese. Also on offer are the US classic, S'mores, and plenty of American craft beers. We're sold! Available Monday to Saturday at CUT at 45 Park Lane at 2.30pm and at 3.30pm, priced at £55 per person and £72 per person with a glass of J Vineyards, 'Cuvée 20. Available Monday to Saturday at CUT at 45 Park Lane at 2.30pm and at 3.30pm, priced at £55 per person and £72 per person with a glass of J Vineyards, 'Cuvée 20.
Coworth Park Hotel, Ascot, Berkshire
At one of the grandest country house hotels in the UK, you can enjoy what has recently been crowned the Best Traditional afternoon tea - at the recent Afternoon Tea Awards 2018. The gorgeously indulgent tea is freshly prepared by the pastry team at the Ascot hotel - meaning you need not fear about dryed out sandwiches and stale cakes! But best of all - afternoon tea at Coworth Park is also royal-approved. Prince Harry stayed in the five-star venue the night before his wedding to Meghan Markle, with his brother Prince William in tow. Perhaps the royal brothers enjoyed a spot of tea before the big day? Either way - if Harry approves of the place, it's sure to be excellent. So what's on the menu at the elegant country hotel? For a unique twist on cheese and cucumber sandwiches, they offer pickled cucumber with mint cream cheese sarnies - alongside roast beef sirloin sandwiches. And for those with a sweet tooth? You can look forward to poppy seed and Lime drizzle Cake, and a piece of Milk Chocolate and Salted Caramel Choux. Available Monday to Thursday from 12.30 – 5.30pm and Friday to Sunday from 2.30 – 6.30pm in The Drawing Room, priced at £40 per person, £52 per person with a glass of Laurent-Perrier La Cuvée, France, NV.
The Dorchester, 53 Park Lane, London W1K 1QA
This is afternoon tea at its most decadent, a triumph of delicious sandwiches, dainty scones and rich cakes served against The Dorchester's (opens in new tab) opulent backdrop of plush, deep buttoned sofas, gilded full-heigh mirrors and magnificent floral displays. Treat yourself to the fabulous afternoon tea, available daily from 1-6pm at The Promenade. The menu includes a selection of sandwiches such as a Norfolk roast chicken, and a delicious sounding strawberry champagne tart. Priced at £60 per person and £70 per person with a glass of Laurent-Perrier La Cuvée Champagne NV.
Baglioni Hotel, Kensington, London
Afternoon tea in this chic Italian hotel overlooking Hyde Park is always a sophisticated affair. A pianist plays in the lounge from Thursday to Sunday and the waiters are dressed impeccably in Italian designer suits. Plus, to celebrate Chelsea Flower Show, they've introduced a unique Acqua di Parma afternoon tea (from £47 pp, call 020 7368 5900). This means all the sandwiches, scones and dolci are inspired by the brand's 100-year old citrus-based Colonia - think Sicilian blood orange jam with scones instead of strawberry and floral verbena and lime zest panna cotta with edible flowers and Violets of Parma. The Baglioni's Head Chef Alberto Rossetti, born and raised in Parma himself, has also created Colonia lemon cake, lavender meringue and bergamot cream and Sicilian cannoli with candied orange. As well as a glass of sparkling Brut, we went for the less Italian sounding Granny's Garden tea (made with fresh rhubarb) to accompany it all but you can keep with the theme and have Calabrian bergamot tea, too. Plus you leave with a beautiful Acqua di Parma gift bag with a sample of the Colonia you've basically just been eating! Bellissimo!
Cutter & Squidge, Brewer St, London
If you're a closet Harry Potter fan and up for supping on a brew of a very different kind the immersive and interactive Afternoon Tea experience at the Cutter & Squidge School of Alchemy could be just the ticket. Priced from £49.50 per person (£39.50 for children aged between 8-12) and lasting 2.5 hours the event will transport you to a magical world of potion brewing, unicorn tear tea drinking and whole lot more. But its not all Hogwarts and spell making, the tasty menu also includes delicious afternoon tea staples including rock cakes served with clotted cream and jam and Yokshire pudding served with beef and horseradish. Tickets are already on sale and the event kicks off on May 3rd.
Conrad St James Hotel
Right in the heart of London, the Conrad Hotel's (opens in new tab) afternoon tea is the perfect excuse to get away from all of the hustle and bustle of the city centre. Emmeline?s longue where the tea is hosted, named after Emmeline Pankhurt, is a light and bright venue where you can relax while listening to a live harpist. The hotel runs regular specials, with the latest afternoon tea offering being themed on the style of a candy shop. Pretty pastel pastries, dainty savouries and unexpected twists on classic desserts will keep you entertained throughout - strawberry and cream panna cotta with bubblegum macaron, anyone? The best bit (in our humble opinion) is the free flowing champagne. Afternoon tea is priced at £55 with bottomless champagne, £47.50 for one glass of champagne, or £39 without champagne.
The Bulgari Hotel, 171 Knightsbridge, London SW7 1DW
You'll feel like you're in a traditional French patisserie with The Bulgari Hotel's afternoon tea, served in the very chic surroundings of the hotel's lounge. Traditional French delicacies such as sourdough tartines topped with foie gras and fig, madelines, mini tarte tatin, and their version of a Louis XV bar- chocolate covered sponge, mousse and praline bar are just delicious. Also served with the more British traditional accompaniments including finger sandwiches, mini quiches and loose leaf teas. It's priced at £42 or £52 with a glass of champagne.
Aqua Shard, Level 31, The Shard, 31 St Thomas St, London SE1 9RY
Head to The Shard for the most panoramic afternoon tea in town. At Aqua Shard (opens in new tab), on the 31 level of the iconic skyscraper, you can enjoy a fabulous array of finger sandwiches, homemade cakes and mouthwatering scones with Jersey clotted cream and innovative seasonal jams such as raspberry and lemon thyme while taking in breathtaking views of the London skyline.
The Goring, 15 Beeston Pl, London SW1W 0JW
There are few place that can rival with The Goring (opens in new tab) for afternoon tea. Serving afternoon tea since 1910, guests have the choice of over 21 teas, pastries, scones and sandwiches, as well as Bollinger Champagne. The Goring is a holder of The British Tea Guild Council's Top London Afternoon Tea Award and guests are delighted with a changing menu to offer the freshest seasonal ingredients, like The Queen's 90th Birthday Afternoon Tea featuring delicate and elegant treats .
The Langham, 1c Portland Place, Regent Street, London, GB W1B 1JA
The Langham's Palm Court has been the home of the afternoon tea tradition for over 140 years and in 2010/11 was named London's Top Afternoon Tea by The Tea Guild. There is a unique twist to their delectable bites and you'll enjoy them against a backdrop of sparkling music from The Langham's resident pianist. If that's not enough to tempt you, nothing will!
Royal Opera House, Bow St, London WC2E 9DD
For the first time ever, guests are invited to dine in the beautiful glass-vaulted Paul Hamlyn Hall at the Royal Opera House without having to purchase a performance ticket. World-renowned master pastry chef Claire Clark MBE will be creating elegant afternoon tea, taking inspiration from traditional British recipes and nostalgic childhood favourites. This is a wonderful opportunity to experience the history and culture of the Royal Opera House whilst enjoying elegant afternoon tea.
The Blackpool Tower Ballroom, The Promenade, Blackpool FY1 4BJ
Fancy having tea in Strictly Come Dancing's most iconic ballroom? Now you can! The Blackpool Tower Ballroom (opens in new tab) offers a traditional afternoon tea of delicious finger sandwiches, scones, name and clotted cream served to the sound of the room's famous Wurlitzer organ.
The Berkeley, Wilton Pl, Knightbridge, London SW1X 7RL
The Berkeley (opens in new tab) serves London's most stylish afternoon tea. Every fashionista's dream, Pret a Portea features a beautifully baked Miu Miu tote bag with chocolate pecan moelleux, a Christian Louboutin chocolate biscuit heel with turquoise icing and a Victoria Beckham geometric cgerrt and white chocolate mousse shirt that's bang-on-trend!
Hotel Cafe Royal, 68 Regent Street, London W1B 4DY
The Hotel Cafe Royal (opens in new tab)'s latest afternoon tea offering takes inspiration from the most most amusing afternoon tea in literature: The Importance of Being Earnest. Launched to coincide with play's run at the Harold Pinter Theatre, it features the famous cucumber sandwiches alongside more unusual flavours such as everyman?s smoked wild boar, crackling, pickled apple and English mustard bun or cured venison and pear chutney sandwich with red onion marriage. The cakes are just as yummy and include the intriguingly named Lady Bracknell lollipop and Dandy raspberry regent.
sketch, 9 Conduit St, London W1S 2XG
Nothing is ever ordinary at sketch (opens in new tab) and the afternoon tea is no different. For starters, it is served in different rooms depending on the days of the week: on weekdays, it is in the restful, woodland-inspired surroundings of the Glade while at the weekend it takes place in the bold, zingy Martin Creed Gallery Restaurant. Then there's the menu which takes the afternoon tea classics and reinterprets them in a new key - so you'll get quail egg and caviar, mozzarella and pesto croque monsieur, cucumber, ricotta and asparagus - and that's just the sandwiches. Scones are served with clotted cream, fig and strawberry jam and cakes range from an old fashioned pistachio macaroon to an unusual strawberry cheesecake in a glass. Oh and, this being sketch, afternoon tea is served for six hours, from 12 to 6pm.
The Balmoral Hotel, 1 Princes St, Edinburgh EH2 2EQ
The Balmoral (opens in new tab) bagged one of the Tea Guild's coveted Awards of Excellence last year and it's easy to see why: after your palate is tickled by an amuse bouche, you'll be treated to fabulous sandwiches (the range varies but can include brie and tomato, beef and horseradish, salmon and cucumber) followed by freshly baked scones (you may get heather honey and cinnamon, as well as fruit and plain ones) and a double selection of pastries and rich sweet treats all served in the opulent, panelled Palm Court.
Grosvenor House, 86-90 Park Lane, London W1K 7TN
For chocoholics, there's no better place in town than Grosvenor House (opens in new tab), where chocolatier supremo Paul A. Young (opens in new tab) has created a mouthwatering chocolate-inspired afternoon tea. Classic cucumber sandwiches get a gourmet makeover with the addition of Venezuelan chocolate, freshly baked buttermilk scones are served with Paul's award-winning sea salted caramel spread (as well as clotted cream and a selection of jams) while the cake menu features exquisite creations such as cocoa shortcake biscuit with Madagascan chocolate ganache or Earl Grey tea chocolate tart.
One Aldwych, 1 Aldwych, London WC2B 4BZ
The funniest afternoon tea in town is undoubtedly at One Aldwych (opens in new tab), where a scrumdiddlyumptious afternoon tea inspired by Charlie and the Chocolate Factory is served in the Lobby Bar. An amazing menu featuring golden eggs, blueberry brioche and flavoured candy floss magically transports you into Roald Dahl's classic tale. Wash it all down with a delicious Jewelled Apple tea for extra sweetness or with a smoking Cocktail Charlie for true decadence.
Betty's Of Harrogate, 1 Parliament St, Harrogate, North Yorkshire HG1 2QU
The authentic Regency surroundings of the elegant Imperial Room set the tone for Betty's (opens in new tab)sumptuous afternoon tea. Delectable scones, perfect miniature cakes and delicious, dainty sandwiches filled with prawn marie rose and oak roast salmon, roast Yorkshire ham or Coronation chicken, are served to the soothing sound of live piano music for sheer bliss. Open Friday to Sunday only.
Lancaster London, Lancaster Terrace, London, W2 2TY
The Lancaster London has launched a new Afternoon Tea which features nostalgic sweet treats with a twist, such as Caramel and Hazelnut Tranche and White Chocolate Truffle and Raspberry Lollipops with Popping Candy. Their savoury menu also puts a twist on Afternoon Tea classics, like their Egg and Wild Cress Choux Buns and Coronation Chicken Tartlets. To top it all off, guests are presented with a mini sand-timer to make sure their tea is brewed to perfection.
The Rose Lounge, Sofitel St James, 6 Waterloo Pl, London SW1Y 4AN
The Sofitel St James (opens in new tab)' Rose Lounge puts a French twist of the great British tradition of afternoon tea. Along with seasonal finger sandwiches, perfect scones and a superb selection of teas from Postcard Teas (opens in new tab), it serves freshly made French pastries that are as delicious as they are beautiful.
Claridge's, 49 Brook St, London W1K 4HR
It has long been a London institution, but this year, Claridge's (opens in new tab) has taken its afternoon tea to a whole new dimension. Calling upon the expertise of Henrietta Lovell of Rare Teas, it offers a beautifully curated choice of some of the world's very best teas, such as a White Silver Tip from the mountains of Fujian in eastern China, all accompanied by a seasonal selection of fine finger sandwiches, cakes and scones and the Claridge's ever popular Marco Polo jelly.
The Ritz, 150 Piccadilly, London W1J 9BR
Tea at the Ritz (opens in new tab) remains the ultimate afternoon indulgence. Set against the glamorous backdrop of the Palm Court, with its birdcage chandeliers, gilded ceiling and stone fountain, their gorgeous tea comes with scrumptious, traditional finger sandwiches - think ham and mustard, cheddar and chutney, cucumber and cream cheese, chicken breast and horseradish, egg mayonnaise and watercress and salmon with lemon butter - plain and fruit scones and a rich assortment of fabulous cakes.
The Lowry, 50 Dearmans Pl, Salford, Manchester M3 5LH
One of Manchester's most stylish hotels, The Lowry (opens in new tab) puts up a superb afternoon tea. Enjoy innovative finger sandwiches - such as tuna and sundered tomatoes - perfect scones and delectable desserts (try the passionfruit and chocolate shot) while soaking up the views of the River Irwell.
The Strand Dining Rooms, Grand Buildings, Trafalgar Square, 1-3 Strand, London, WC2N 5EJ
The newly launched Strand Dining Rooms (opens in new tab) combine British tradition with European influences - so their afternoon tea features classic scones and sandwiches alongside delicious cakes such as Chocolate Orange cake, Banoffee Pie Tartlets and Lemon Drizzle and Basil, all served with a choice of fabulous teas, coffees or herbal teas.
Brown's Hotel, 33 Albemarle St, London W1S 4BP
For an indulgent but guilt-free afternoon tea, little beats Brown's (opens in new tab) Tea Tox. This fresh afternoon tea option is full of scrumptious but healthy delights, from poached salmon and dill crème fraiche on dark rye bread to sugar-free blueberries and lemon cream in a chocolate cup and fruit skewers with yogurt and honey - all served with a choice of teas or, for an extra treat, low-calorie, extra-brut champagne. Traditional afternoon tea is also available.
Amanzi Tea, 24 New Cavendish St, London W1G 8TX
The fabulous Amanzi tea bar (opens in new tab) in Marylebone serves the perfect afternoon tea to beat the summer heat, with a selection of delicious tea cocktails, such as Earl Grey Sour, which combines Earl Grey and lemon. They also have green tea frappes and a range of bubble teas - the latest food craze from Asia that pairs refreshing flavoured teas with yummy tapioca bubbles.
The Landmark London, 222 Marylebone Road, London, NW1 6JQ
The beautiful atrium at The Landmark London (opens in new tab) is a spectacular setting for afternoon tea. At Christmas the light-filled space is full of glittering lights and they have a giant Christmas tree in the lobby. Book ahead as this really is an institution and the head chef has used traditional Christmas spices to influence the themed tea ? there's a delicately spiced Christmas Tea blend and beautiful mini chocolate Christmas puds. The finger sandwiches are the only thing that stay the same year-round as guests say they're so good they don't want them to change! Our favourite were the corn fed chicken with Tarragon crème fraiche on walnut bread ? and you can have as many as you like! Wonderful Christmas treat. £50 per person including a glass of Rosé Champagne