How to avoid Black Friday scams and get a genuinely good deal
Expert advice on how to avoid Black Friday scams and find genuine discounts that will actually save you money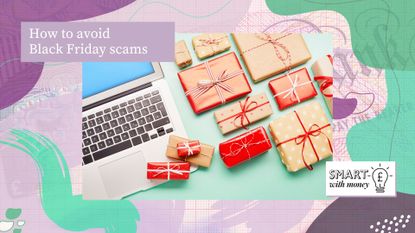 (Image credit: Getty)
Black Friday scams aren't new, but finding a genuinely good deal is getting harder. Here's how to avoid the duds and actually save money this year.
Black Friday falls on Friday 26 November 2021, but many online retailers have already started advertising deals and discounts across their sites.
However, the Anti-Counterfeiting Group (ACG) have warned Black Friday bargain hunters to be aware of online scams. Phil Lewis, Director General at the Anti-Counterfeiting Group commented: "Criminals will stop at nothing to sell their products and in some cases endanger our families. At this time of year, ACG witnesses a surge in counterfeit products being touted."
Which? have also highlighted the growing problem of misleading deals, having found that 85% of products in previous Black Friday sales had already been available for the same price or less in the six months before.
So how can you avoid these Black Friday scams and find a genuinely good deal that will save you and your family money? We share our top tips below along with advice from personal finance expert Holly Andrews on how to dodge the duds and escape the scams in 2021.
How can I avoid Black Friday scams and get a good deal?
The key to getting a good Black Friday deal is to start planning early. This is especially true this year as there are supply issues with many products, so stock may run out quickly.
Write a list of what you want or need, plus Christmas presents and any upcoming birthdays. That way you won't waste time on the day walking around the high street or shopping online, browsing deals you don't really want or can't afford.
Looking for deals before Black Friday will ensure you don't miss any bargains, advises Holly Andrews, personal finance expert at KIS Finance. "Although these may not be the best deals retailers have to offer, they will give you an idea of what products will be on sale. You can then bookmark these and keep an eye on them as the discounts get bigger."
Don't forget to check out brands' and retailers' social media pages. These often give loyal customers a heads-up about offers before Black Friday. "Make sure you're following your favourite brands, and you're signed up to receive their email alerts, so you'll be among the first to know when their sales start," says Andrews. "This will give you time to compare retailers and brands, create your lists and make sure you're getting the best deals."
It goes without saying that you should always shop around to make sure you're getting the best price. For example, the Boots Black Friday sale could be offering great electric toothbrush deals, but Amazon may have even lower prices. Conversely, while some of us automatically think Amazon has the best offers, a brand's own website or other stockists could be cheaper.
You could also use a comparison site to check prices. In the same way that you might use a comparison website to browse the best deals on insurance policies like car insurance, travel or pet insurance, there are sites such as Price Spy, Idealo and CamelCamelCamel (for tracking Amazon prices) that will help you compare sale prices on products across sites.
But don't look solely at price. Factor in the cost of delivery if you are shopping online, and also the warranty if it's an electrical item. Check out the returns policy, too.
Some retailers like Boots have already started their Black Friday 2021 discounts. Others that normally participate in Black Friday and have genuinely good deals and legitimate discounts include:
How to avoid a bad deal and scams on Black Friday
The best way to avoid a bad deal is to do your research—compare prices, and check you are buying from a reputable retailer. Beware of brands that you've never heard of. They could be poor quality or, even worse, a scam.
Think about whether you actually need the product. If you are buying, say, a TV for £500, and it's reduced from £1,000, that may sound great as you've bagged a 50% offer and saved £500. But if you don't really need a new TV, then it's a bad deal as you've effectively lost £500.
Pay attention to the price, not the saving. For example, £100 off in some KitchenAid deals might sound appealing, but is the Black Friday price of £500 a good deal? Do you want the mixer, can you afford it? And don't forget, the offer could be repeated again, say, in the January sales.
Black Friday scams advice
Scams are rife in the online world, and Black Friday is no exception when it comes to fraudsters trying to steal shoppers' hard-earned cash. Scams range from selling a product that never turns up, to con artists trying to impersonate a retailer and even cryptocurrency fraud. Shoppers are being warned to watch out for gift card generators during this year's Black Friday events, which can download malicious software and then steal a person's cryptocurrency.
To stay safe online, Action Fraud advises that you carry out some research if you're making a purchase from a company you don't know—and ask a friend or family member for advice before completing the purchase.
Make sure you install the latest software and app updates. These usually contain important security updates that can protect you against fraud and identity theft, according to Action Fraud.
Use a strong, separate password and two-factor authentication (2FA) to secure your email account. "Criminals can use your email to access other online accounts, such as those you use for online shopping," notes Action Fraud.
Take care with any links you see online, or that are sent to you. If an offer sounds too good to be true, it usually is!
Paying via PayPal or on a credit card can give you extra protection. Holly Andrews explains: "Paying via PayPal is a good method of keeping your money safe, as you won't need to enter your bank details on the shopping website, and you will have more protection if things go wrong." Paypal's Buyer Protection programme entitles you to reimbursement for the full purchase price plus shipping costs if you don't receive your item from a seller.
Andrews adds, "Spending more than £100 on a credit card, online or in-store, means you are automatically protected under Section 75 of the Consumer Credit Act. This means you can speak to your credit card provider about getting a refund if you run into problems and the retailer refuses to help."
You may also be able to get a refund from a debit card provider, via the chargeback scheme, although this is not a legal right, unlike Section 75.
How to avoid overspending on Black Friday
Black Friday can become a frenzy. Whether you're hitting the shops (queues are common, as are reports of shoppers physically battling it out for the last product) or surfing the web, the avalanche of promotions can feel overwhelming. Try to stay calm and stick to your wish list of products that you want to buy.
As well as a wish list, set a budget. That way you'll know how much you have to spend and won't be distracted by offers for things you can't afford. You could even put a big Post-it note on your laptop reminding you of your wish list and budget to ensure you don't go off-piste. It's all too easy to overspend online when it's just a few clicks of a button.
If you spot an amazing deal that isn't for an item on your list—and could blow your budget—ask yourself two questions. Do I need it? Can I afford it? If the answer is no to either question, don't buy it.
For those venturing out to the high street to look for Black Friday bargains, take a bottle of water and a snack. It'll give you energy to face the crowds and do the maths when comparing offers and, crucially, it'll mean you're not tempted to spend money on food.
If you do find the perfect purchase, check to see if you can reduce the price further. First, find out if you can buy the item via a cashback site such as Quidco or Topcashback. You'll still get the same Black Friday deal, but you could get cashback of up to 15%.
Second, check if there are any online voucher codes for the brand or retailer—you could get a further discount or free delivery.
Ruth is a contributing editor for The Money Edit and also covers finance for Woman & Home. Ruth is passionate about helping people feel more confident about their finances. She was previously editor of Times Money Mentor, and prior to that was deputy Money editor at The Sunday Times.
A multi-award-winning journalist, Ruth started her career on a pensions magazine at the FT Group, and has also worked at Money Observer and Money Advice Service.
Outside of work, she is a mum to two young children, a magistrate and an NHS volunteer. You can follow Ruth on twitter.