Are you spending too much on your car insurance?
Car insurance is an essential cost but are you spending too much on your policy? Follow our expert guide to see where you could be saving money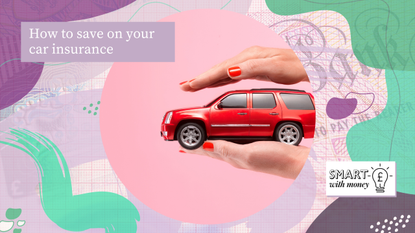 (Image credit: Getty)
If you're a car owner, then there's no escaping paying for car insurance. But as premiums creep up, you may be looking at ways to cut the cost of motor insurance.
Policy prices have hit a six year low according to Compare the Market with the 'average' comprehensive cover down £71 over the past year to £631. But as household bills continue to rise, you may be looking to drive down the price of your insurance policies as much as possible.
We take a look at how to reduce the costs and get the best deal on your car insurance.
How to get the best deal for car insurance
Shop around for the best car insurance deal
Shop around early as prices usually go up the closer you get to renewal. "You can buy car insurance up to 29 days before the policy start date and 'lock in' the price you're quoted on that day", says motoring expert Ryan Fulthorpe from price comparison site GoCompare. "Our research shows buying 26 days before renewal means an average saving of 40% compared with renewing on the day".
Tweak your job title when applying for car insurance
What you do for a living plays a big part in the cost of your insurance and making small 'tweaks' can cut costs.
If your job can be described in many ways, then this is worth exploring. For example, describing yourself as a 'PA' can mean a cheaper premium than saying you're a 'secretary', and insurance for an 'illustrator' can be cheaper than saying you're an 'artist'.
Money Saving Expert has a handy 'Car Insurance Job Picker' tool, but remember this is about 'legitimate' tweaks, not claiming you do an office job if you're a racing driver.
Escape the auto-renewal trap for car insurance
Smart With Money
Smart With Money is our dedicated money channel created to give you expert, easily digestible information to help you make the most out of your money.
Setting up your policy this way can seem like a shortcut to hassle-free motoring, but means you'll be locked in year after year unless you tell your insurer to stop.
Going down the auto-renewal route typically costs you around £100 more than switching to a better deal, according to Compare the Market, and over £200 for drivers under age 25.
From January, new rules from the Financial Conduct Authority (the industry regulator), will ban both car and home insurers from charging existing customers more than new ones; however, it is still worth shopping around rather than just sticking with your insurer's renewal offer.
That said, it is worth noting that if you're the forgetful type then auto-renewal can save you from driving around without adequate cover. To overcome this, set up a reminder on your smartphone.
Boost your car insurance excess
You can cut the cost of your premium by agreeing to pay a higher 'excess' on claims.
Your excess comes in two parts; a 'voluntary' and 'compulsory' excess, and it's the 'voluntary' one you can increase—although in the event of a claim you'll pay both added together.
If you're running quotes through comparison sites, it's easy to number crunch different options and to see any savings.
However, do weigh up whether potentially saving £20 on the policy is worth a potential £100 hike on the excess if you need to make a claim.
Pay upfront for cheaper car insurance
Spreading payments, instead of paying in one go can boost your bill by a whopping 44%, according to consumer group Which?
If you're struggling to pay for your policy in one go, consider using a credit card with a 0% deal on 'new purchases'.
This means you can pay monthly on an interest-free basis, but always make at least the minimum repayment or you'll lose the 0% deal.
Add another driver to your car insurance
Adding an experienced driver, like your partner, or adult son or daughter to your policy can cut your premium.
"This suggests to insurers the vehicle will be shared and therefore spreads the risk", says Jack Cousens, head of roads policy at the AA. "It's important to think about who you're adding though, as including someone with motoring convictions may increase your premium".
Check your mileage before getting car insurance
How far do you drive? It's a question that probably stumps most of us when applying for insurance but guessing can cost you more.
"Most customers see a nice round figure of 10,000 miles and go for that, but check your most recent MOT to see far you actually drive", says Ryan Fulthorpe.
Low mileage drivers may be able to save with 'pay per mile' policies with companies like By Miles, which are on comparison sites.
Should you buy the extras with car insurance?
Insurers are often keen to offer a heap of 'extras', including legal protection and breakdown cover.
"Shopping around is key; in some instances, it may be better to include them on your policy, but sometimes it's cheaper to buy them as a standalone purchase", says Jack Cousens.
Around 15% of motor insurers actually include breakdown cover as standard, according to Defaqto, a financial information service. NFU Mutual for example includes basic breakdown cover with the RAC on all its motor policies.
Protect your 'no claims' discount
"Many insurers offer no-claims bonus (NCB) protection for a small fee", says Jack Cousens.
This means if you make a claim for something like damage caused by a storm, if your car is stolen or hit by an uninsured driver, you won't lose your no-claims bonus.
And your NCB can be a valuable asset: depending on your insurer and years of claim-free driving, it can be worth a maximum of 40–80% discount on your policy, according to consumer group Which?
Reduce car insurance with home security and multi-car discount
Stepping up security can mean discounts. Alarms are fitted as standard on most new models, but if you're buying one for an older or second-hand car, go for a 'Thatcham Approved' one, which is what insurers usually ask for.
Got a garage? Tell your insurer, and use it! And having a dash cam can mean a discount too, although insurers don't usually have fixed amounts for this.
If you've got more than one car in your household you could save with multicar insurance.
Companies including Admiral, Aviva, LV=, and Sheilas' Wheels offer this and, as a rough guide, you could save 10–15% compared with buying individual policies.
However, it's still worth running quotes separately too as there's no 'one size fits all' with insurance.
Sign up to our free daily email for the latest royal and entertainment news, interesting opinion, expert advice on styling and beauty trends, and no-nonsense guides to the health and wellness questions you want answered.
Sue Hayward is a personal finance and consumer journalist, broadcaster and author who regularly chats on TV and radio on ways to get more power for your pound. Sue's written for a wide range of publications including the Guardian, i Paper, Good Housekeeping, Lovemoney, and My Weekly as well as two books including 'How to Get The Best Deal'.
Cats, cheese and travel are Sue's passions away from her desk, though as you might imagine she always looks for ways to see the sights for less!