Green pensions—how to make your pension more environmentally friendly
You can make positive steps to ensure your pension is ethical whilst keeping your retirement plans are on track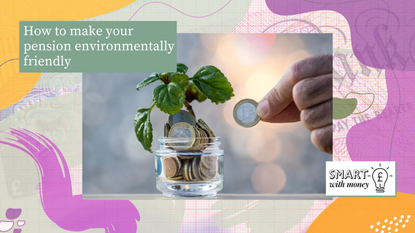 (Image credit: Getty)
Your pension money is probably the largest amount of savings you have, but do you know how your retirement money is invested?
According to net-zero pension provider Cushon (opens in new tab), pension funds are responsible for financing an average of 23 tons of CO2 emissions every year via businesses they invest in.
This insight might not align with your interests, especially if you have growing concerns over climate change. The good news is, it's your pension savings and you have the power to make your provider become more ethical.
How will a green pension help the planet?
While you may have switched to buying the best sustainable clothing brands and tried to adopt sustainable living, a surprising amount of power to help the planet lies with your pension.
Getting a green pension is 21 times more powerful at cutting your carbon footprint than giving up flying, cutting back on meat and switching your energy provider combined, according to research by campaign group Make My Money Matter (opens in new tab), launched by Bridget Jones's Diary director Richard Curtis.
"We think about pensions in terms of what they can do for our retirement only. But pensions have become big news for their power to help the planet, not just your pocket when you stop working," says Rebecca O'Connor, head of pensions at investment platform Interactive Investor (opens in new tab).
How to switch your pension to make it green
Smart With Money
Smart With Money is our dedicated money channel created to give you expert, easily digestible information to help you make the most out of your money.
The first step is to check how sustainable it is already. You might be pleasantly surprised. Simply input the name of your personal or workplace pension fund into Isitgreen (opens in new tab) to get a rating from one to five stars based on sustainability and financial performance, followed by ideas on providers to approach for more climate-friendly options.
Most workplace pensions should offer an "ethical" option which will be straightforward to switch to. If not, speak to the pension provider and find out what funds they offer. Make My Money Matter has a template email (opens in new tab) to encourage it to move to net zero.
Then ask your employer about adding those ethical funds that your pension provider offers. While employers are not legally required to provide ethical pension options, your personal action and upcoming government regulation may influence them.
What to do if your pension provider does not have ethical options
If your workplace pension ultimately doesn't provide an ethical fund and you want to switch, you can, but it's important not to lose out on any employer pension contributions. Only move providers if your employer is going to pay into it as well.
If you have a personal pension, then ask your provider for ethical options. If you prefer to pick the investments for yourself, a self-invested personal pension (or SIPP) is for you. These can require a bit more confidence, but you have a wider choice of investment options.
Are green investments more risky?
It may have crossed your mind that green pension funds may not give you the returns you need, but according to experts, sustainable funds continue to do well. "Our latest Good Investment Review found that sustainable funds have outperformed the sector average over the last five years," says Lisa Stanley, co-founder of Good With Money (opens in new tab).
But If you are close to retirement, you should seek advice before switching funds, as you do not want to take on the wrong level of risk close to when you may need the money.
Picking your own funds? Look for something called the SRRI rating on funds you are picking yourself—it is a risk rating out of seven, and seven is the highest.
Good with Money offers a Good Guide to Pensions (opens in new tab) while interactive investor's ACE 40 (opens in new tab) fund list and The Big Exchange (opens in new tab) include selected top-of-the-class ethical investing options that can help you pinpoint what you're looking for.
Katie is staff writer at The Money Edit and also covers finance for Woman & Home. She spent 10 years at the Sunday Times covering news, culture, travel, personal finance, and celebrity interviews.
Her investigative work on financial abuse has resulted in a number of mortgage prisoners being set free - and a nomination for the Best Personal Finance Story of the Year in the Headlinemoney awards 2021. You can follow Katie on twitter and Instagram.